Hello Griffinites,
Our final Craftober shows are happening on October 24th! Join us at 1am, 11am, 4pm and 9pm for Anna Griffin Elegant Papercrafting. We have amazing things for you and some items brand new for 10/24! This is our first of two previews, so buckle up buttercup! We have bundles, dies, cut and emboss folders and more to share with you today!
Come see what's in store for the final 24 hour Craft Day of the year.
One of our favorite sets, the Holiday Matte Foil Cardstock is coming to HSN on the 24th. This set of green, antique gold, silver, burgundy, blue and red cardstock is just the thing for creating card layers, diecuts and embossing. You will get 36 sheets of 6 x 8 and 36 sheets of 4.25 x 9.5 for your regular sized cards, slimline cards and more.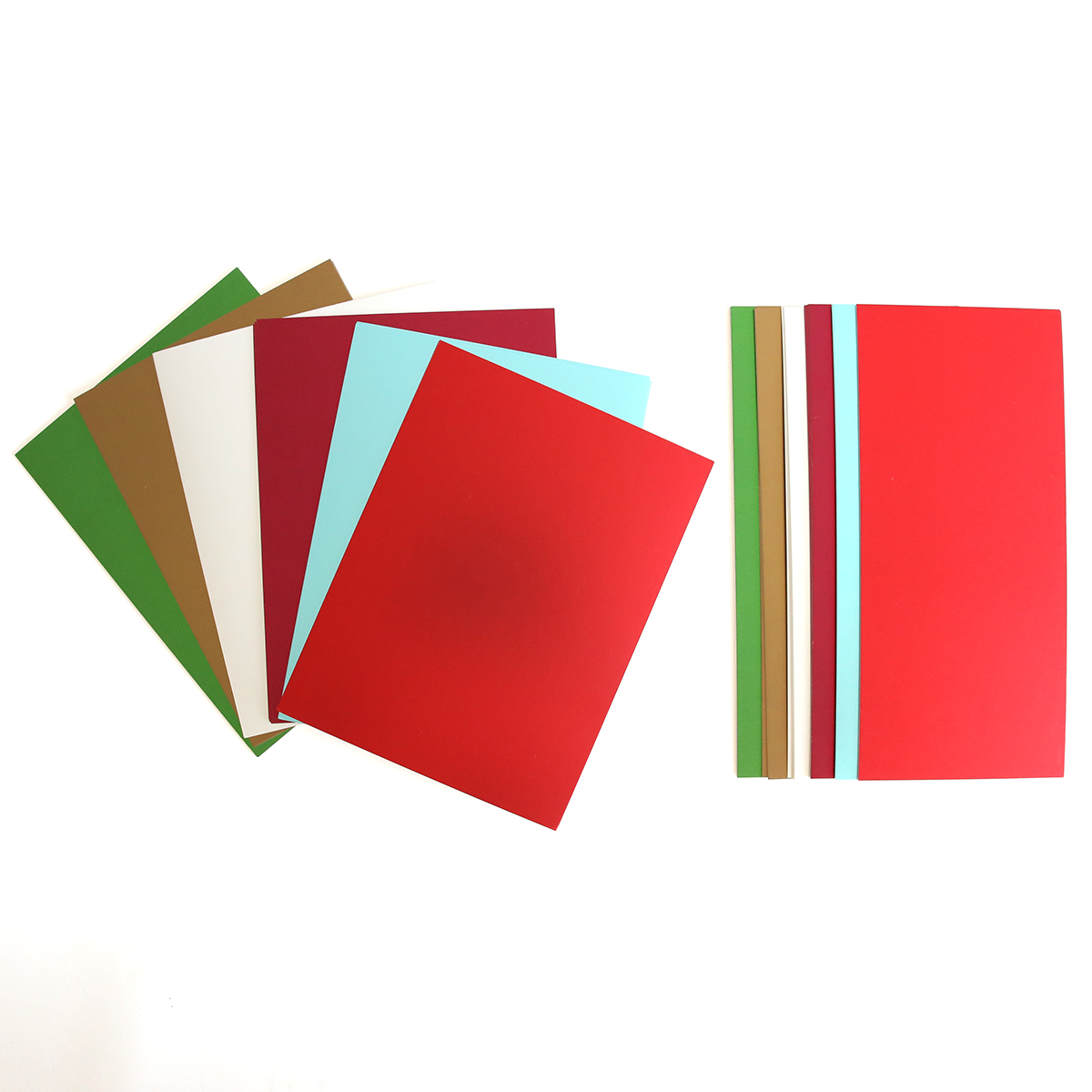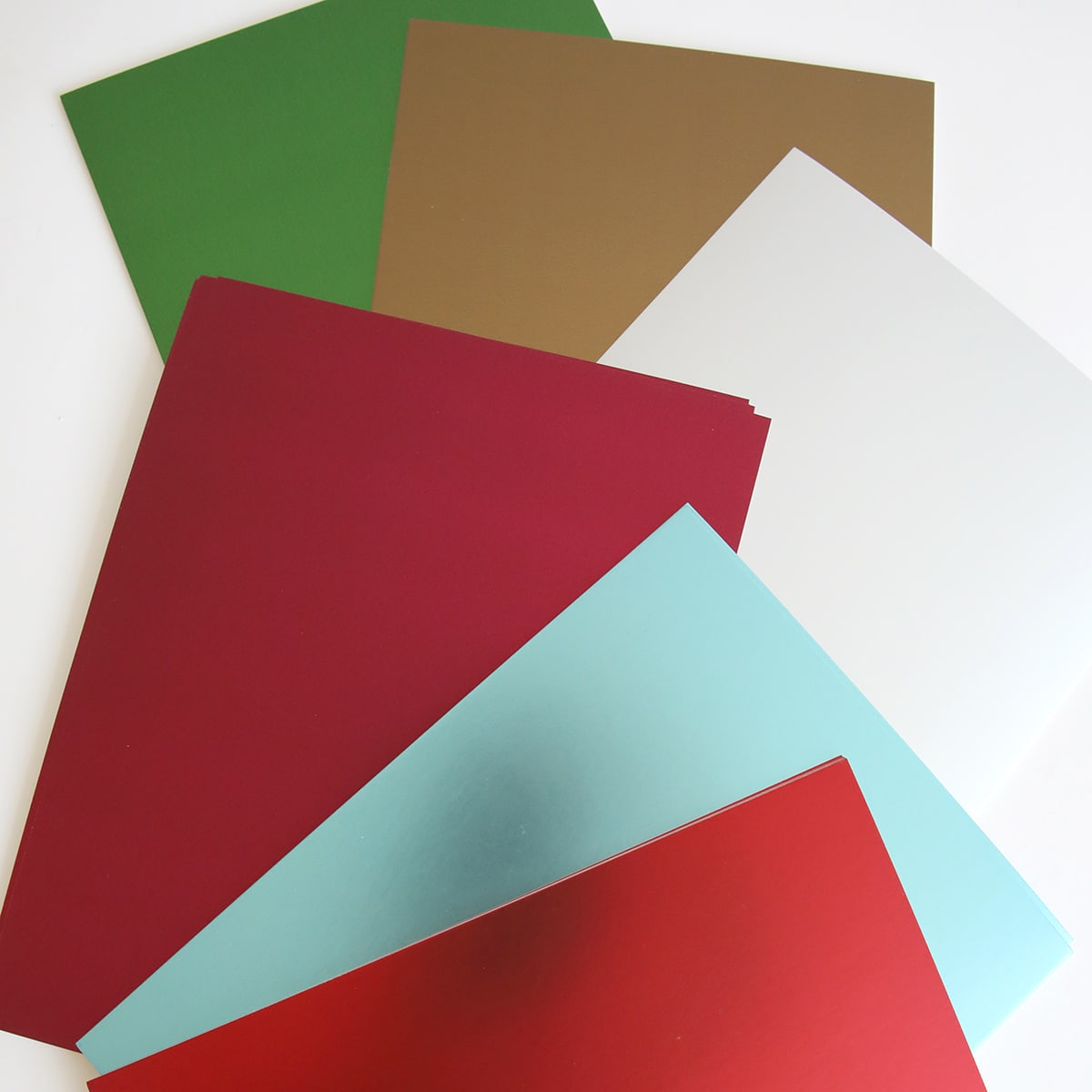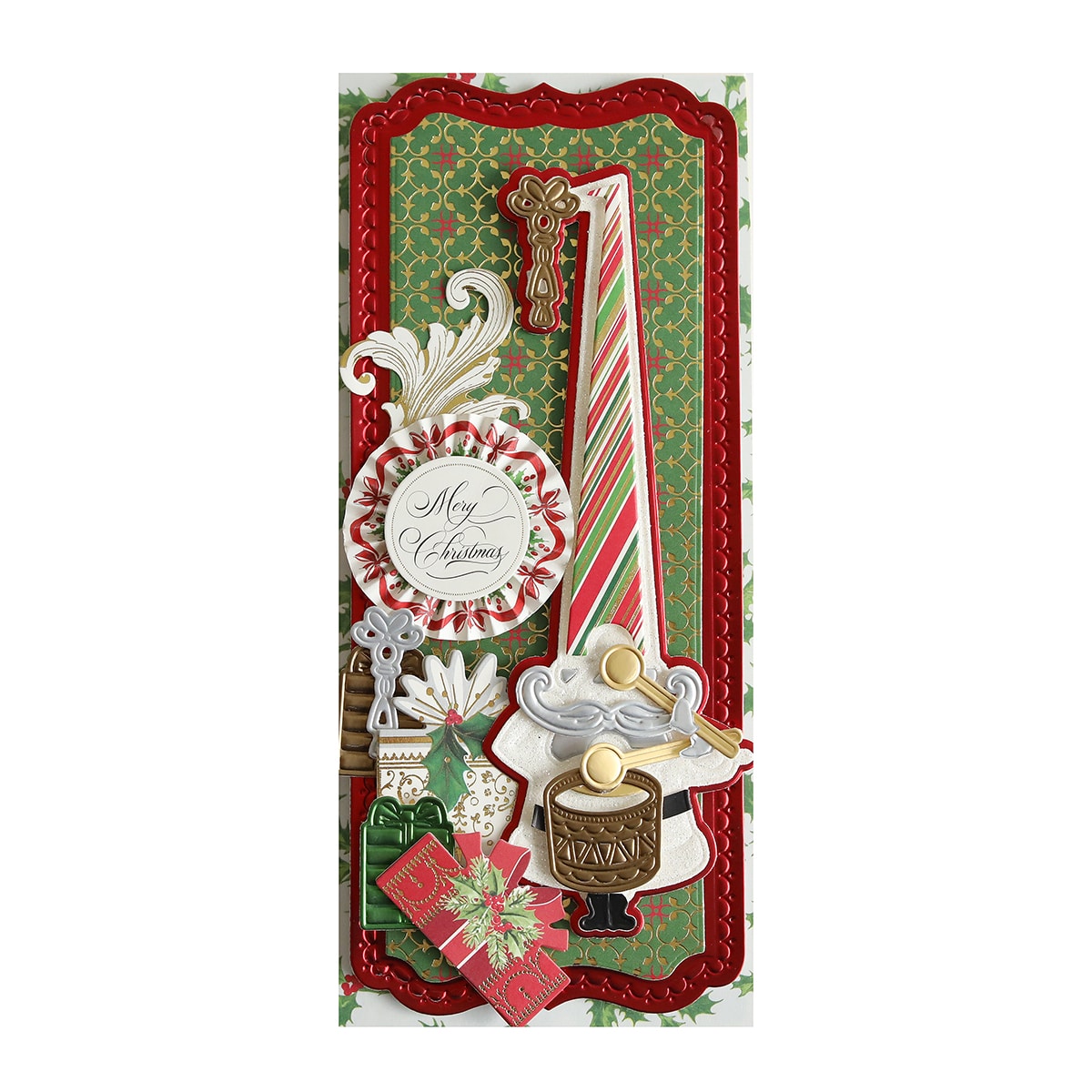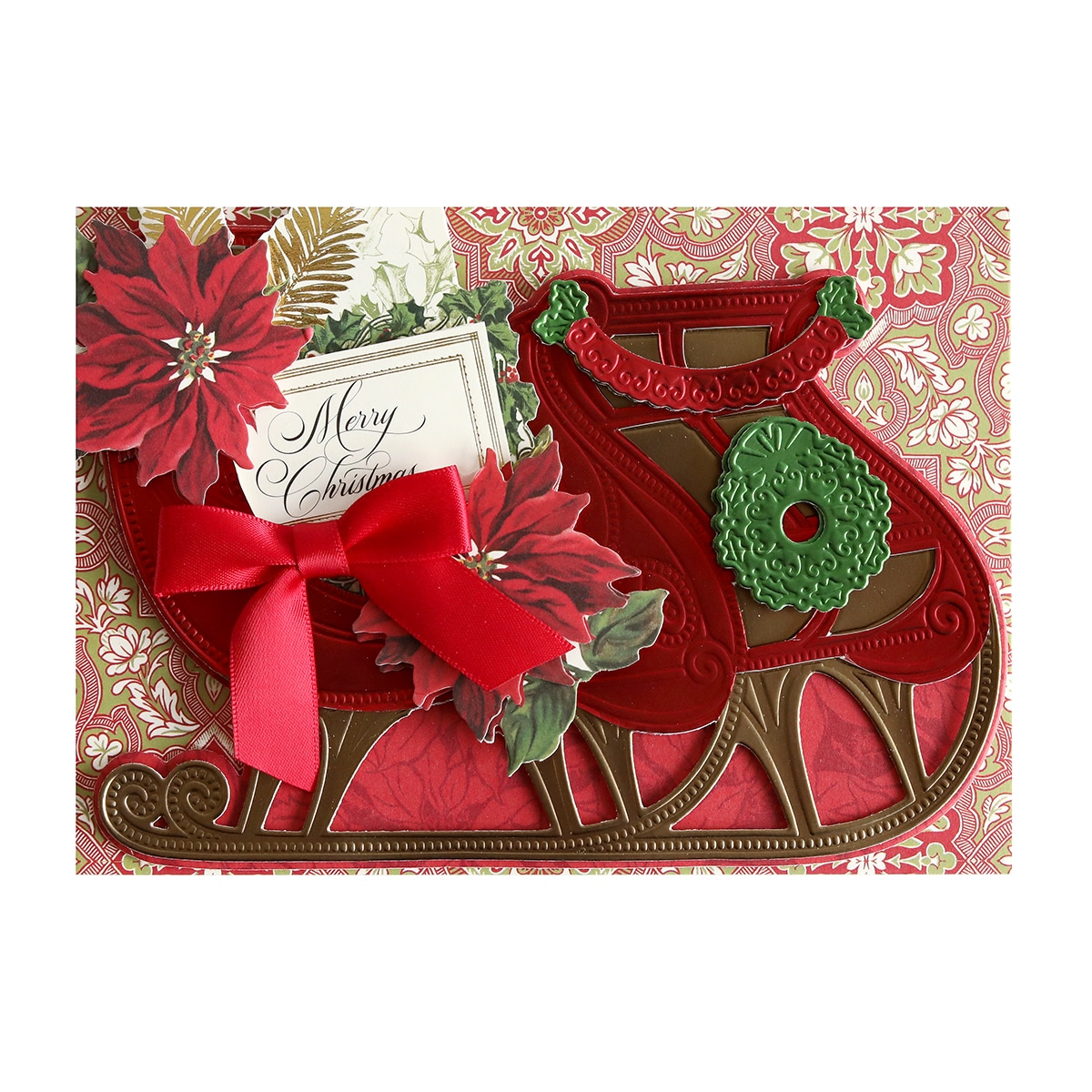 We have the Floral Rub Ons Library for you! If you love rub on transfers, then you will adore having the Carte Noire Floral Rub Ons and Celebrations Rub Ons together. This will give you 256 rub on transfers to play with! What's great is that you can add these colorful images to cardstock, vellum, matte foil, ribbon and other surfaces. These flowers will make your cards, scrapbook pages and paper projects out of this world beautiful! Use a popsicle stick, burnisher or even your Empress to adhere.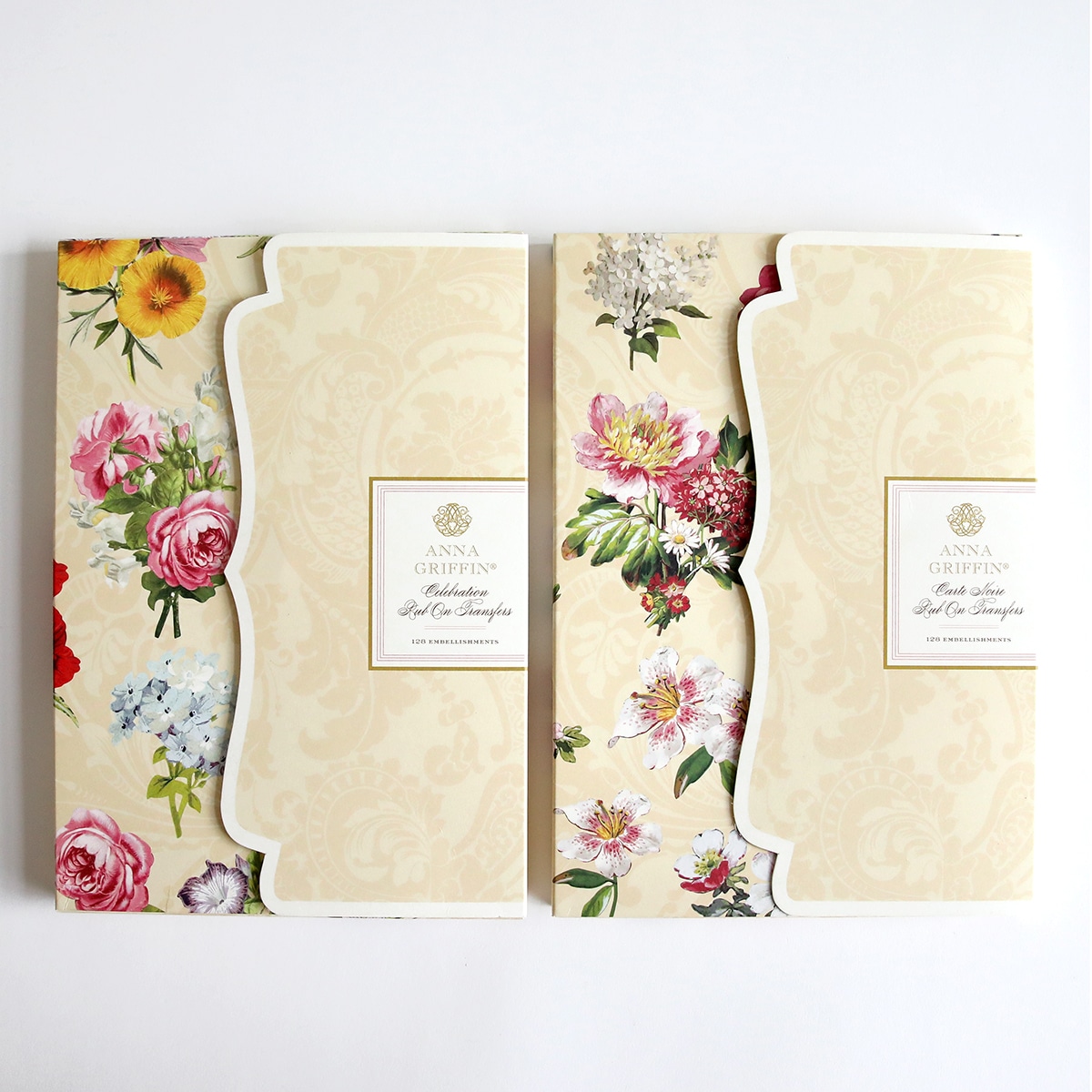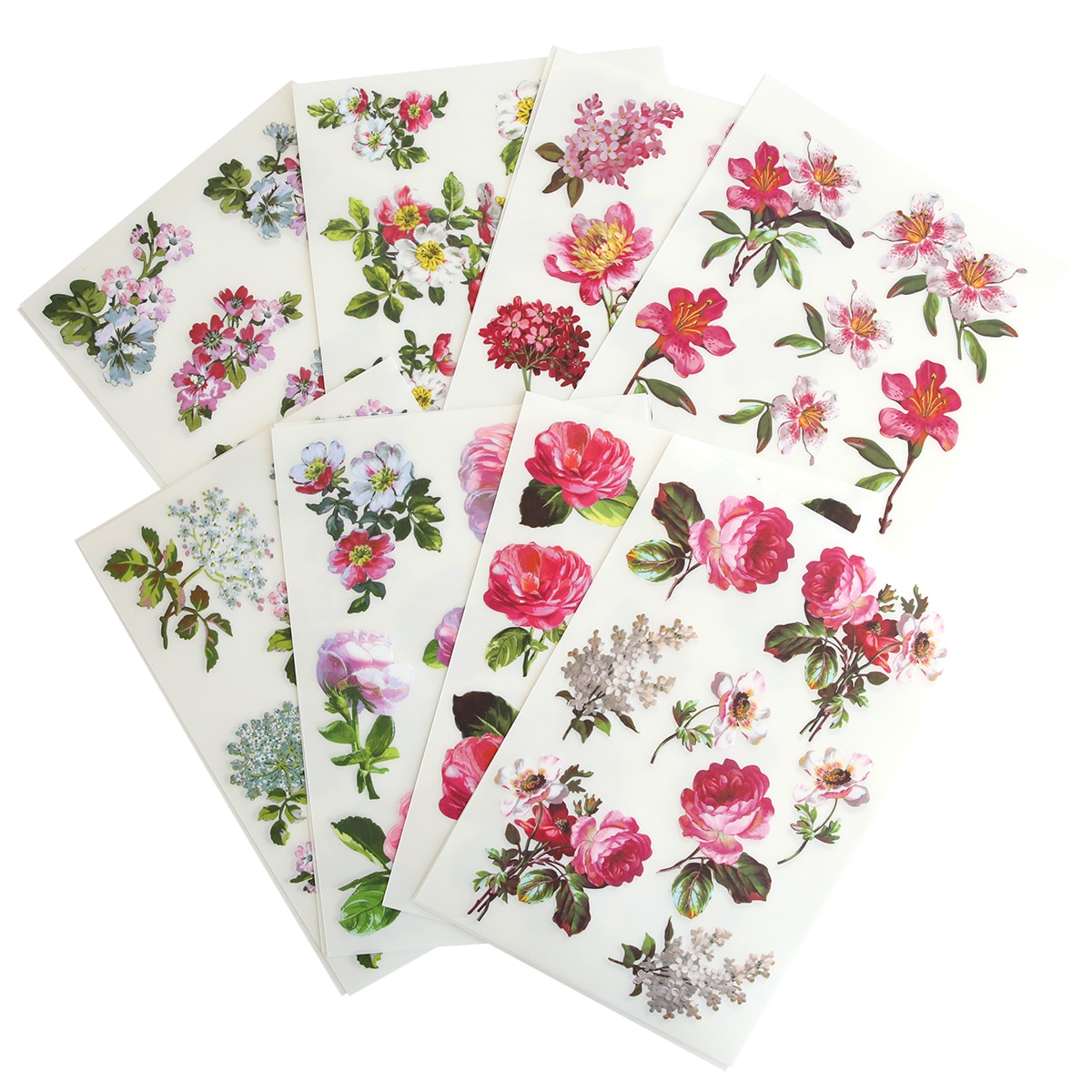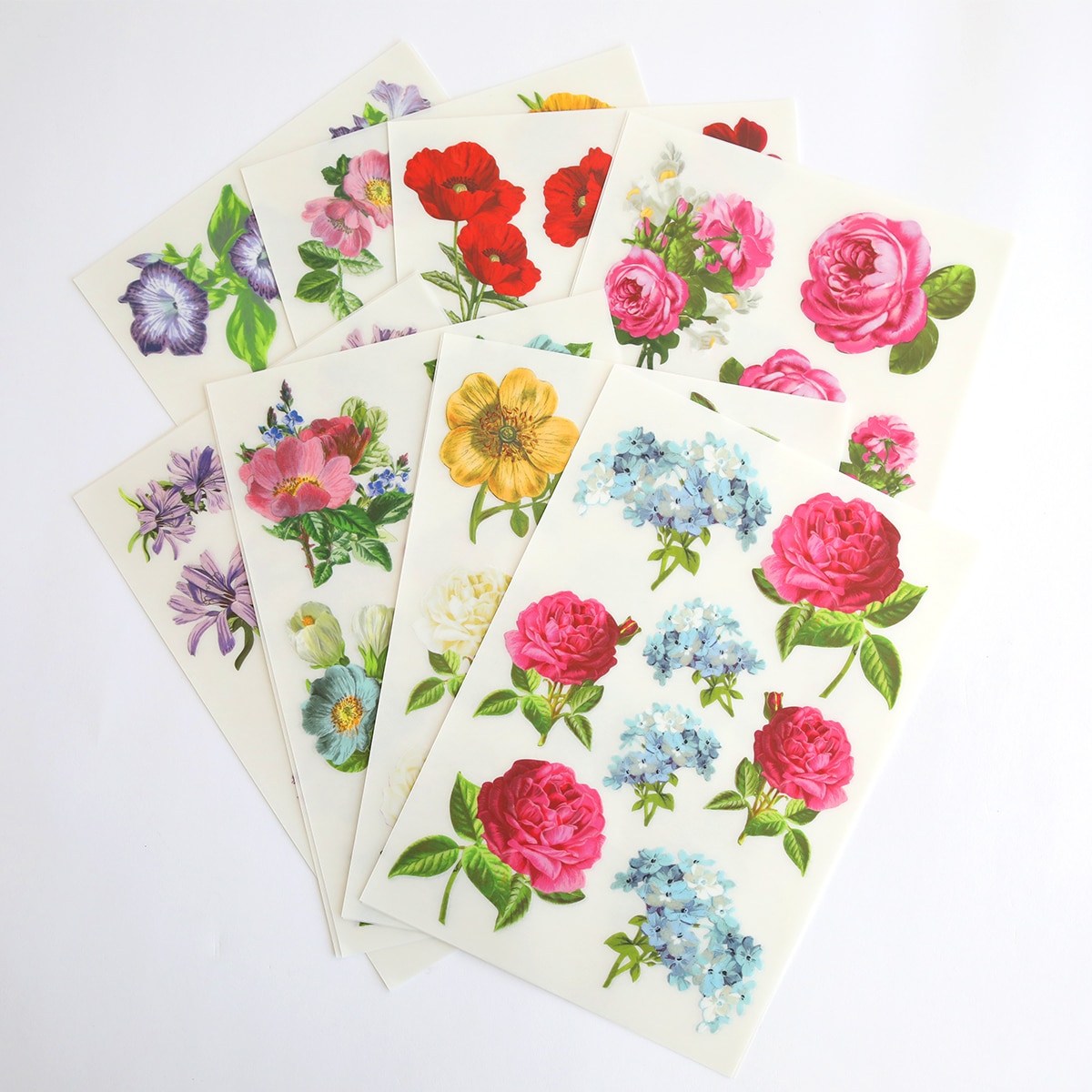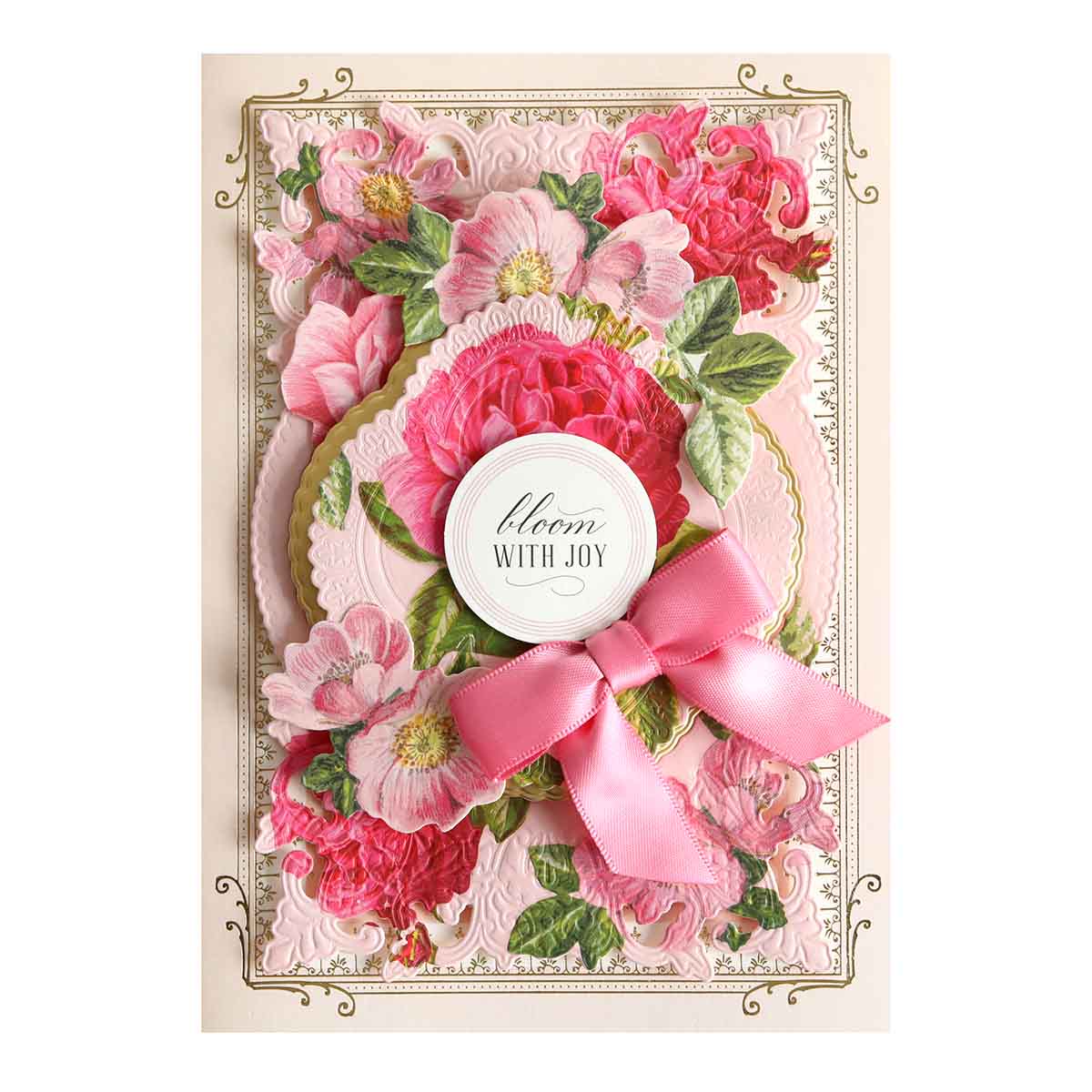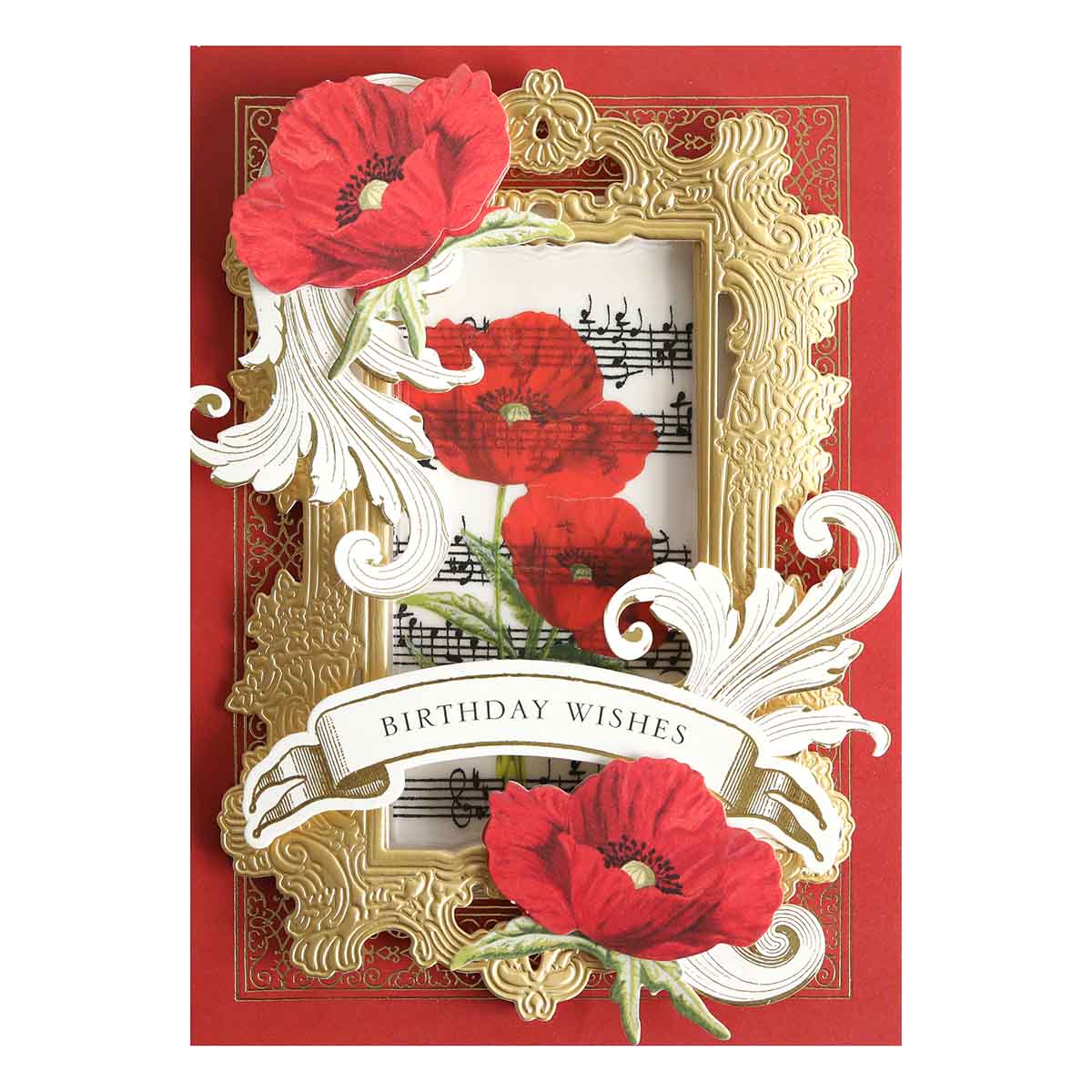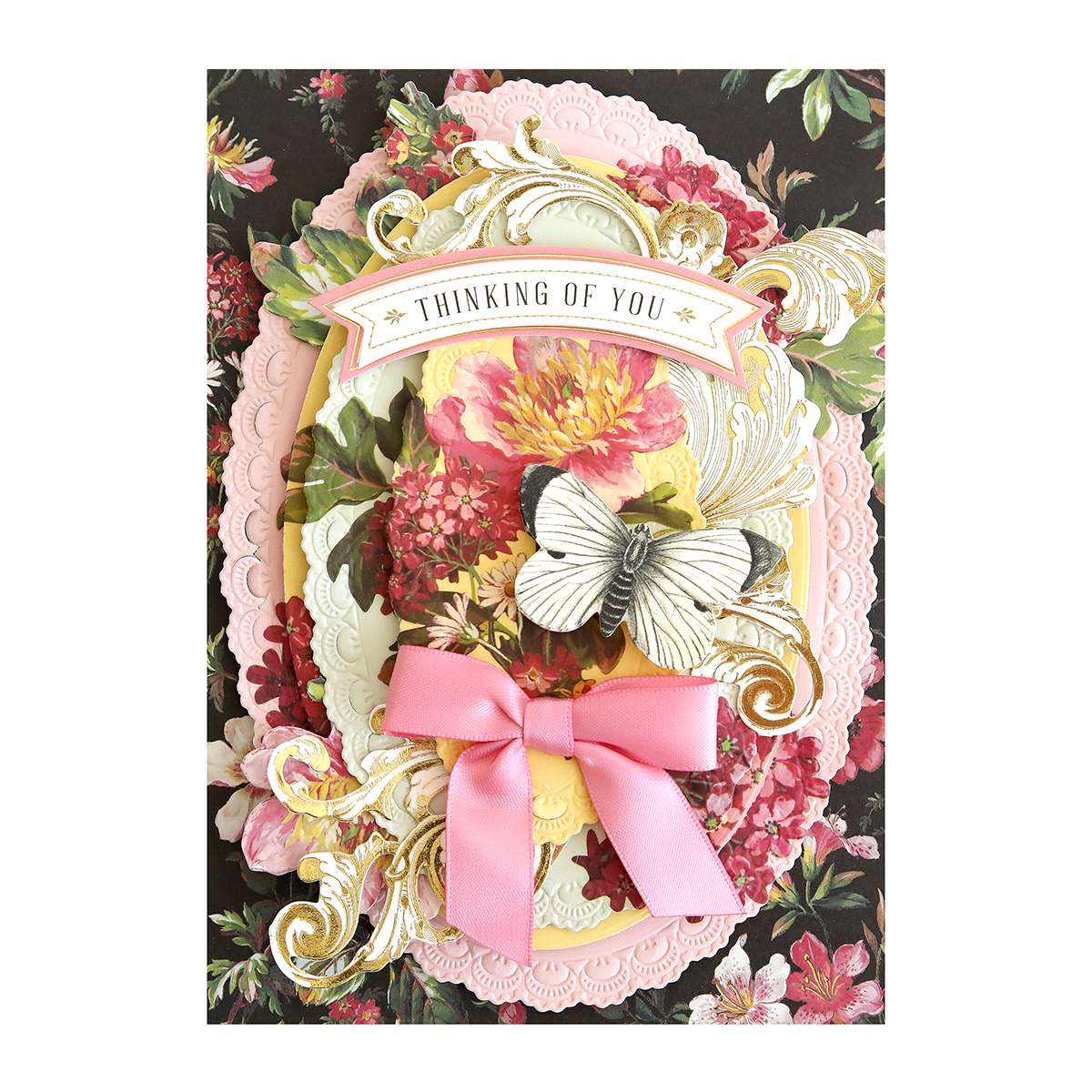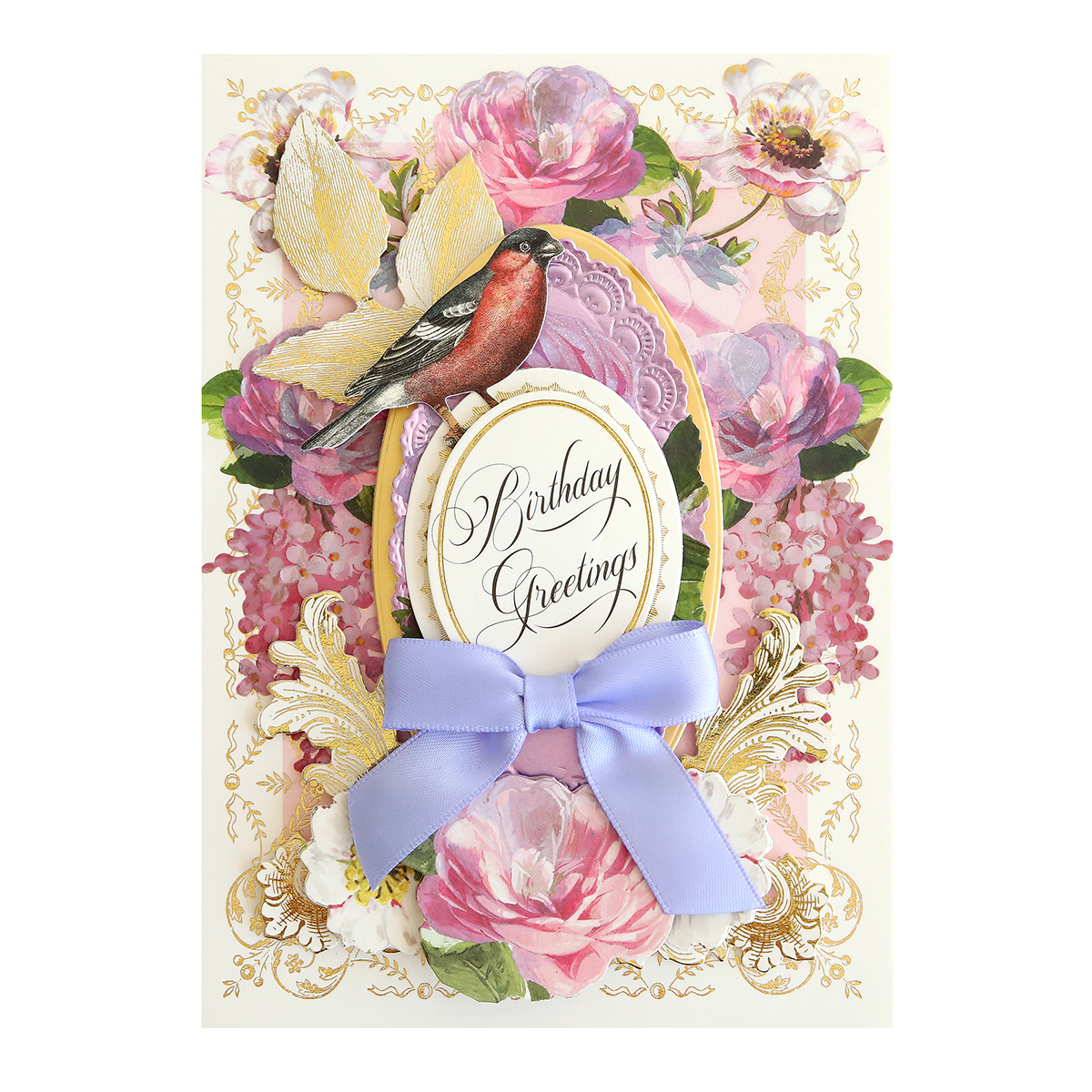 Calling all music lovers, we have bundled the Musical Icons Cut and Emboss Folders Musical Cardstock and Vellum to create the Musical Icons Crafting Collection. With the cut and emboss folders, you will be able to cut and emboss musical diecuts with one pass through your diecutting and embossing machine. Create guitars, harps, violins, drums, trumpets and more. Play with different colored papers or use our favorite, matte foil cardstock for perfect embellishments every time. There are also 24 sheets of 12 x 12 cardstock (2 each of 12 designs) and 12 sheets of vellum (2 each of 6 designs). From sheets of music to vinyl records, instruments and more you will love these designs and how they make your projects sing!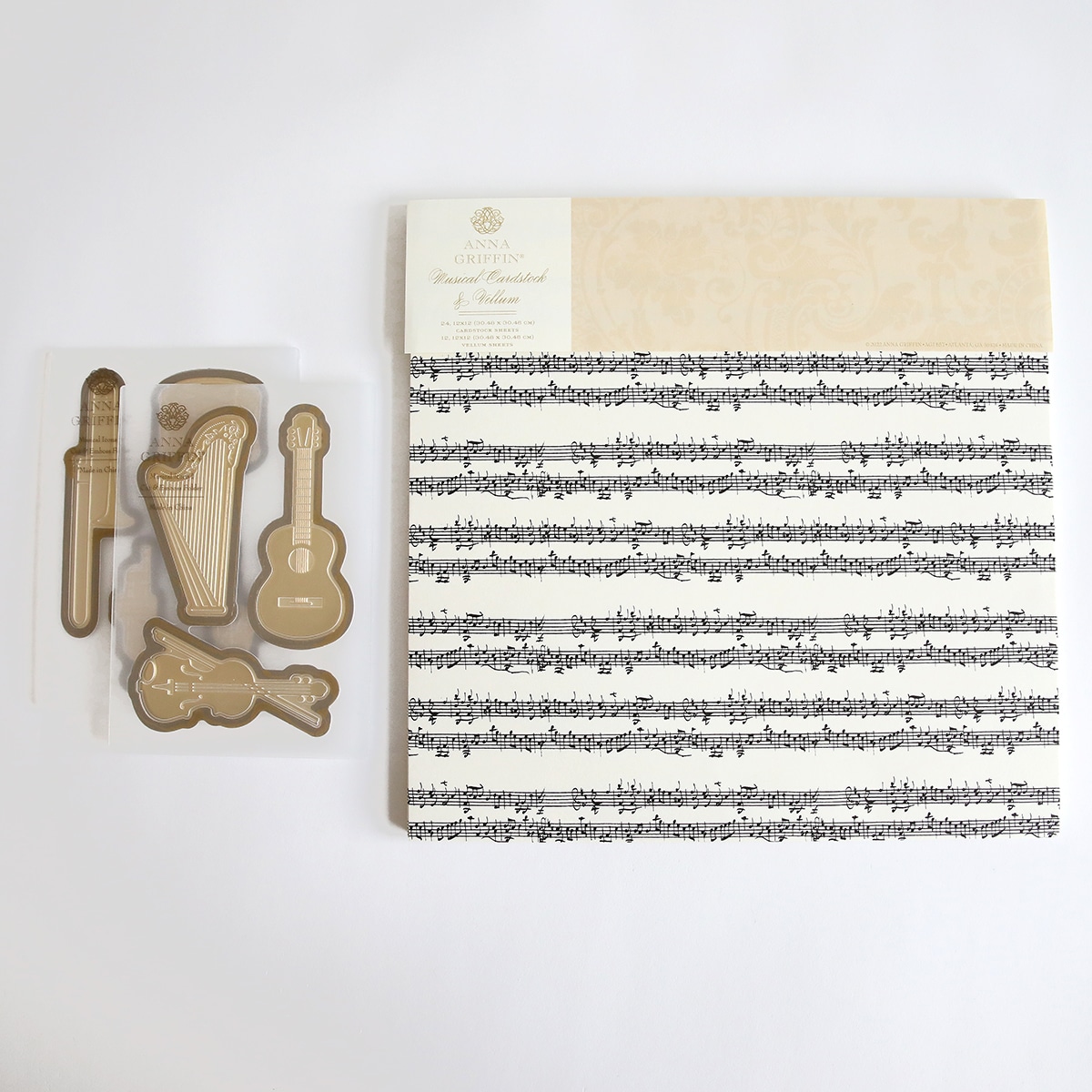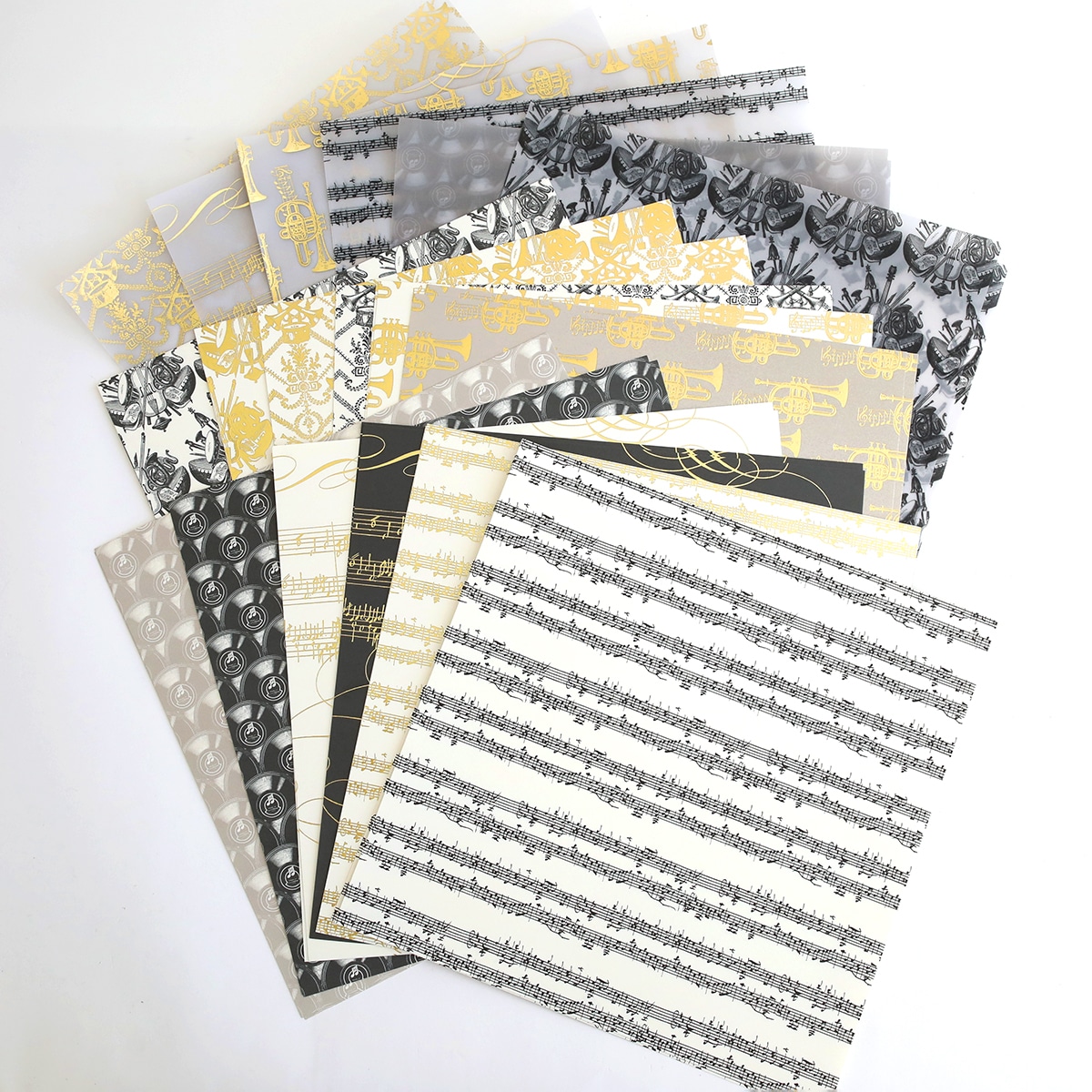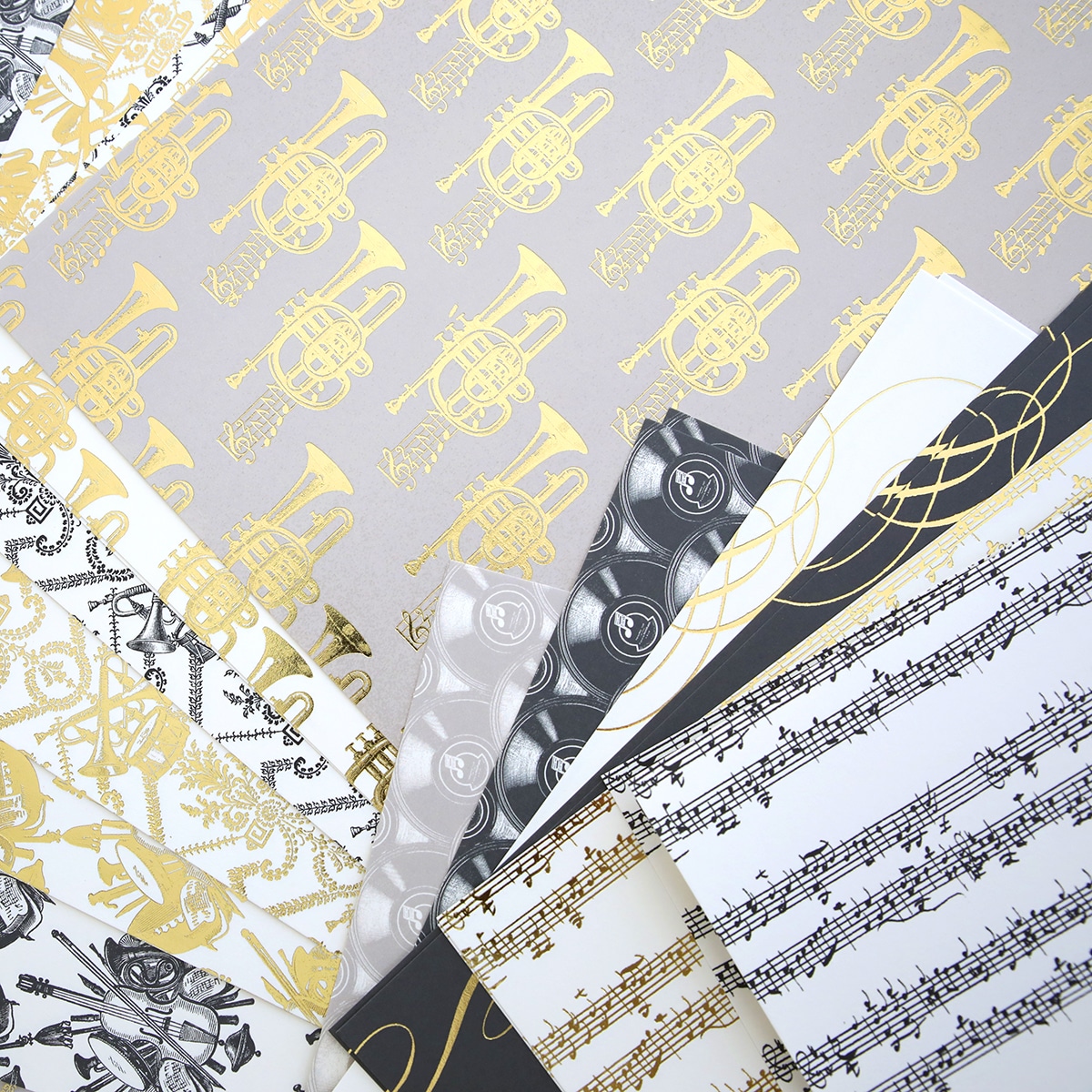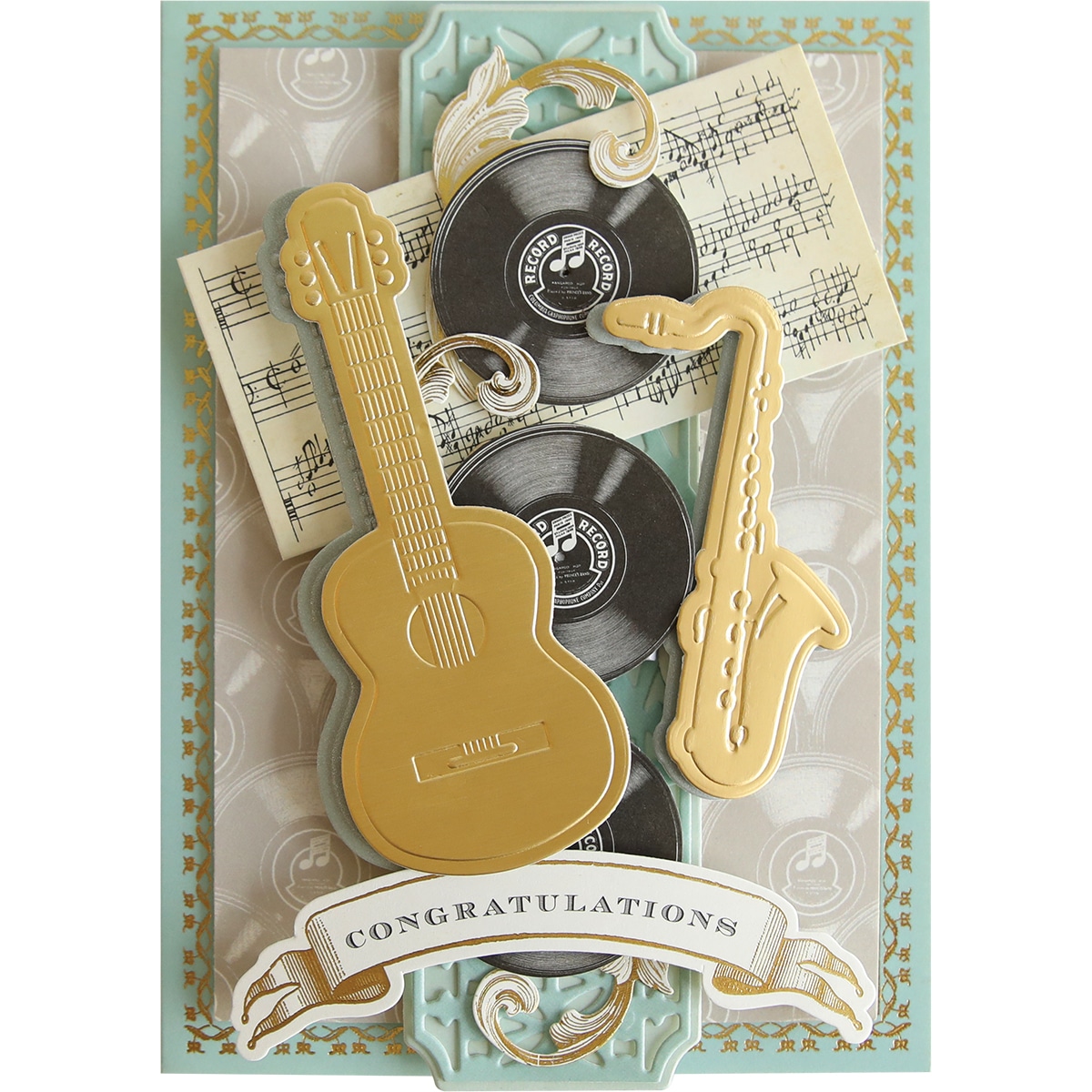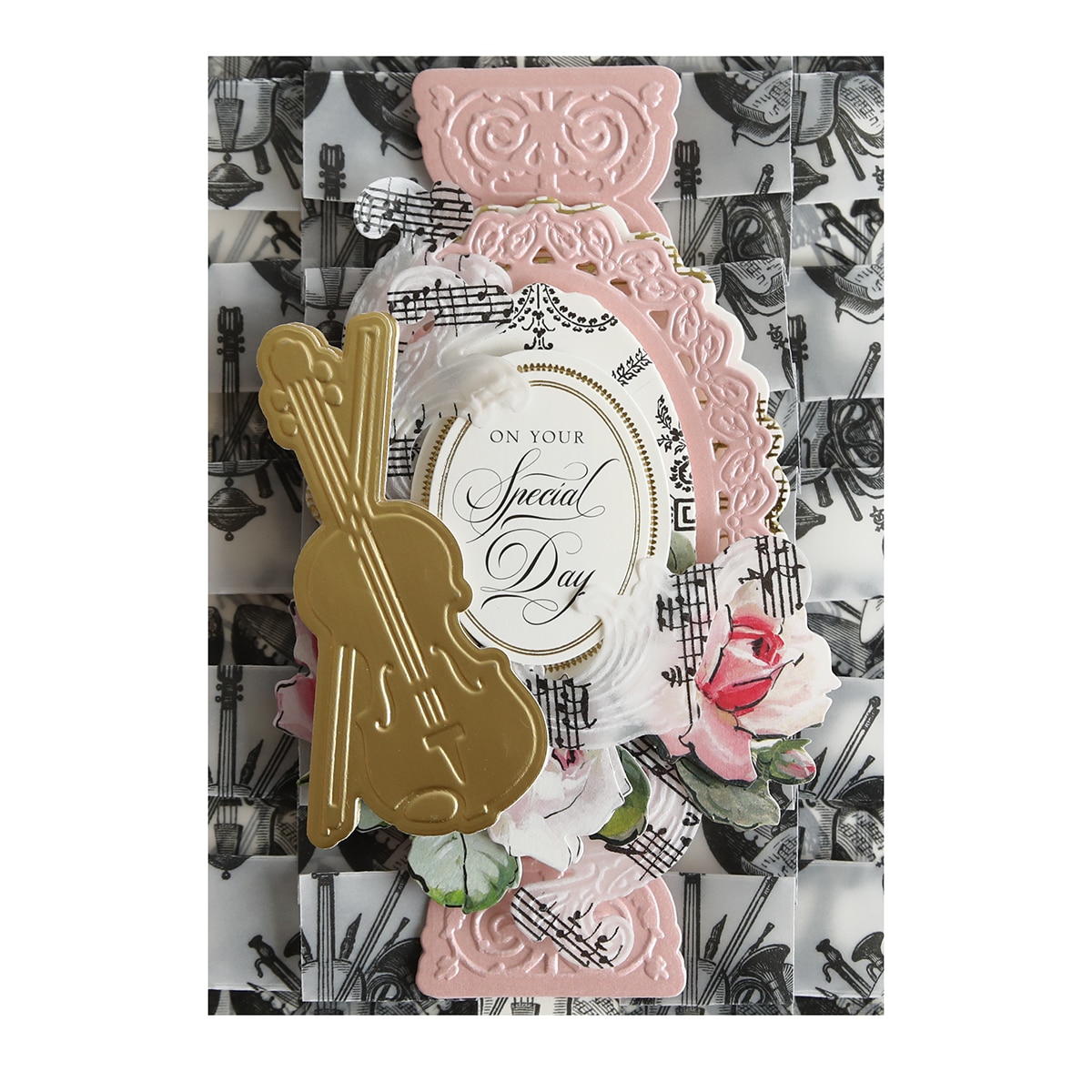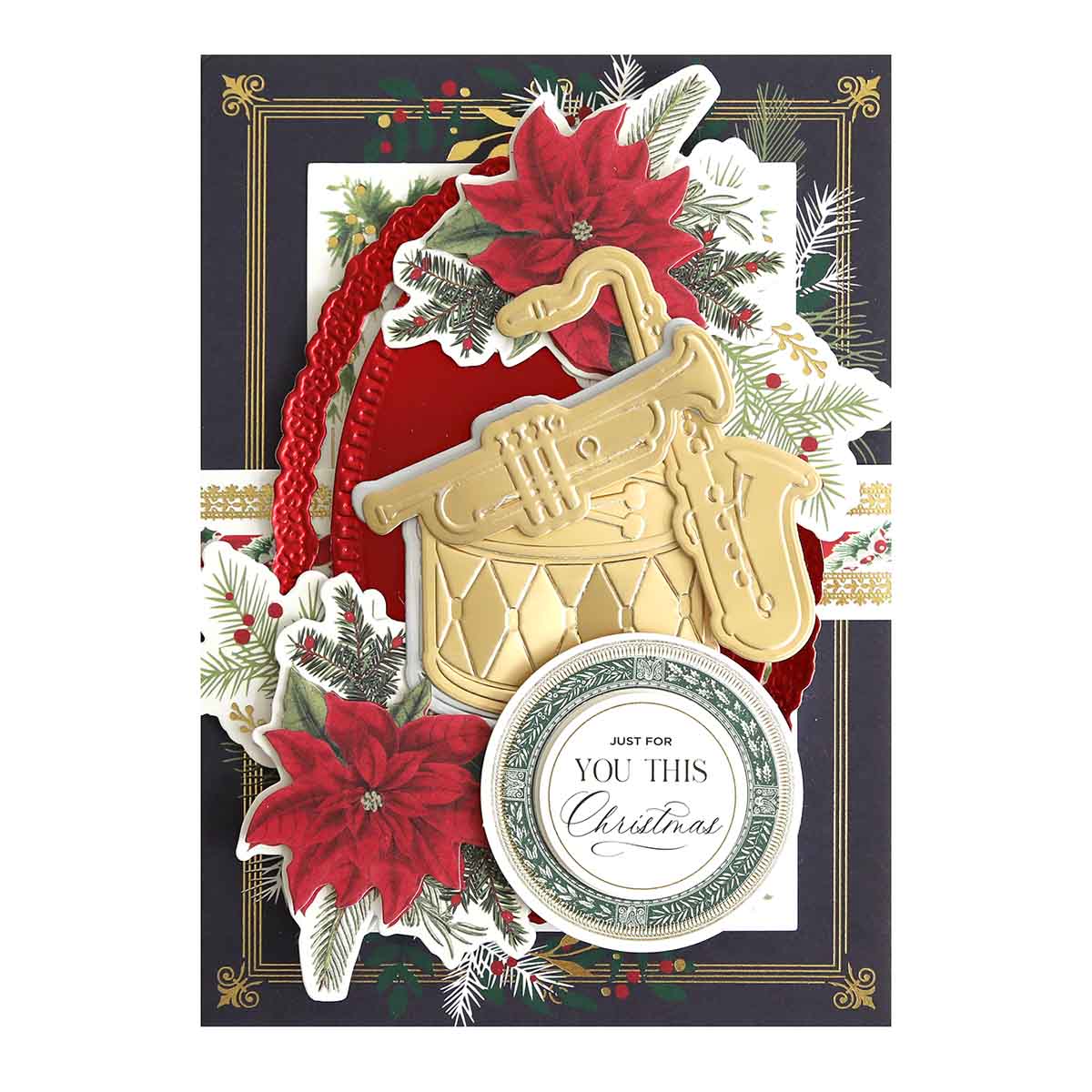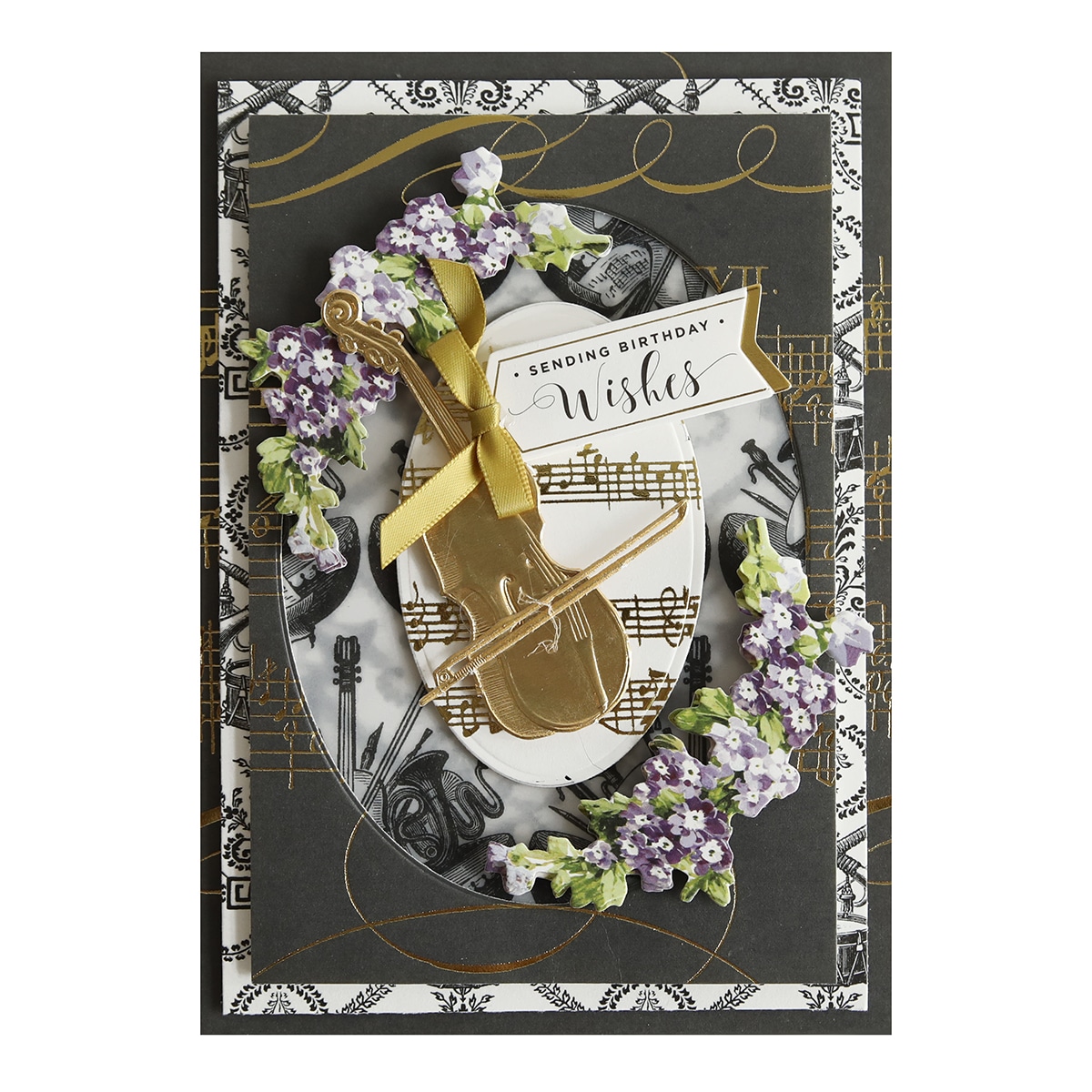 Your first chance to get the Wishing Well Finishing School Craft Box a la cart will happen on October 24th. You will be able to make 18 wonderful, interactive wishing well cards with this kit and the best part is that it comes with 6 amazing instructional videos that will teach you how to think outside the box with this kit. These finishing school craft boxes are a hybrid kit. You get the cardstock for the card bases, matte foil cardstock, embellishments, sentiments, signature cards, dies, envelopes and more.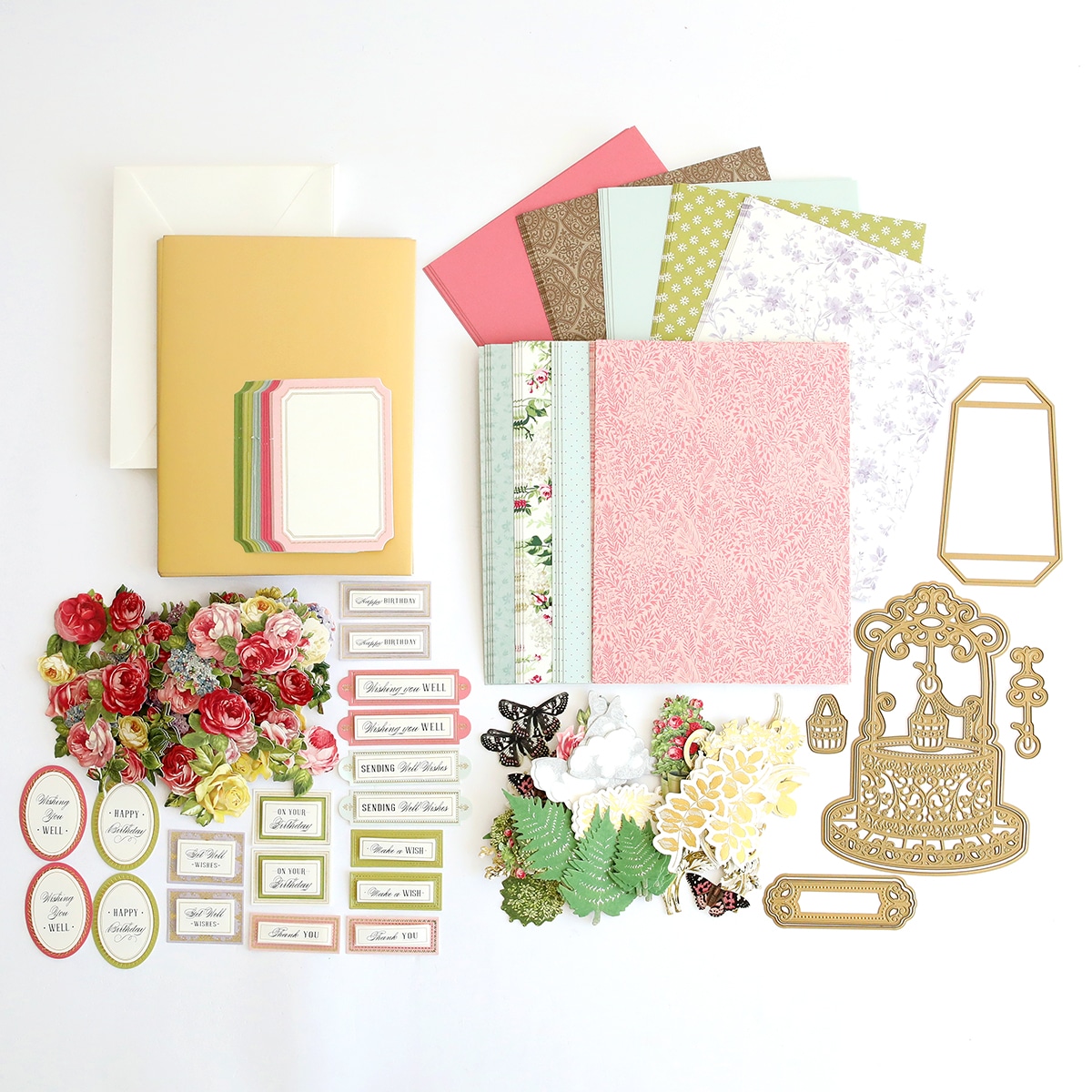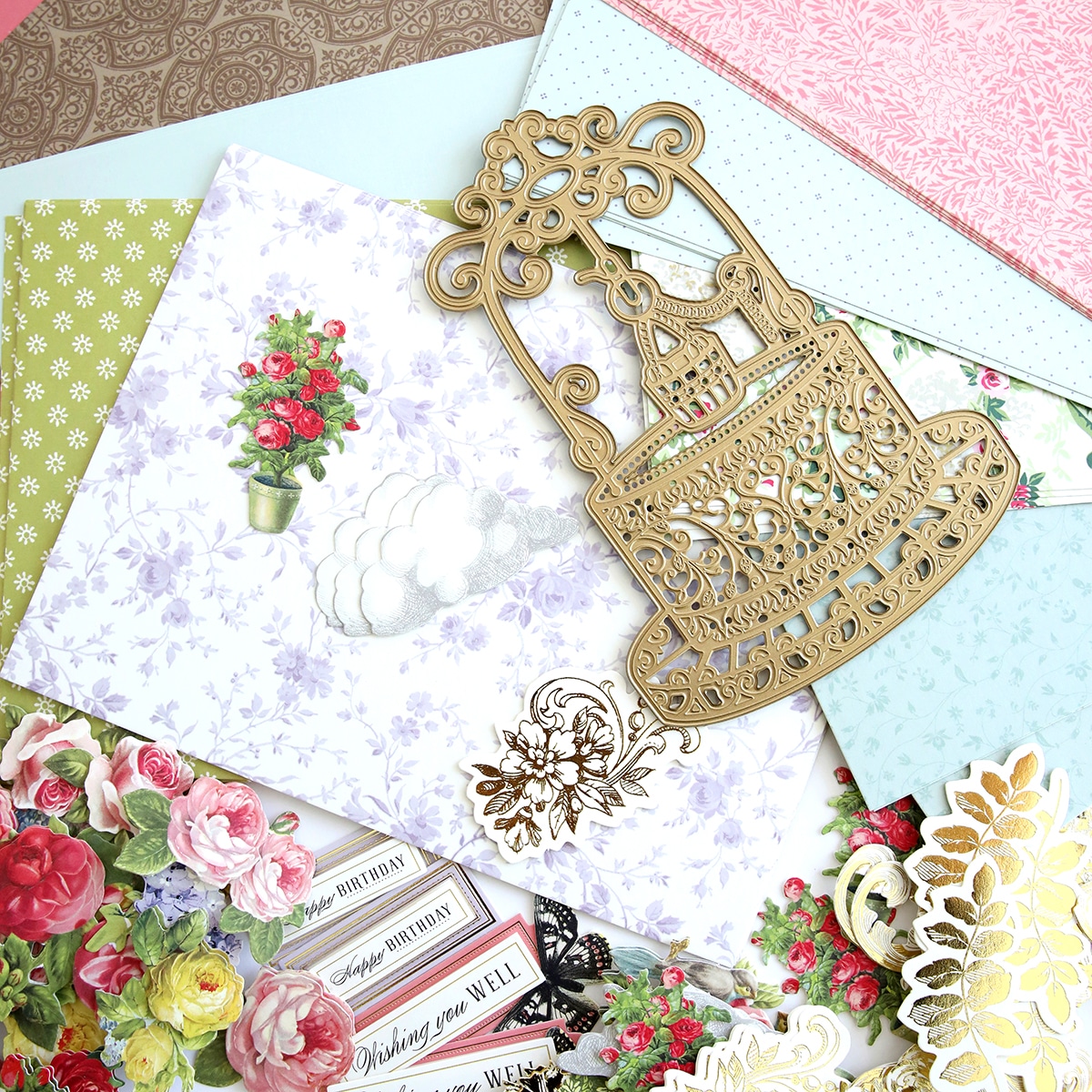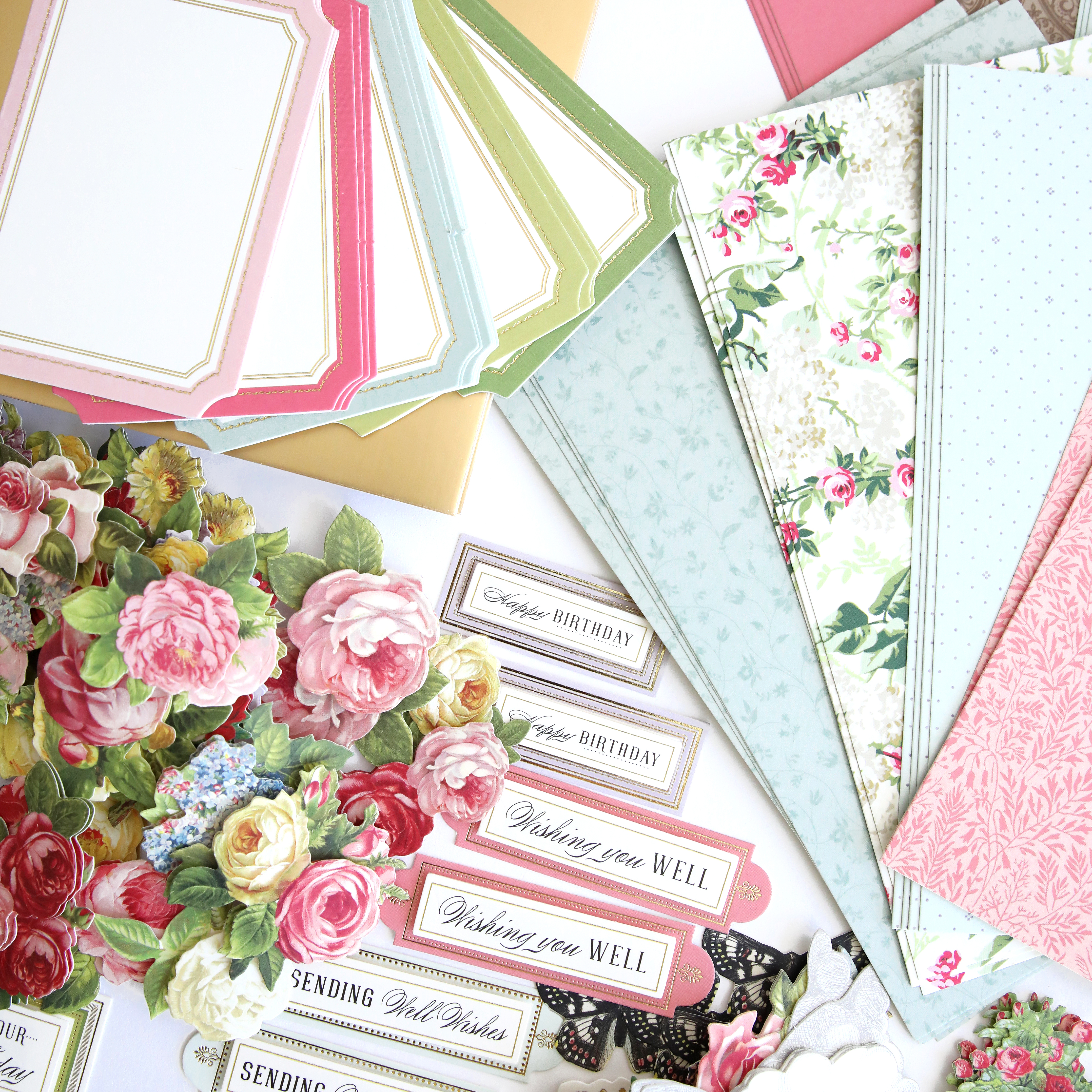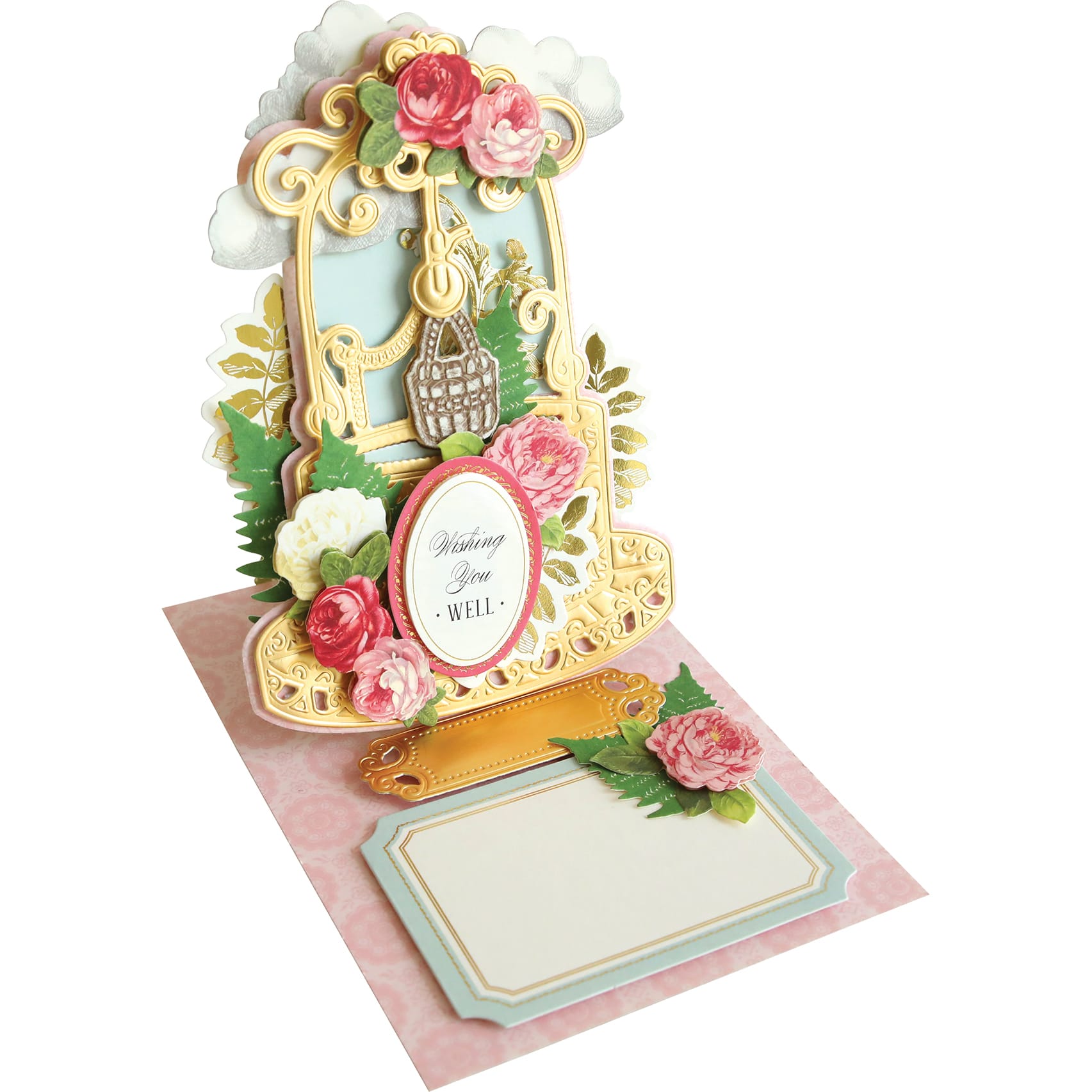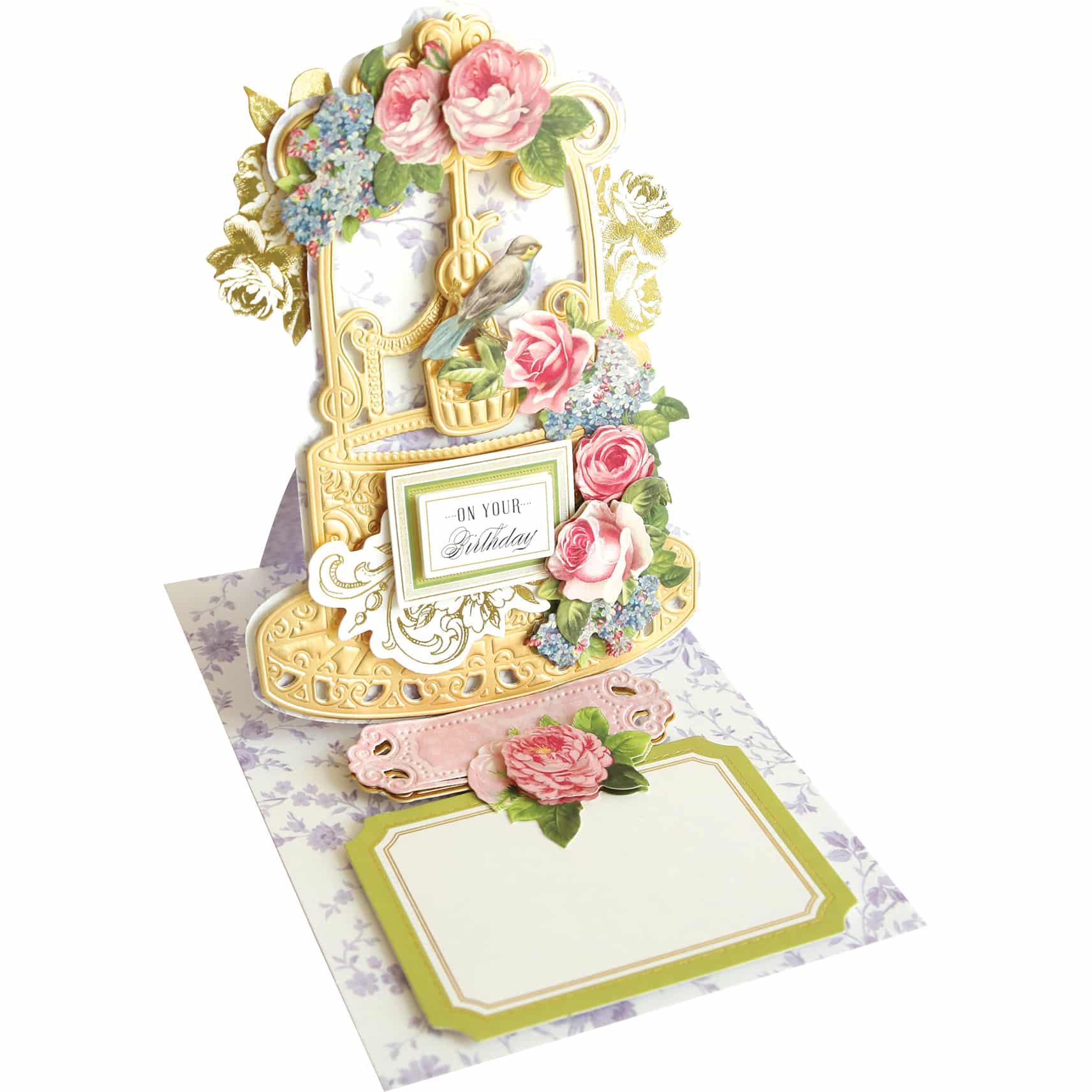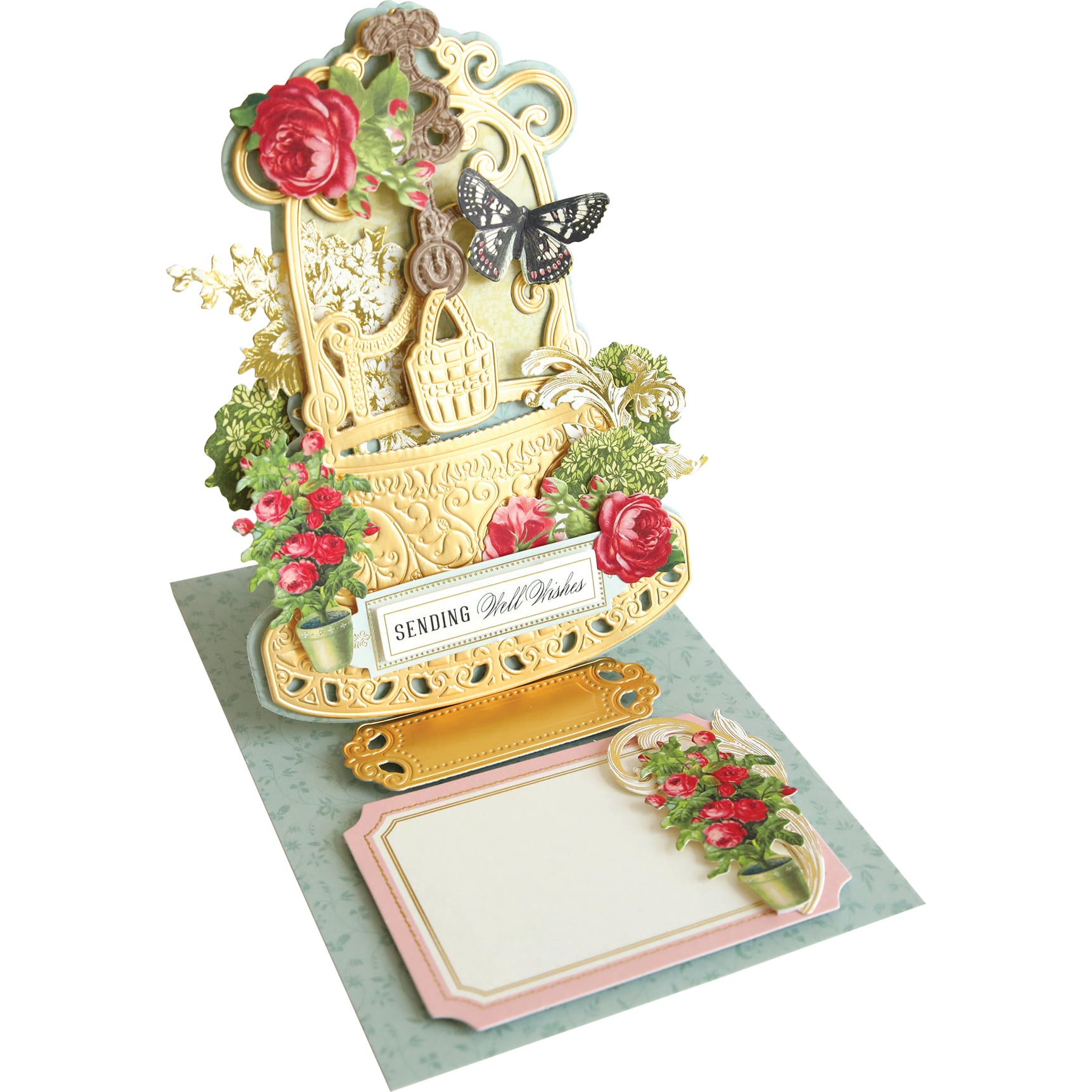 To continue making wishing well cards there is the Wishing Well Cardstock. In this set, you get 36 sheets of gorgeous double-sided cardstock (4 each of 9 designs).
Your wishing wells will come to life with the Wishing Well Embellishments. There are 112 flat embellishments, 60 3D embellishments and 18 3D embellishments. From pink and yellow roses to lilacs and ferns to hydrangeas, you will get lots of blooms to adorn your wishing wells. The gold foil embellishments and sentiments will finish your cards in a beautiful way.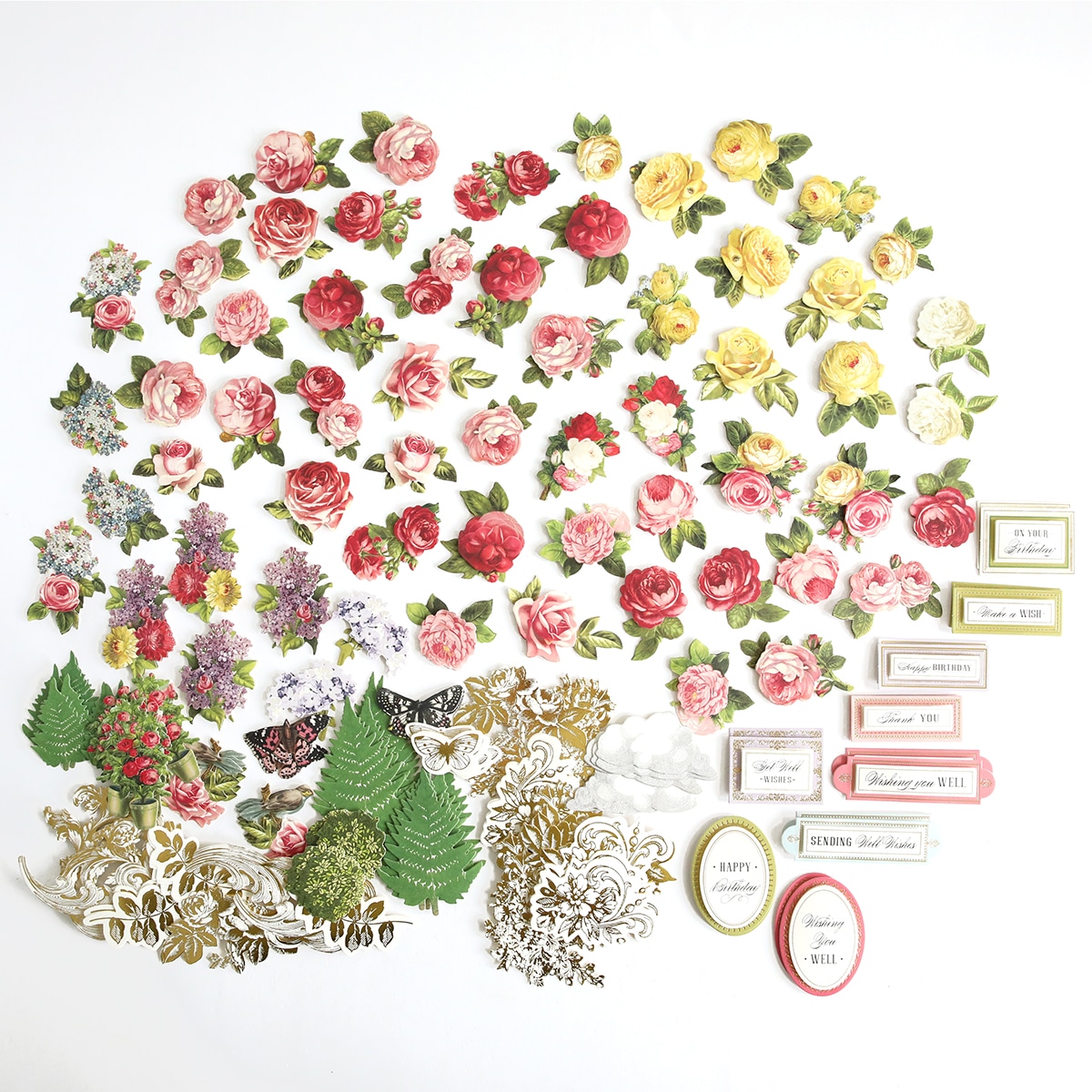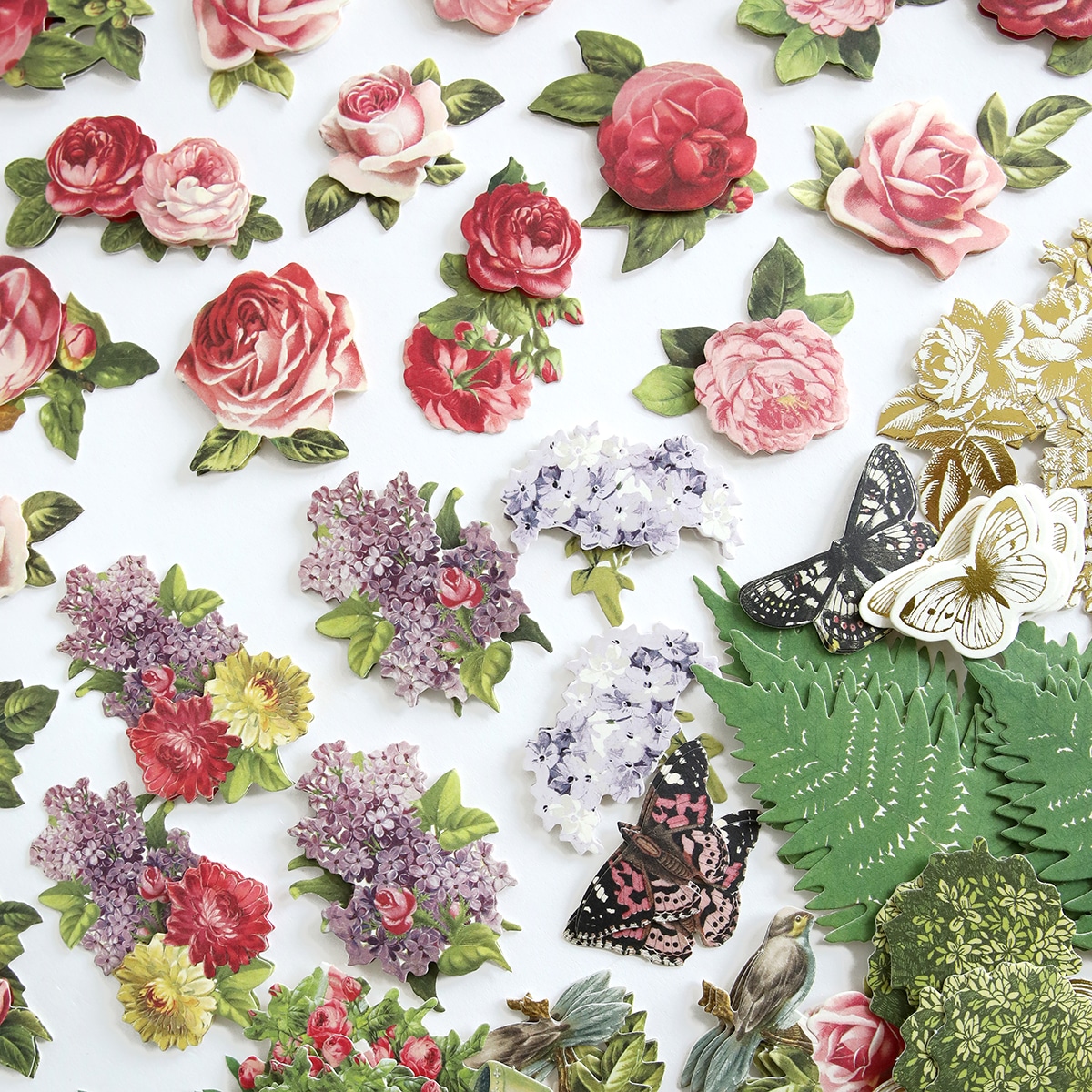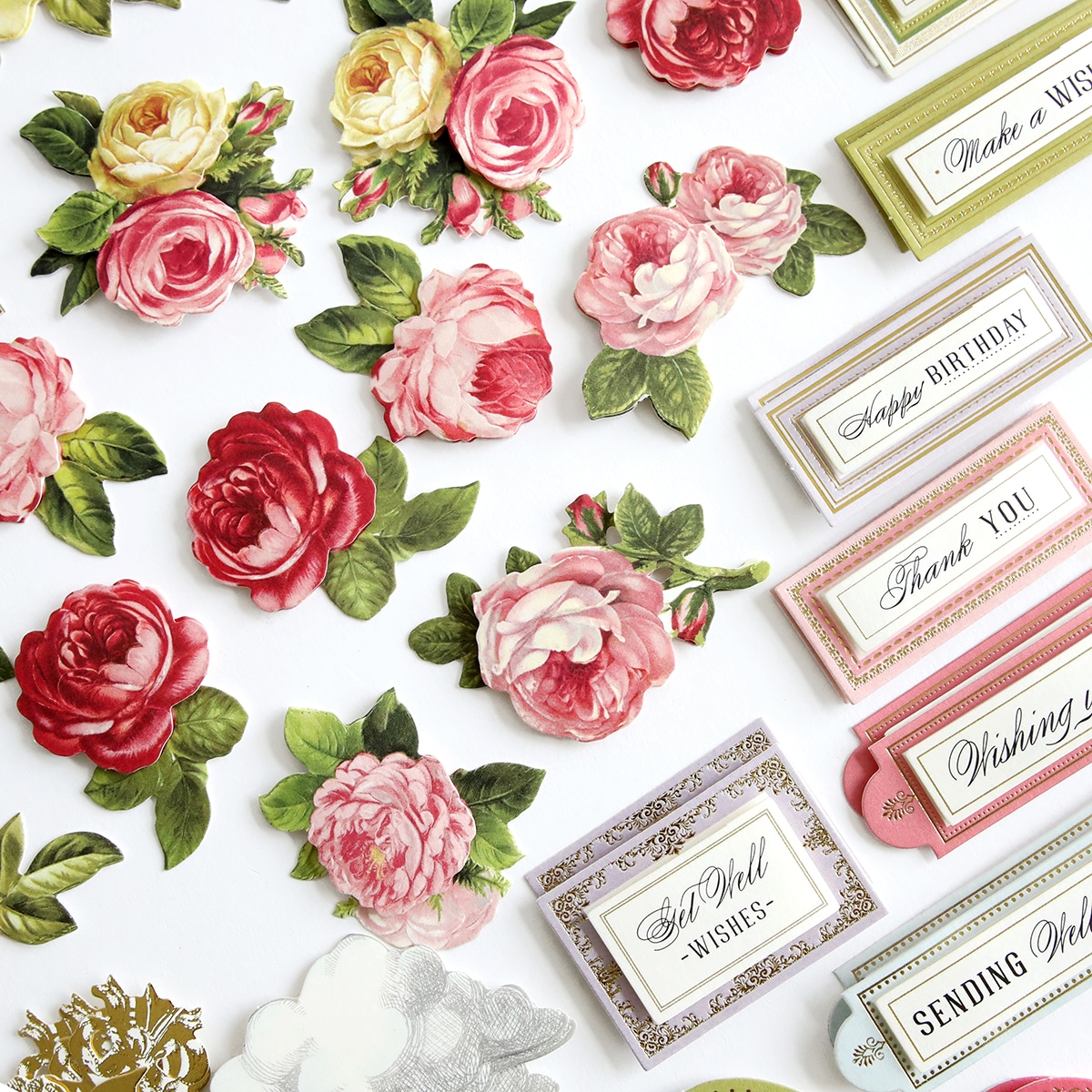 Fellow bag ladies, the Luxury Icon Purse Card Dies will make your incredible open and close purses or 3D gusseted purses with gorgeous detail. Paper piecing has never been more fun, and you will love adding diecuts, layers and more to your purses. Whether you are making birthday cards or party favors, you will be able to create an impressive card each and every time.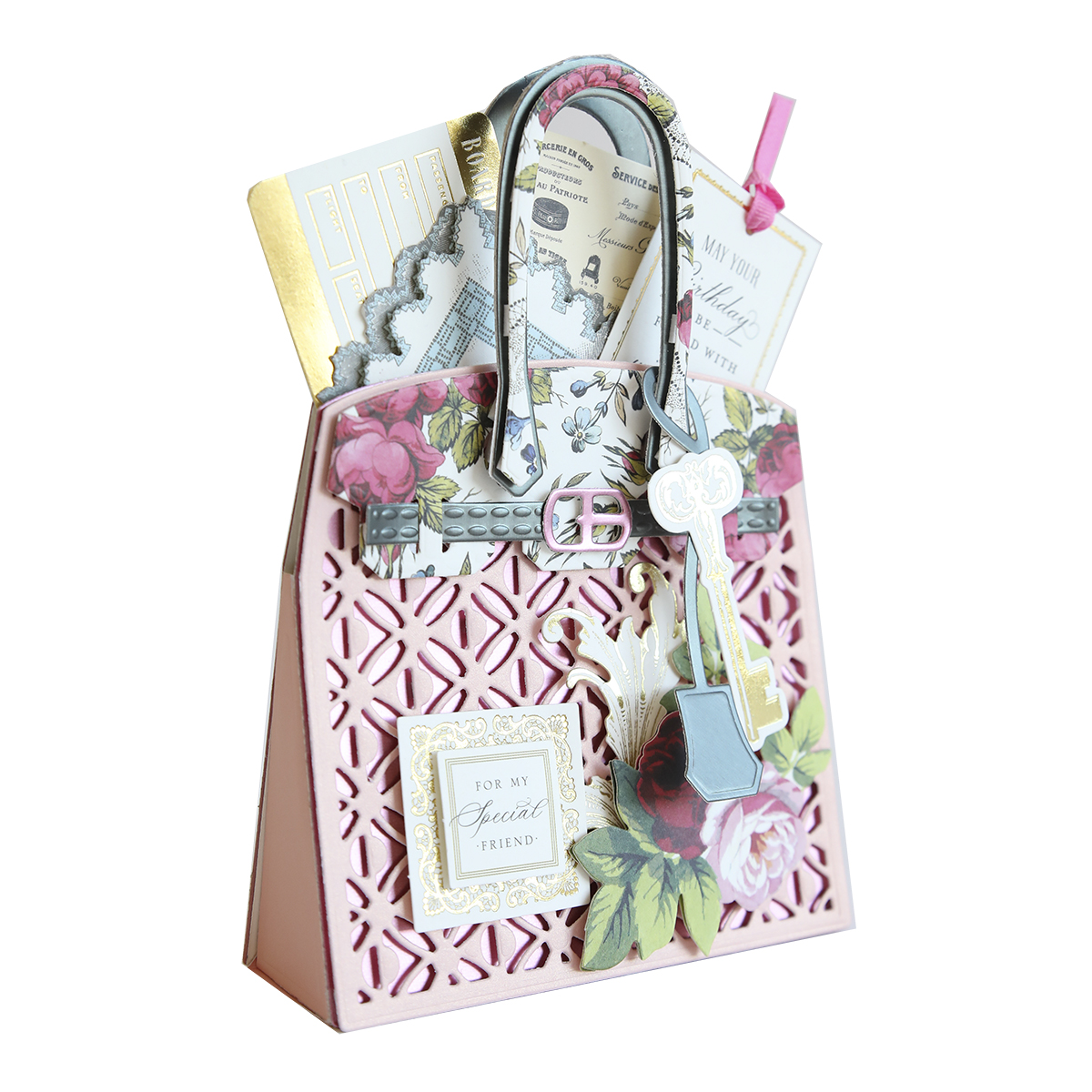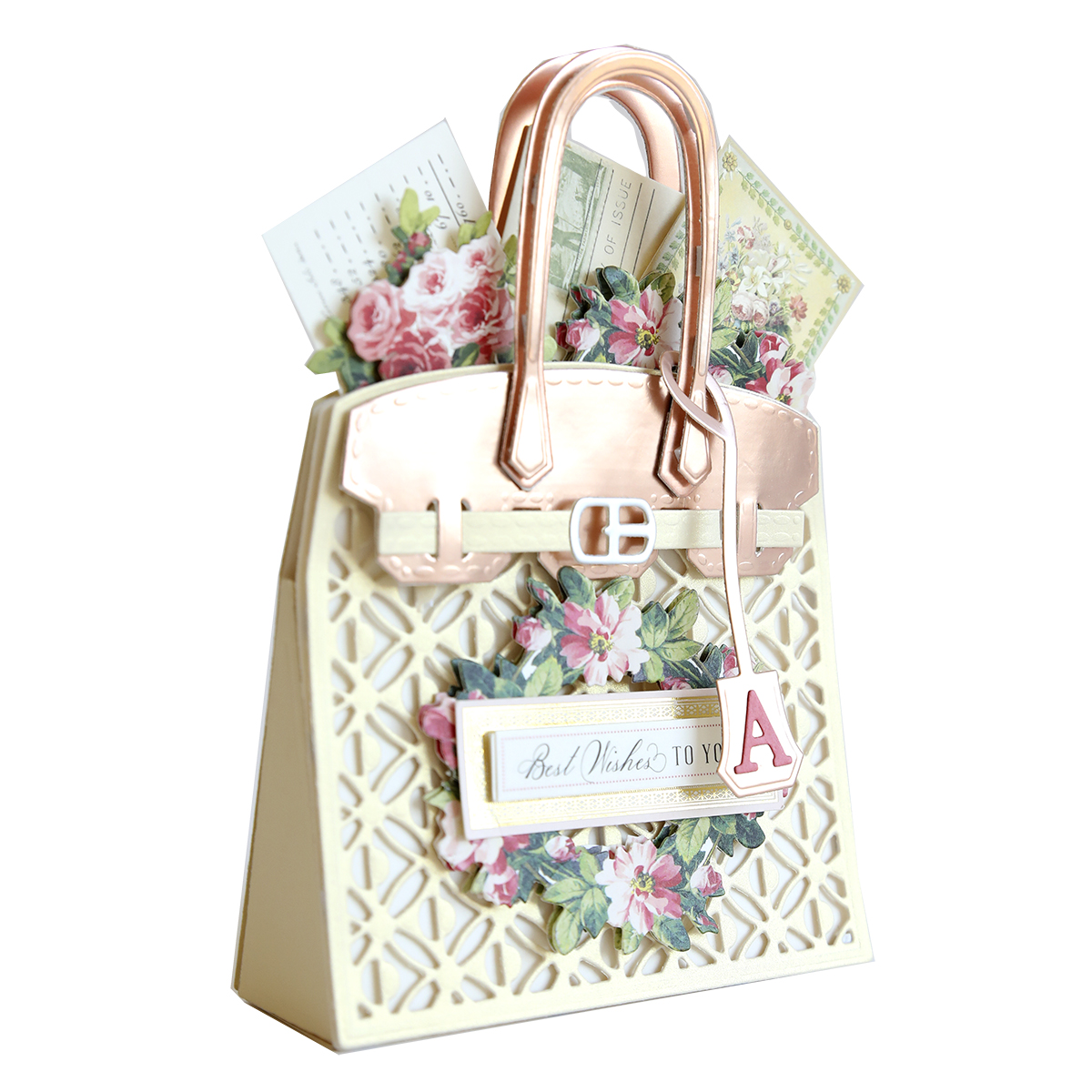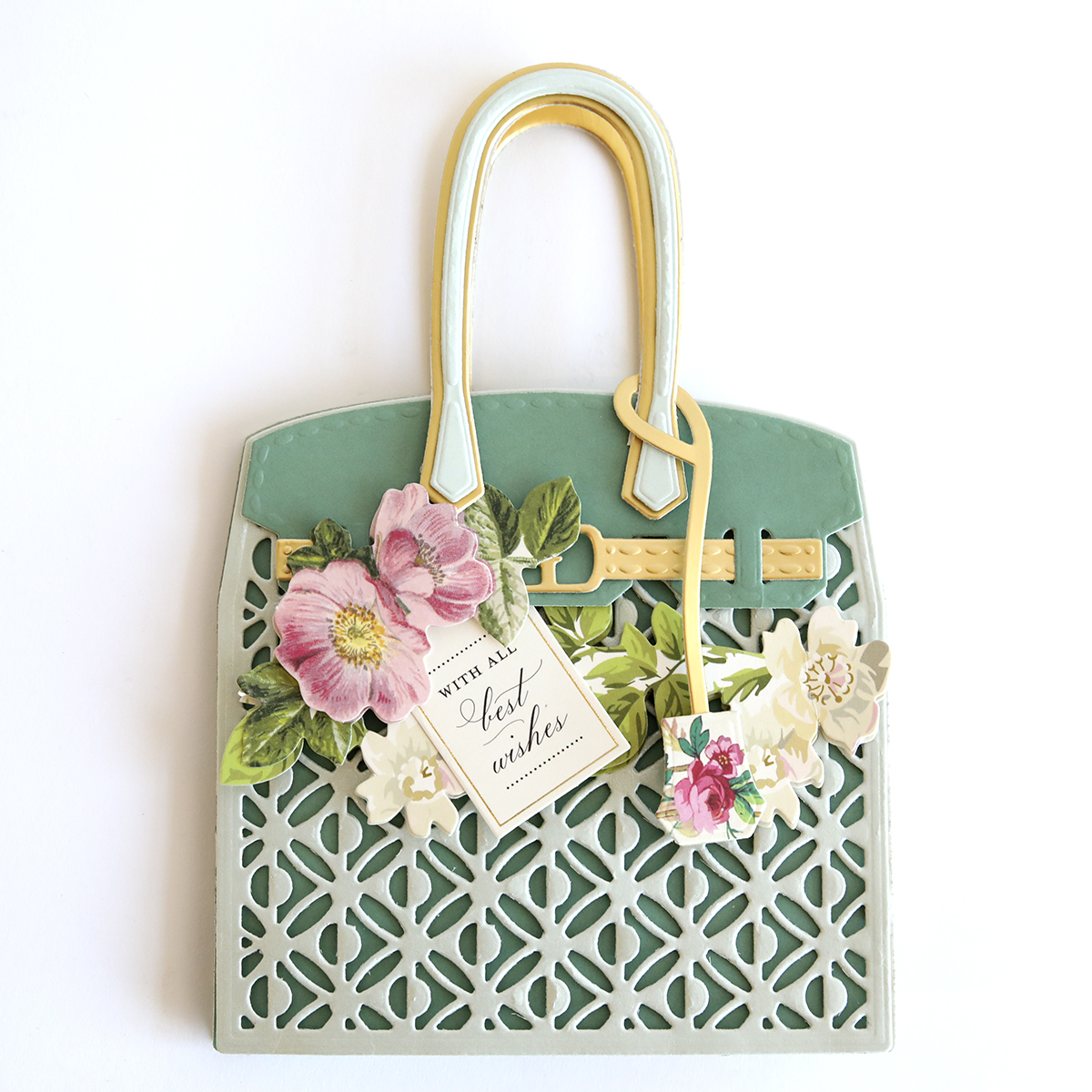 Your first chance to get the 3D Rose Slimline Concentric Frame Dies is our Craftober shows! If you love slimline cards, then this stunning die set is one that you will want to add to your craft room. Use all of the dies to create a concentric look, or play with different layers to make interesting dimension. Use your favorite papers and all of the patterns, embellishments and sentiments from your craftroom.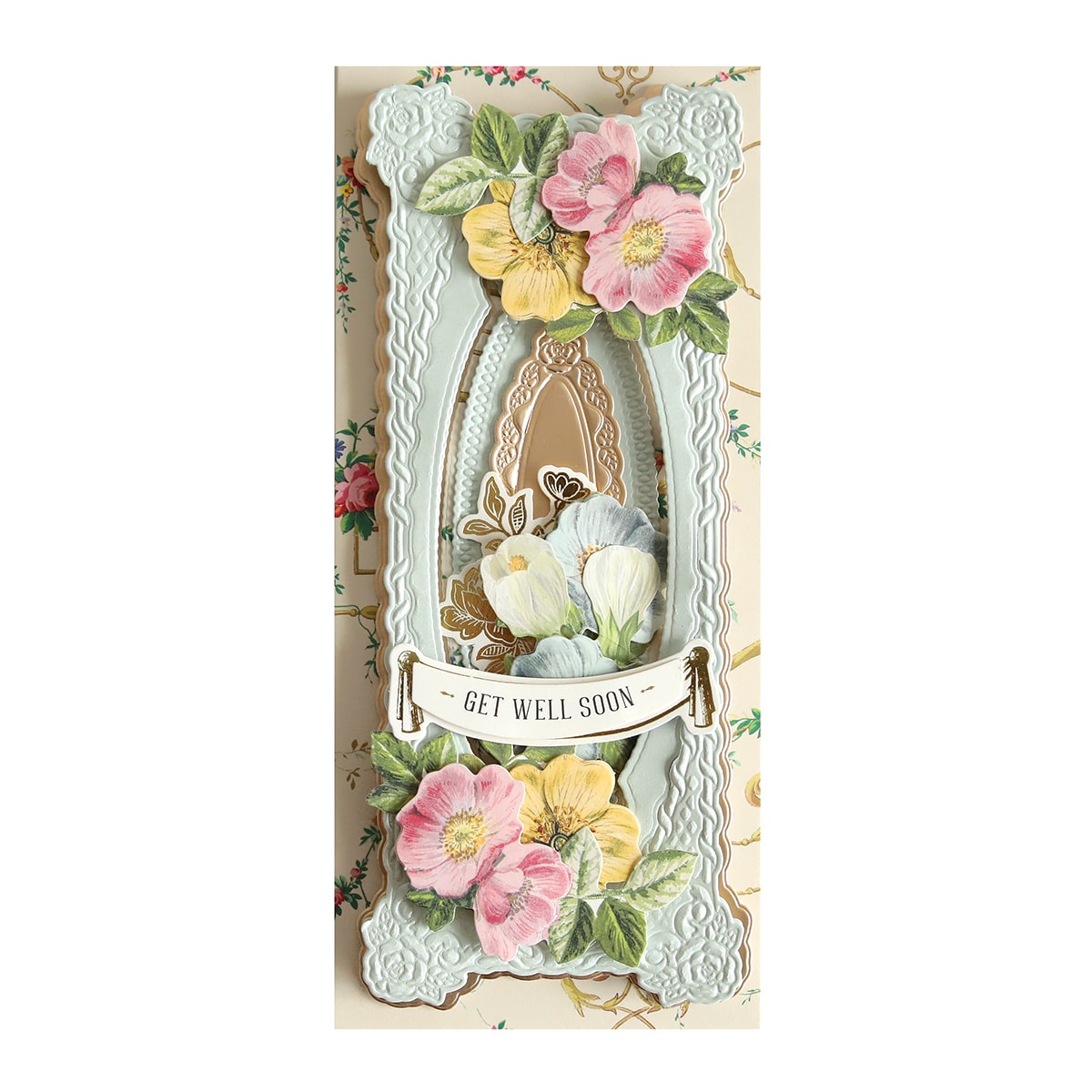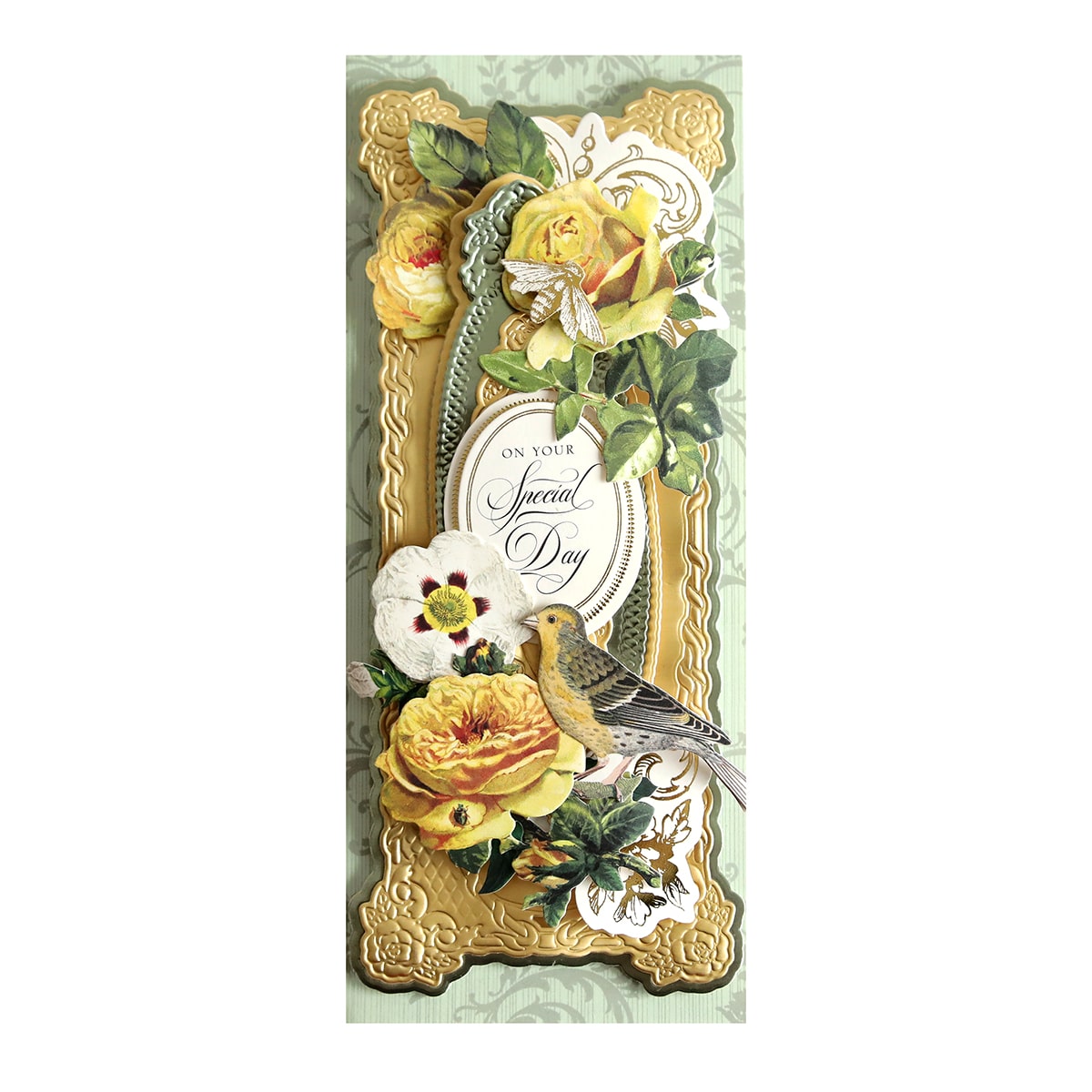 We love making it easy for you to create show-stopping embellishments. The Slimline Floral Cut and Emboss Folders cut you the parts and pieces needed to make dimensional flowers. Curve and curl your petals to form life-like flowers and add them until your heart's content. Create tonal flowers, multicolored flowers and even use both designs together on your paper projects.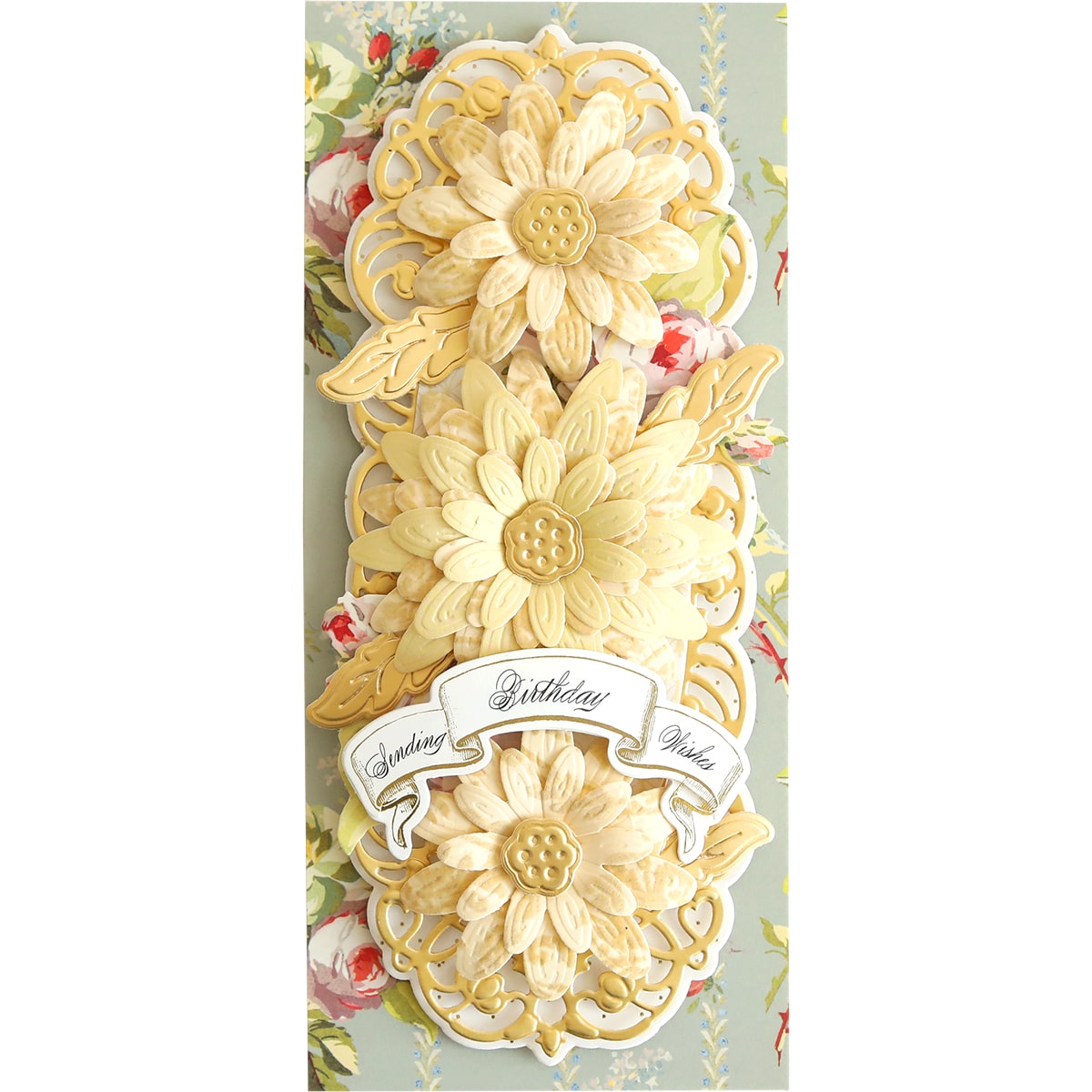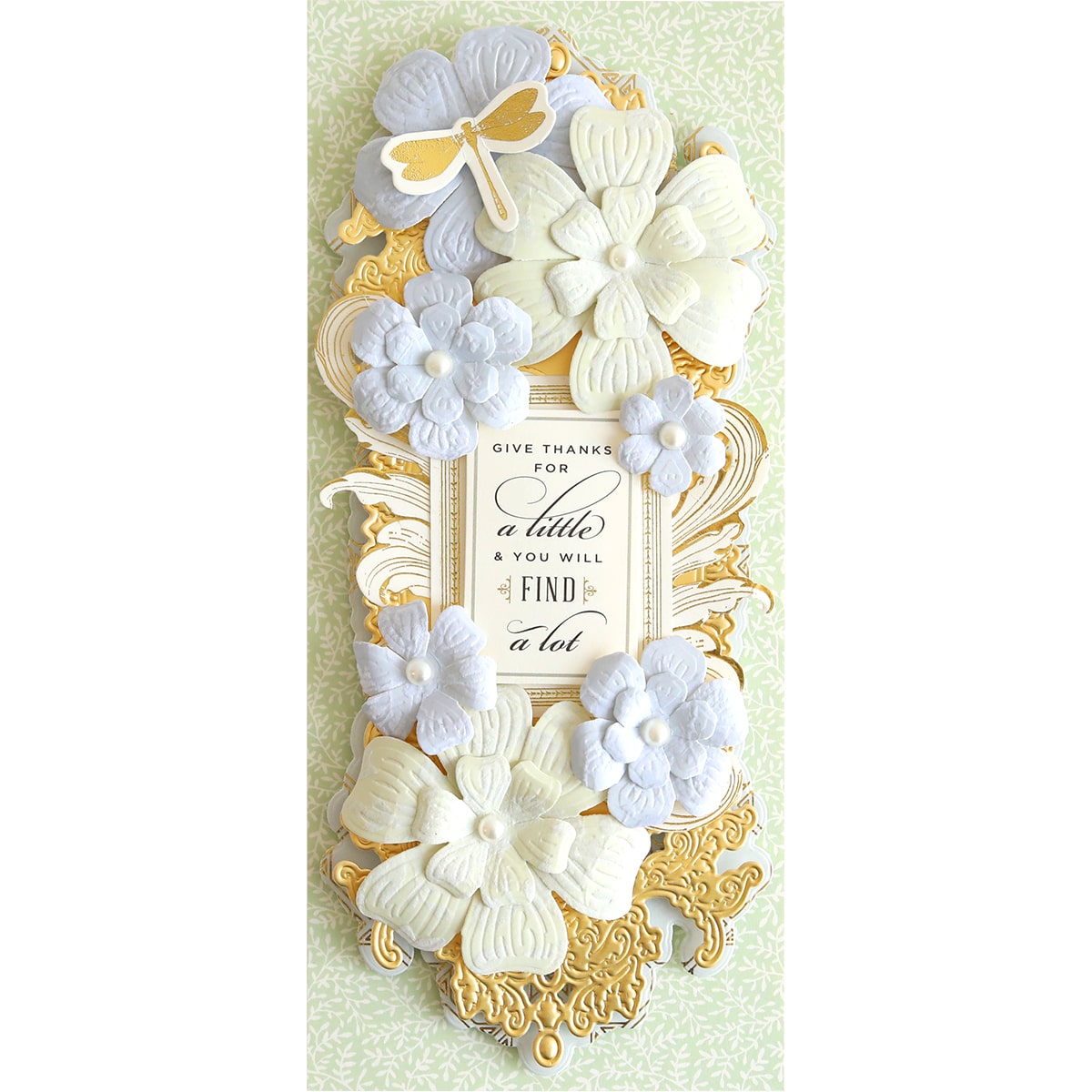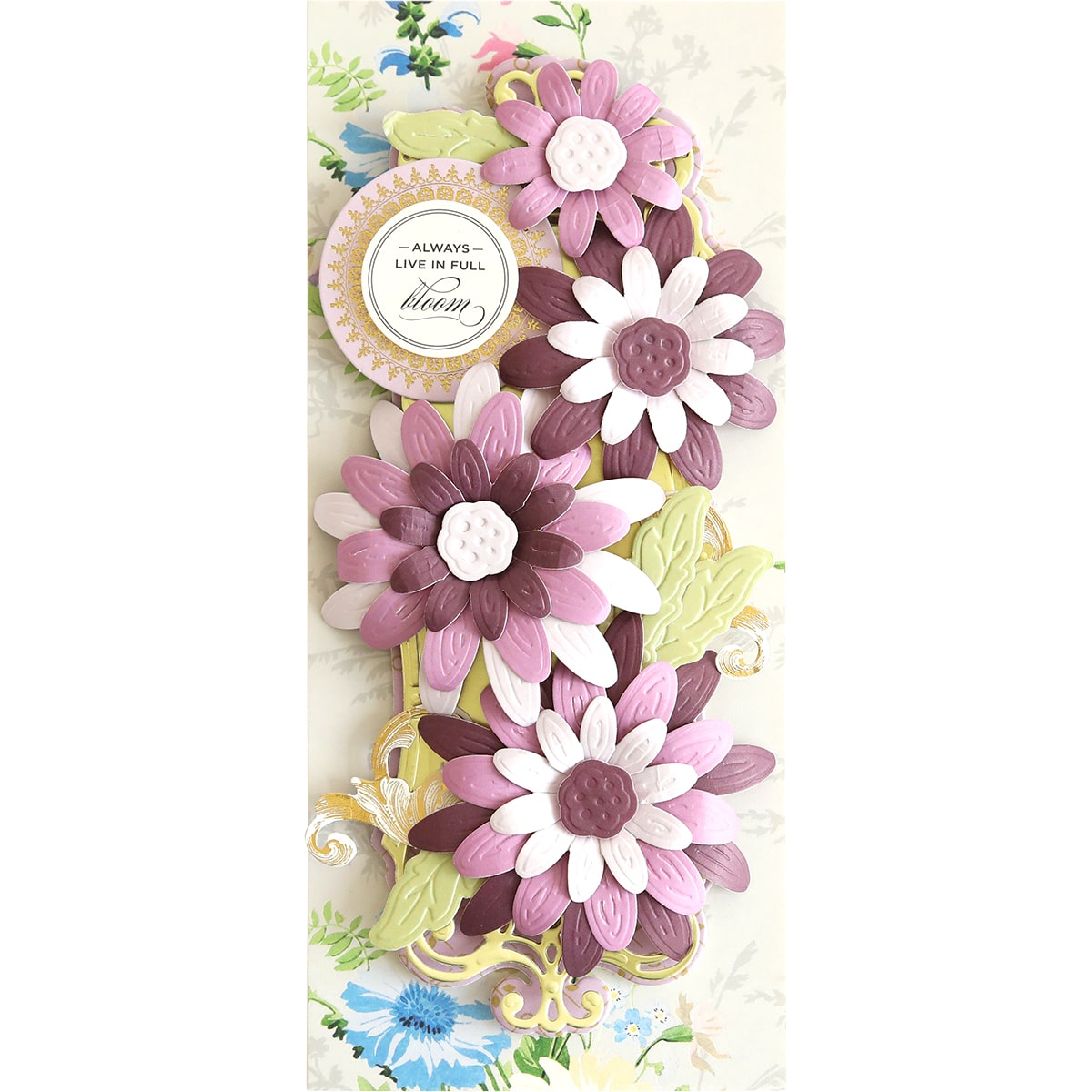 Nothing says celebration like a cake! The Simply Rocking Birthday Card Making Kit will allow you to make 12 beautiful birthday cards with ease. Everything you need is inside the folio, which makes it great to keep in your desk or bring on the go. Recipients will love the pastel colors, pretty floral swags, gold foil embellishments and ribbons that make each card special. The rocking mechanism will keep these cards rocking in a lovely way.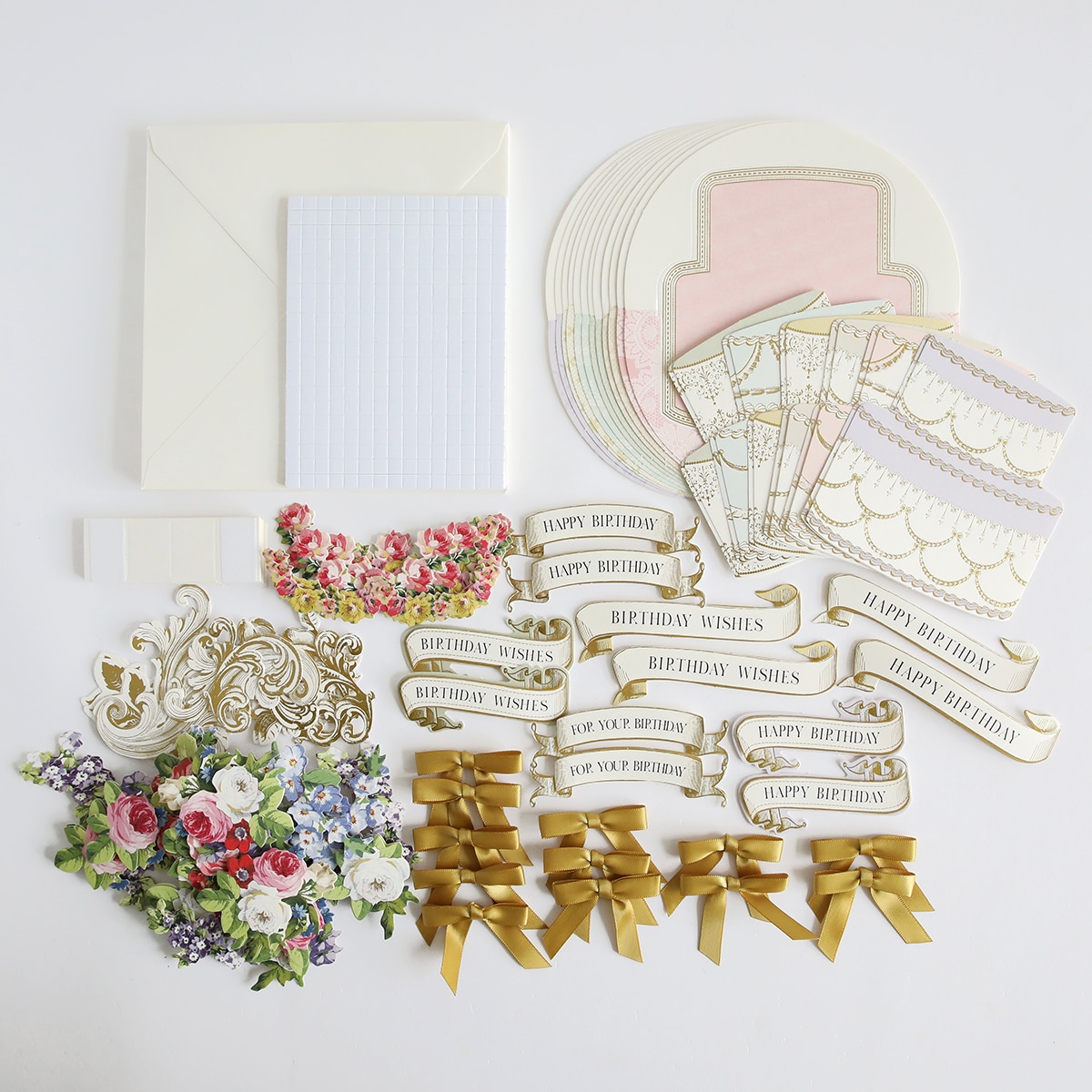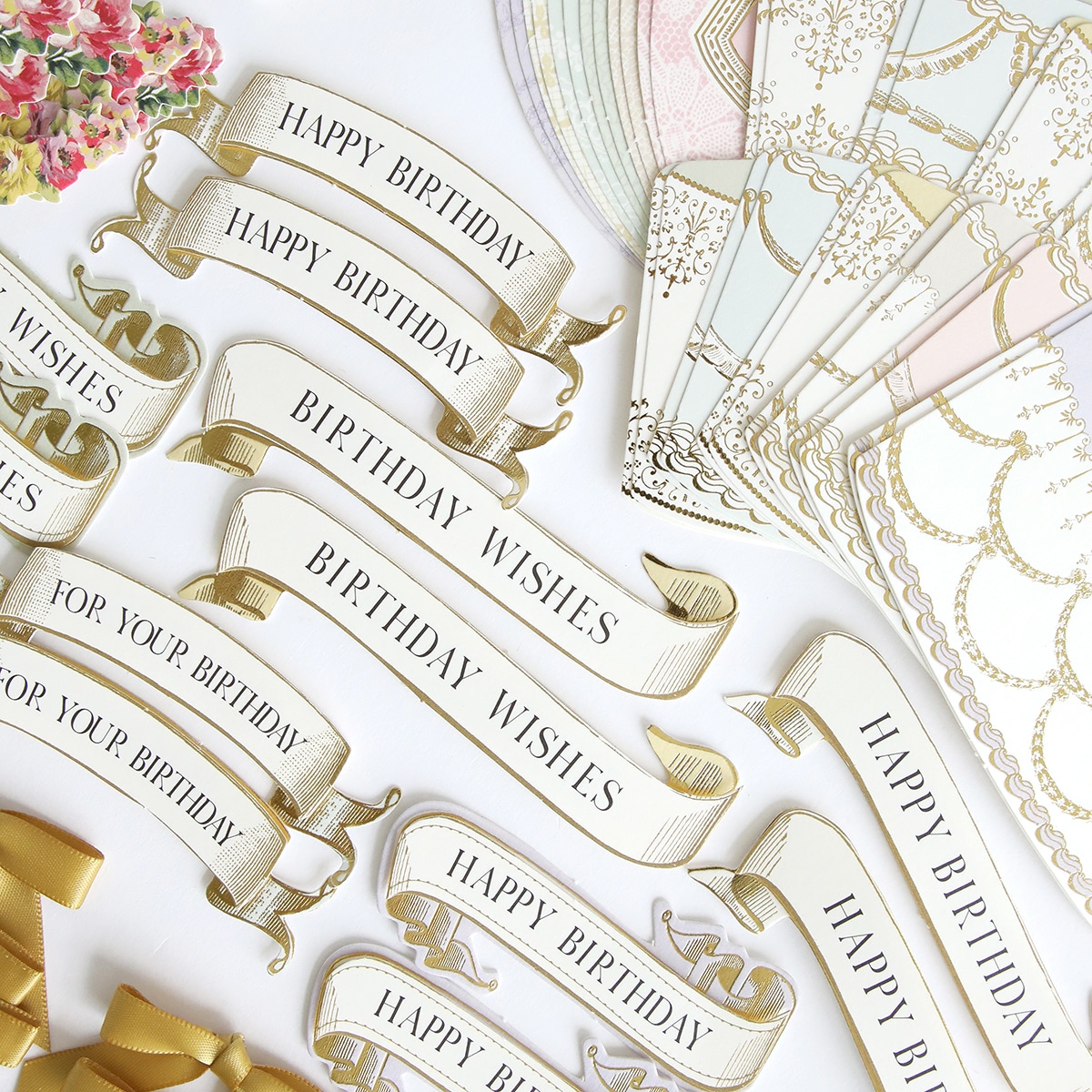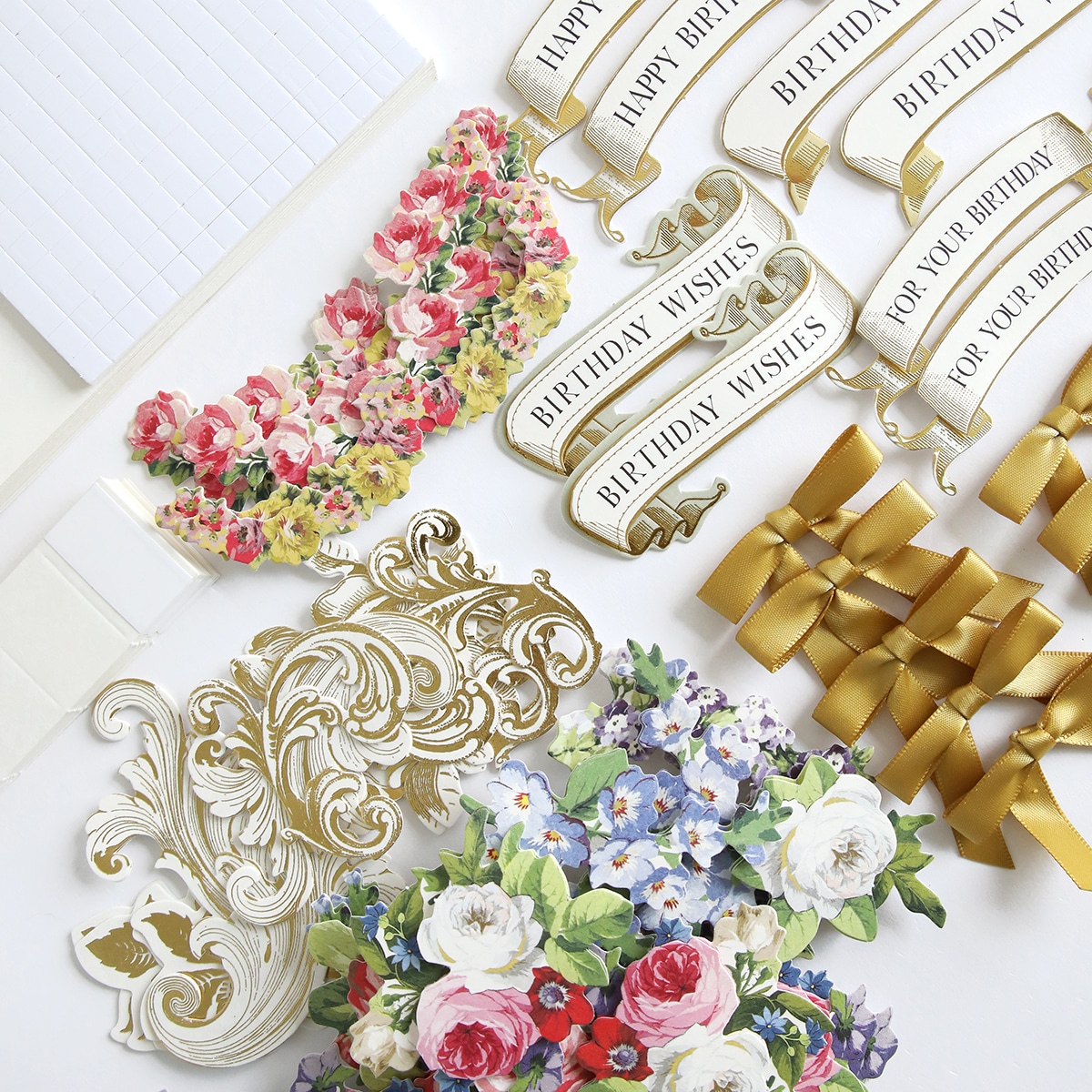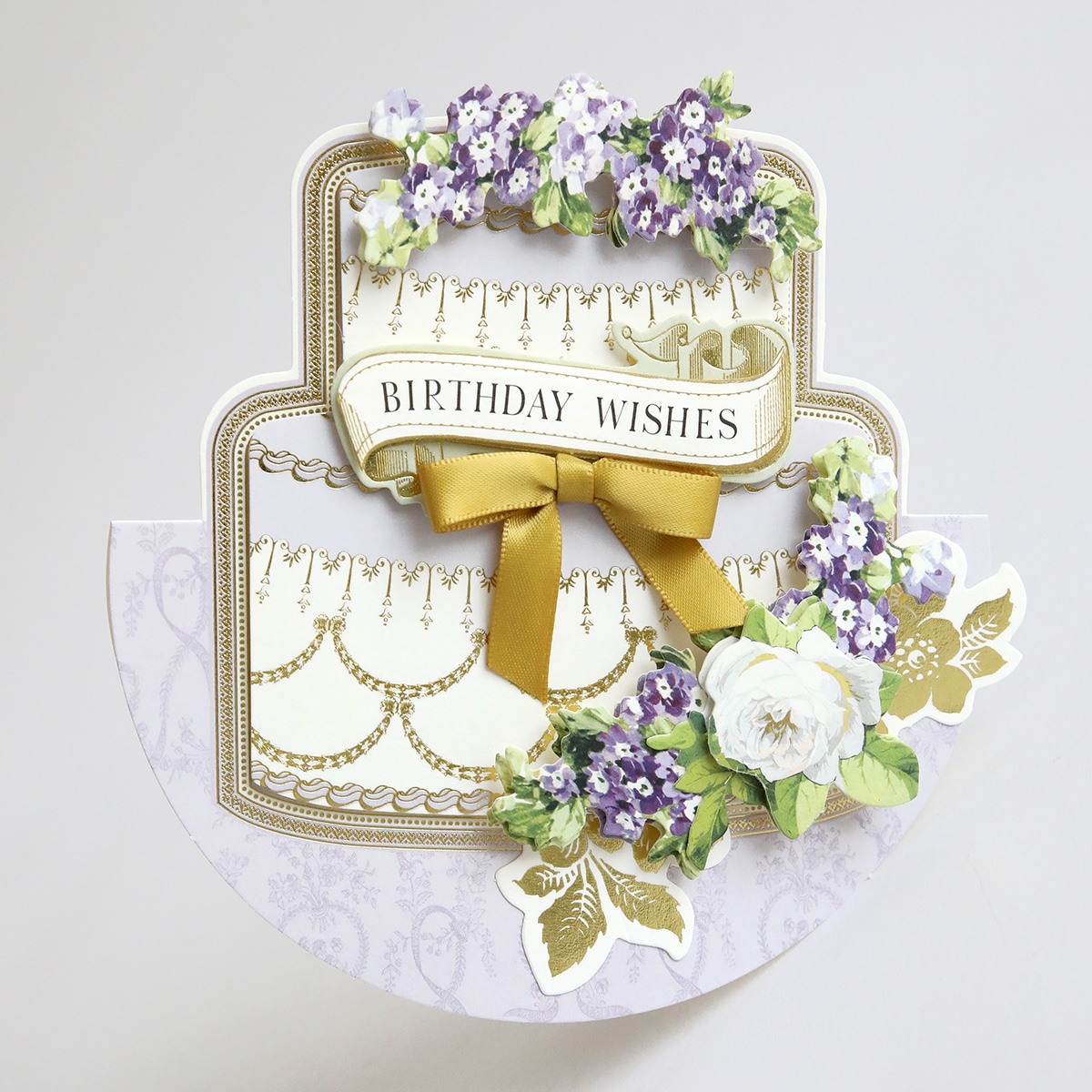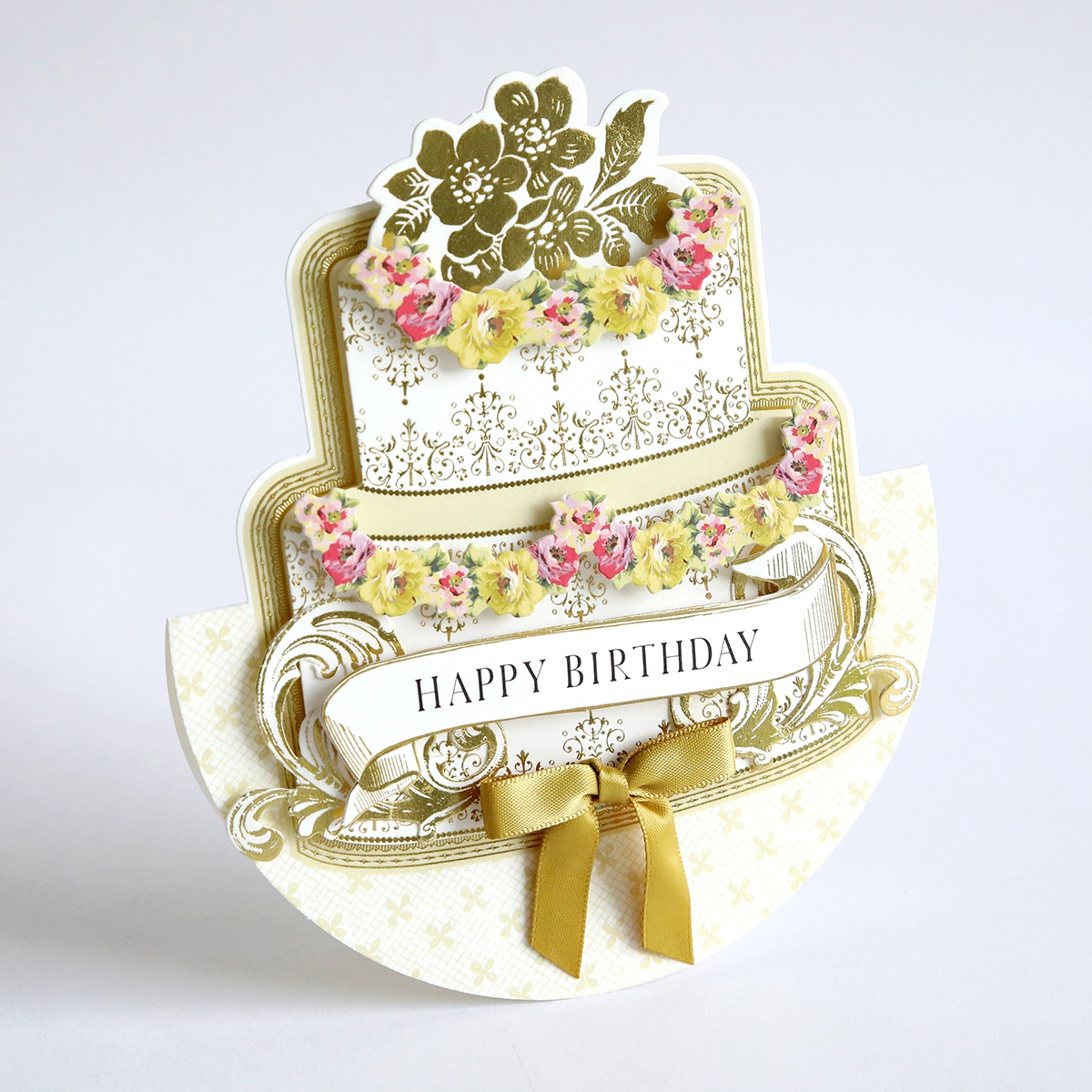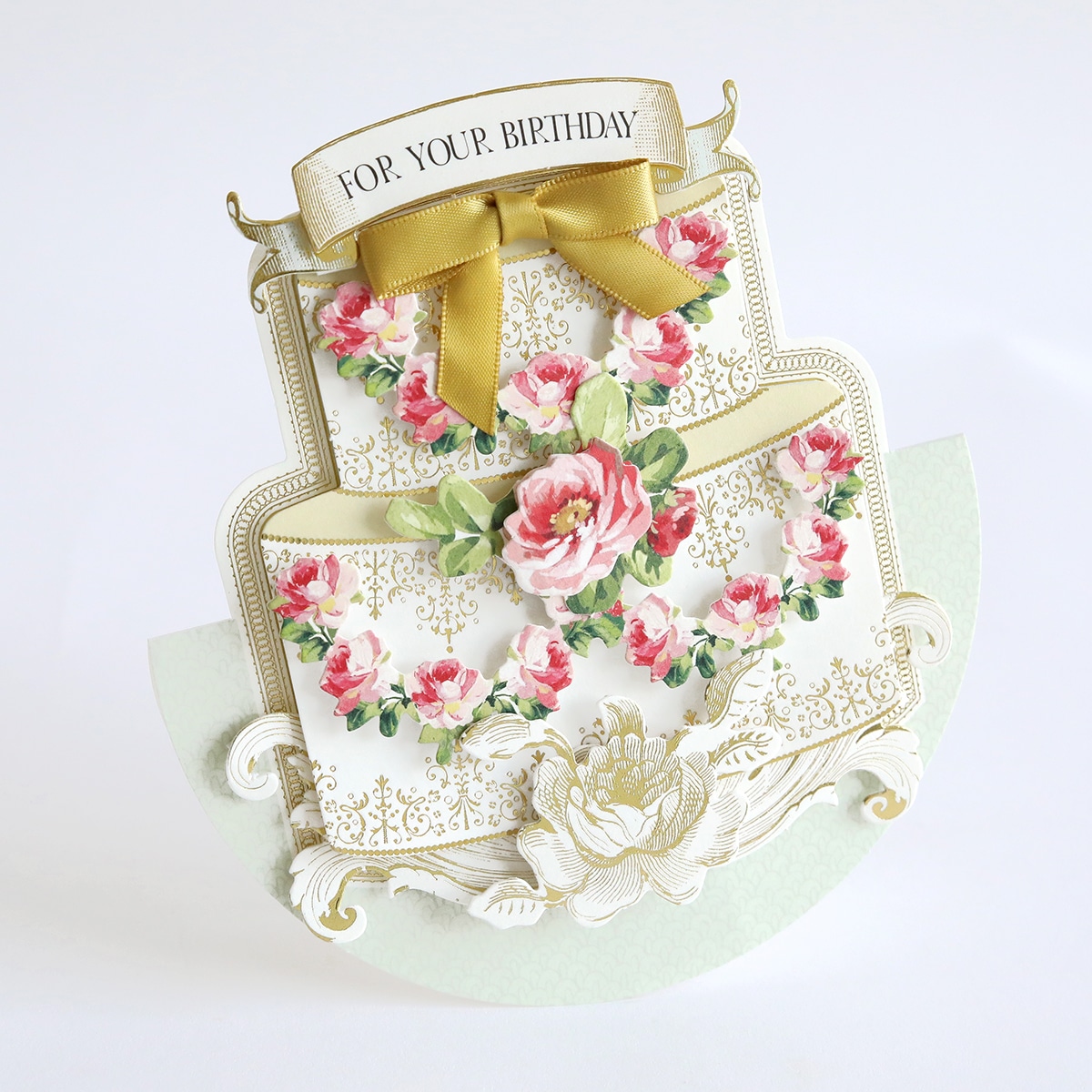 For those of you who have been patiently waiting for Create 9 to come to HSN, your time is almost here! Our amazing live-streamed event will take place on November 10th- 12th and we would love nothing more than for you to join us! There are 3 days of live instruction, incredible materials, tools and swag. From the live chat to the virtual craft room and more, this is an event that you do not want to miss!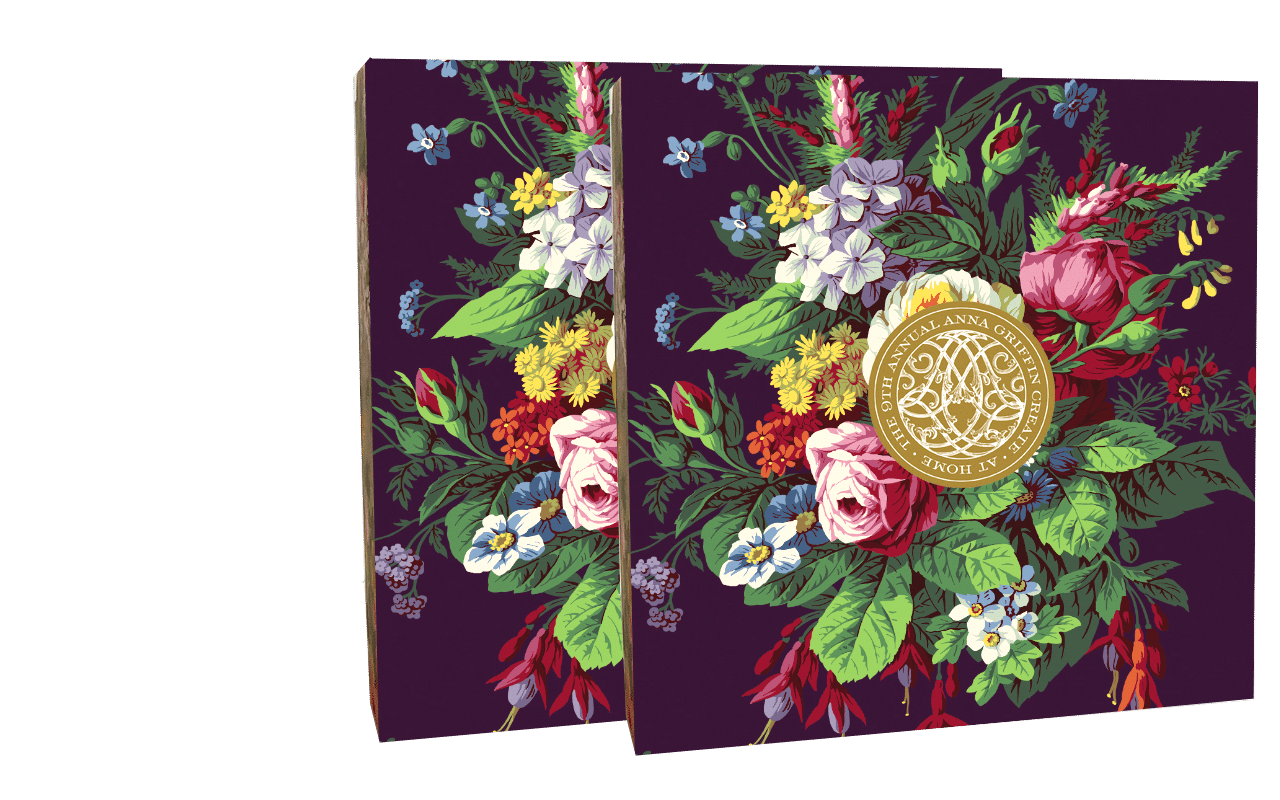 We have all of today's items to give away today, so comment here on the blog and let us know what you love today. We will also be giving away a ticket to Create 9! What we want you to do is to nominate someone that loves to craft and that you think would deserves to join us during Create 9. Winners will be announced next Monday along with your second Product Preview.
Xoxo,
Anna