Hello crafters,
National Craft Month is in full swing! We want to thank you for joining us this week on HSN and for posting your travel scrapbook pages with us for our Crop at Home 3 giveaway on Facebook. If you haven't already, post your project for a chance to win a ticket to our incredible, annual scrapbooking event this May 5th- 7th. This week, we got to see the most wonderful St. Patrick's Day projects, Easter cards and spring projects.
Come take a look at all the things our Griffinites created!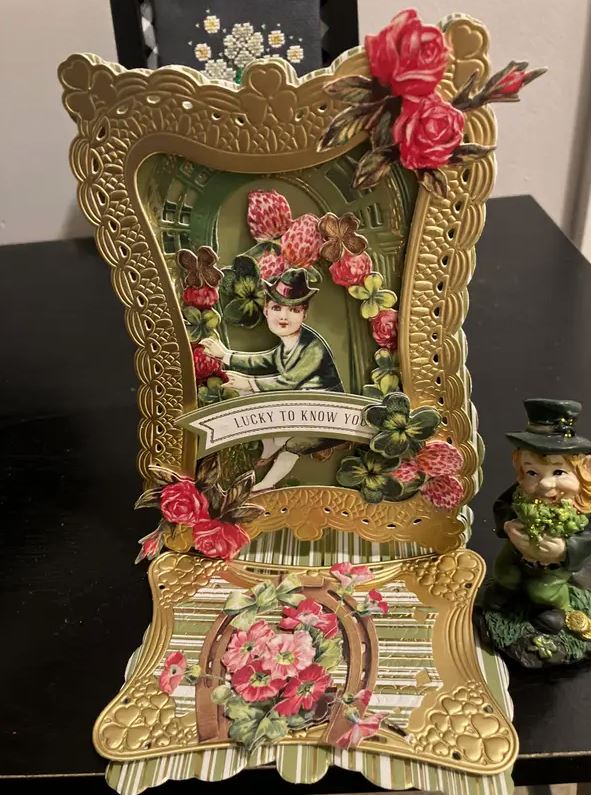 Sonya posted, "This is my last card of the day and it's for my daughter in AL. I love the double frame."
This project has great texture!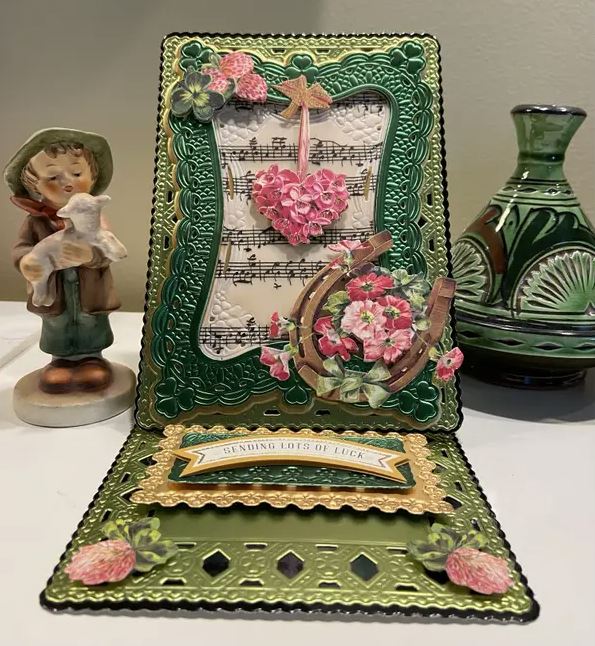 Linda said, "Erin Go Bragh! ☘️"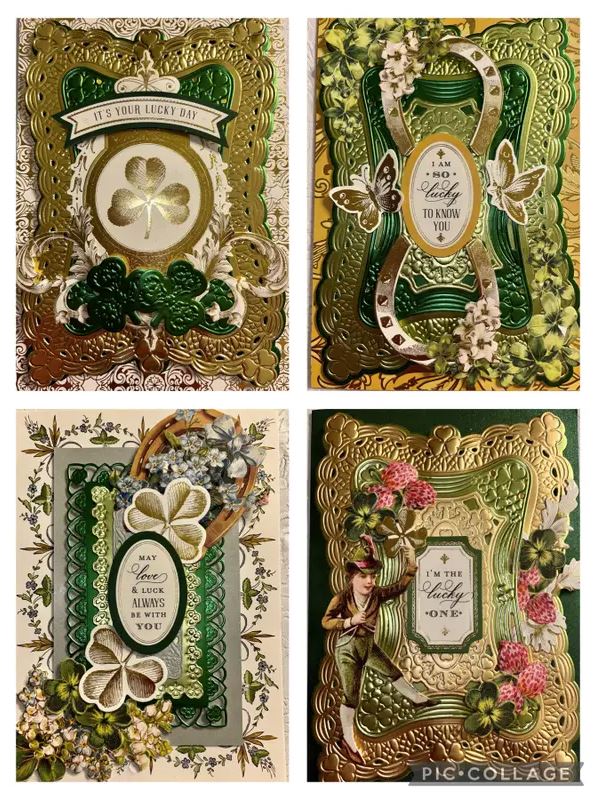 Diane wrote, "I made this card for our local radio station WQBQ 1410. I sent a train whistle to them last week so I had to make a card to go with the whistle. The General Manager was blown away with the card and kept mentioning it for 2 days. Showing it to everyone that comes to the station."
This is so fun! We know they loved it.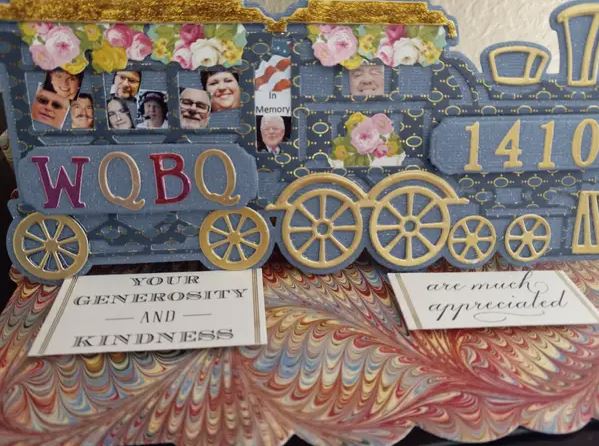 Sheri said, "I'm not on Facebook but I thought I would post a "just because " card to you Anna, you are my favorite crafter. Thank you for being you!!!"
Thank you, Sheri!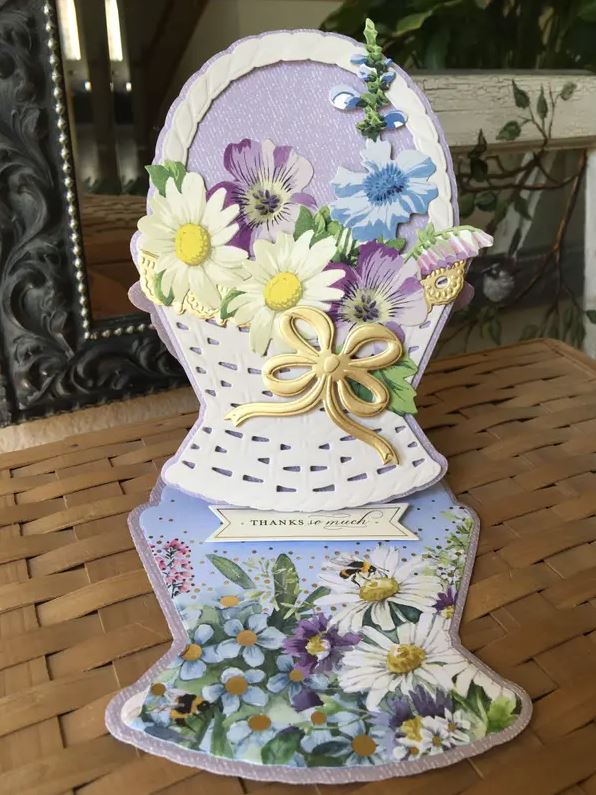 Stacey shared, "Saw this card design online and thought I'd try it with the Enchanted 3D Hearts. I'm really happy with how it came together!"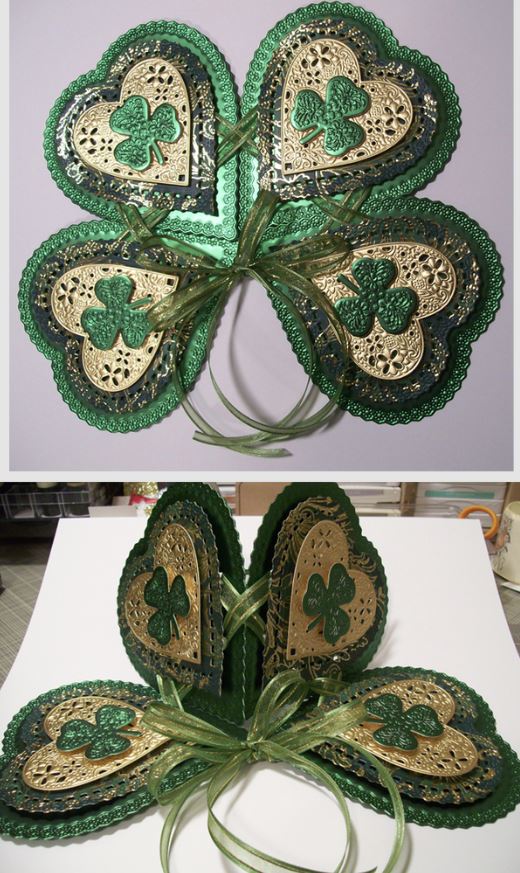 Michele wrote, "I REALLY had fun with this one…and added a pocket inside to hold a handwritten letter. Can't wait to give it to my friend!"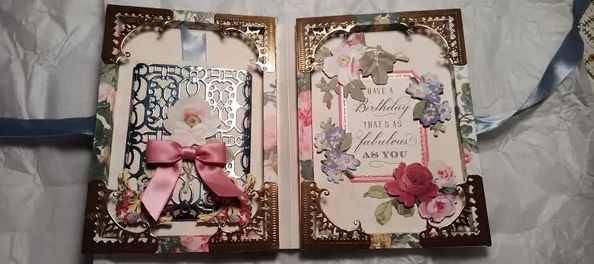 Frankie posted, "I did it!! I finished making all the cards from the Simply Birthday kit! I was even able to use up all the ribbon and almost all the embellishment! Now I have a cool storage container. These are my last 5 cards!"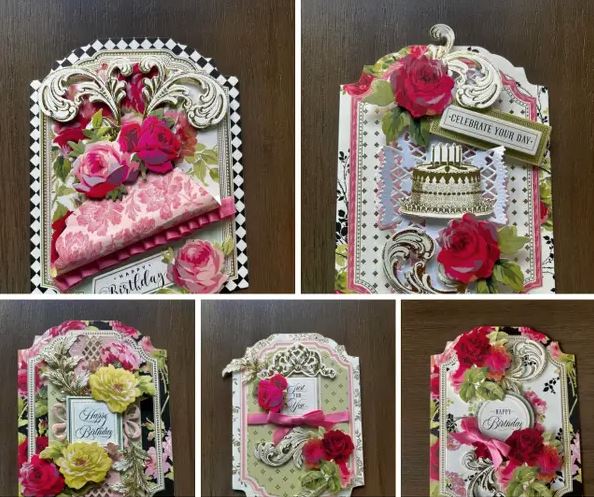 Margie said, These are the cards I made for my identical twin great granddaughters for their two teachers."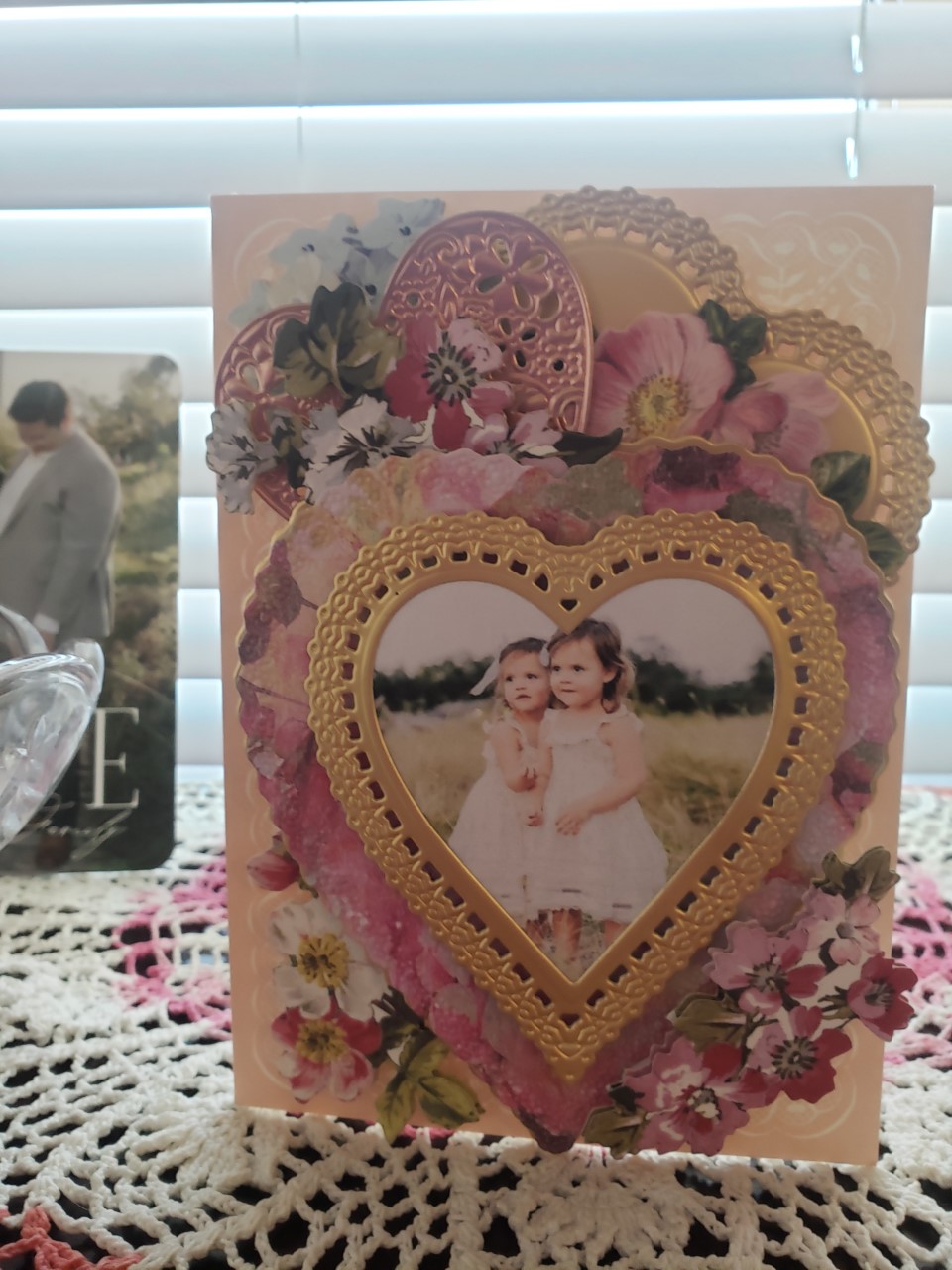 Sheri shared, "Great AGTV LIVE today. I would like to share my three favorites I did yesterday from the SENDING SYMPATHY CARD KIT. It's a beautiful kit with everything you need."
These are beautiful, Sheri!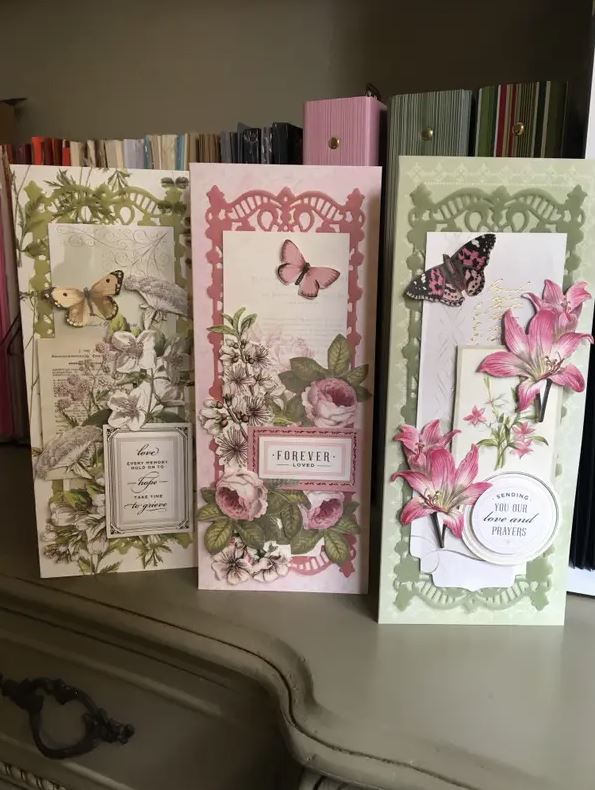 Thea posted, "I'm willing spring to get here sooner with my spring cards! I can't wait for the new Easter goodies to get here as well. Have a great week everyone!"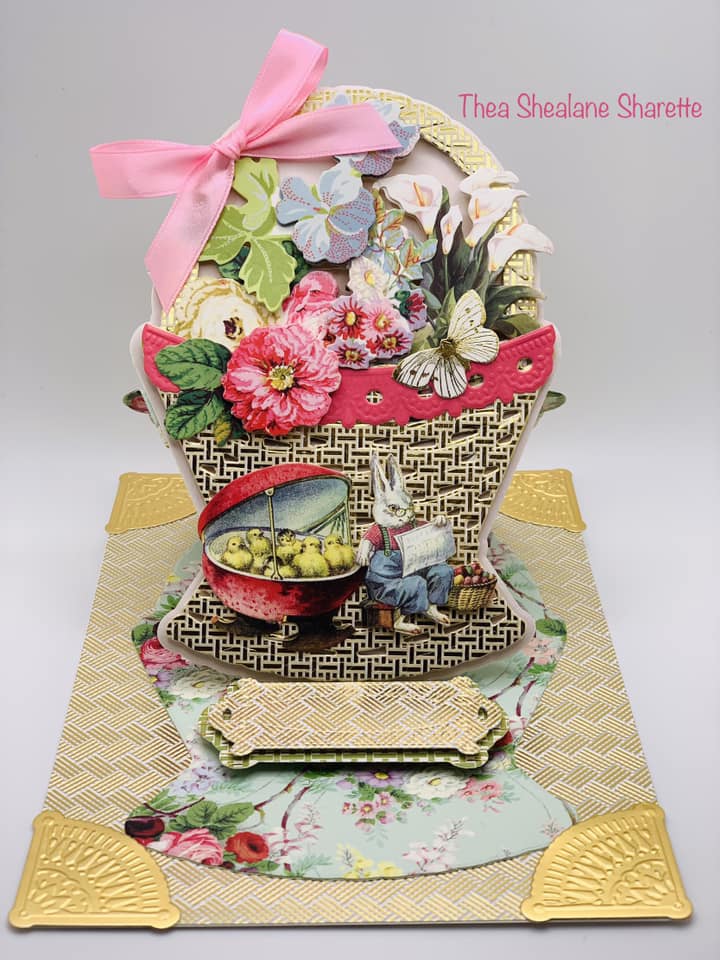 Terry said, "
Happy National Craft Month & best wishes on your upcoming HSN shows! The new Luxury Quilted Purse Cards are easy & fun to make, & cute as can be for gift giving!"
What a gorgeous purse, Terry! It all coordinates together beautifully.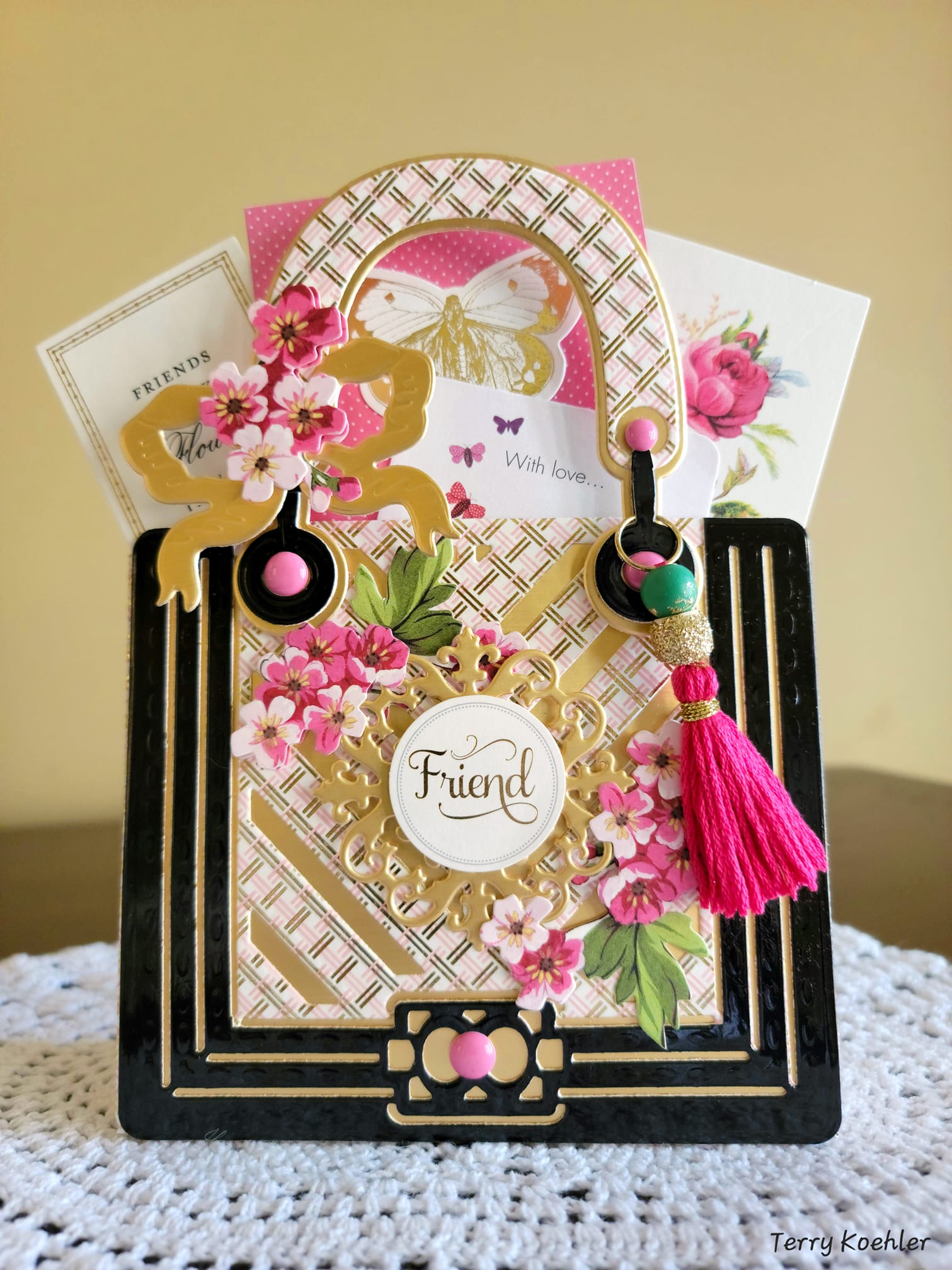 Sally wrote, "
I made a card for a friend who loves purple."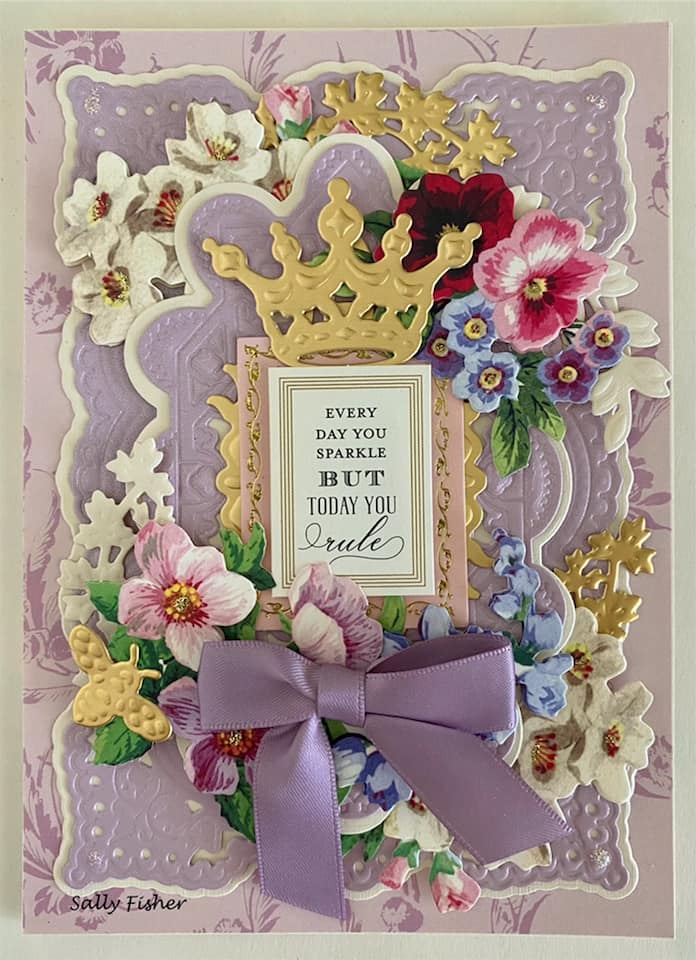 Kimberly said, "
I've been scrapbooking the weekend away at a retreat. Here is a layout I did about my experience and Create Crop At Home 1."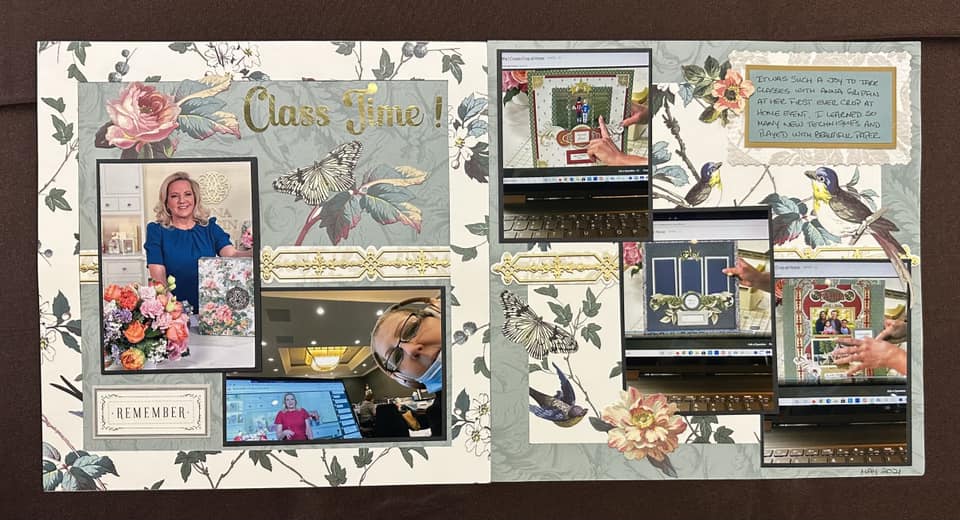 Irene posted, "
Made a special card for my girlfriend, whose husband had a stroke last week."
Gay Lynn wrote, "
Welcoming the arrival of a friend's sweet baby."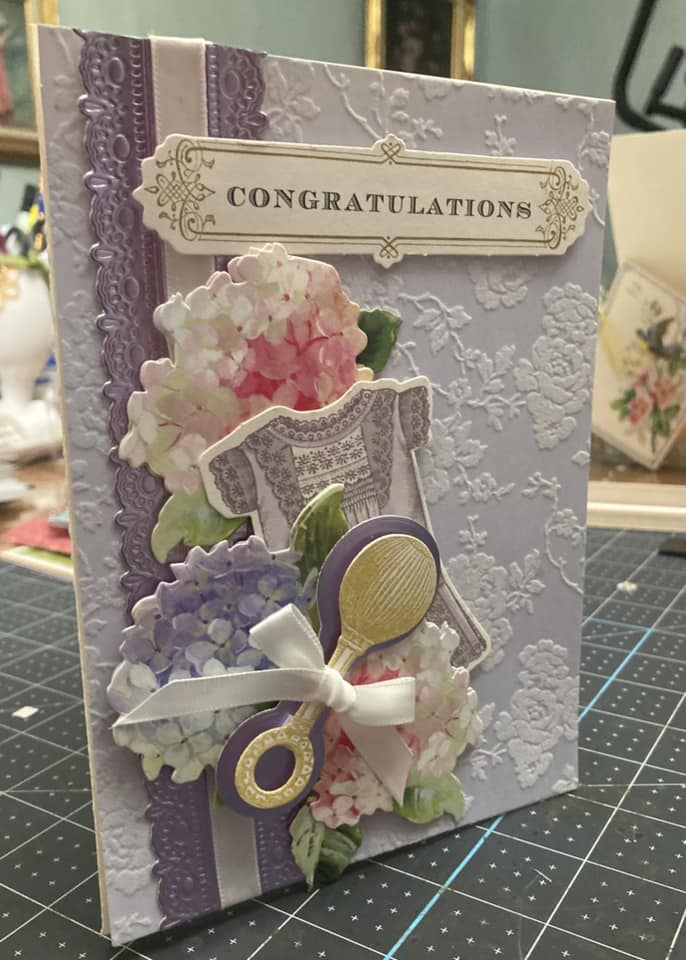 Maria shared, "
Treat boxes for a Griffinites lunch."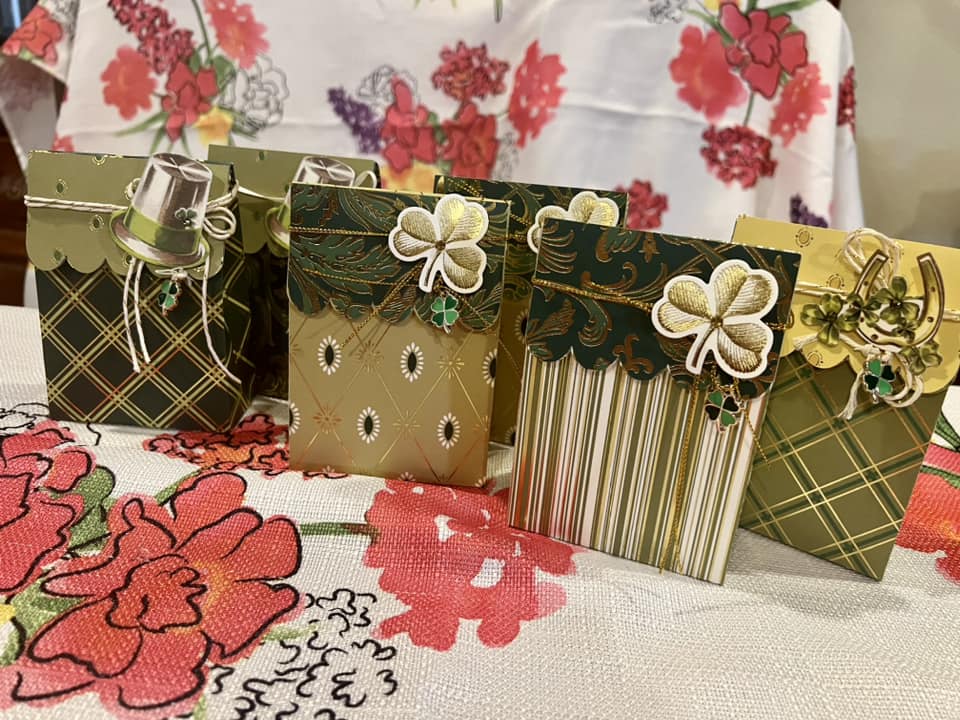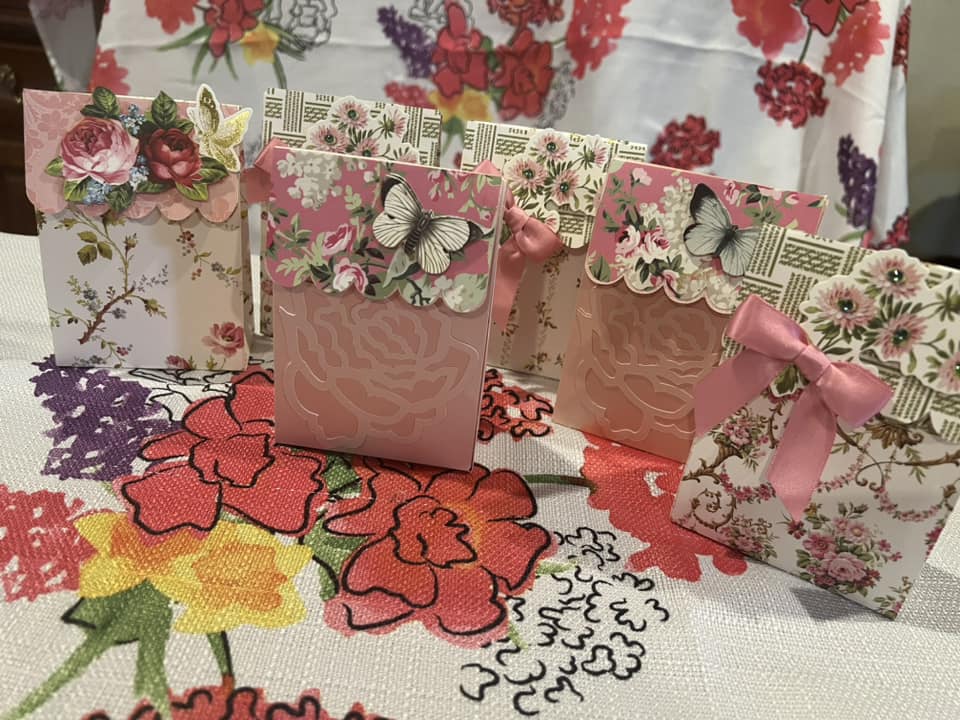 Tracy posted, "
This is the easel card I made using the
3D Rose
and
Garden Arch Scene Dies
. I doubled up the arches and vines to add extra depth. Although this card was extremely difficult to photograph..I did try, and in person it definitely shines brighter."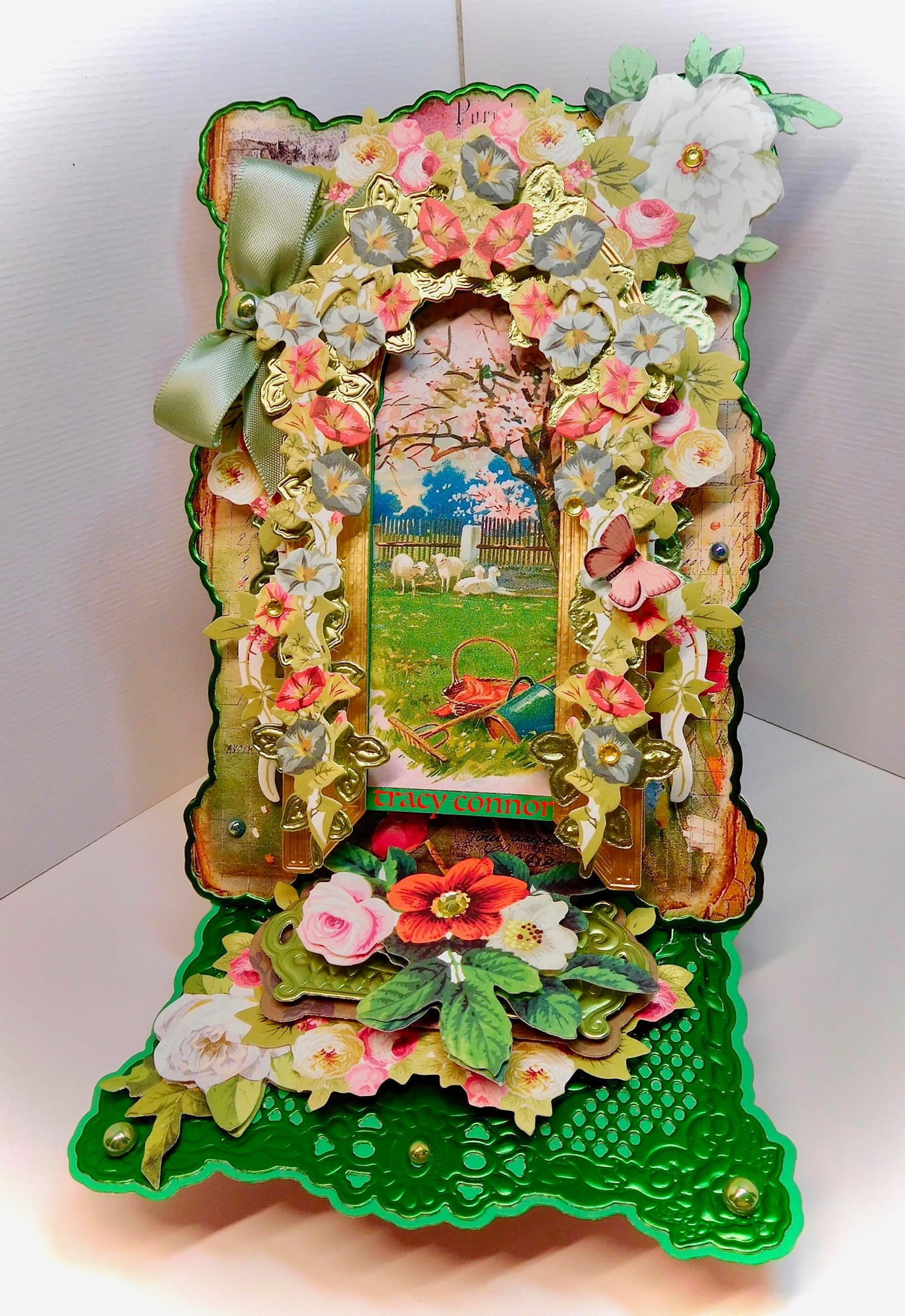 Vivi shared this card!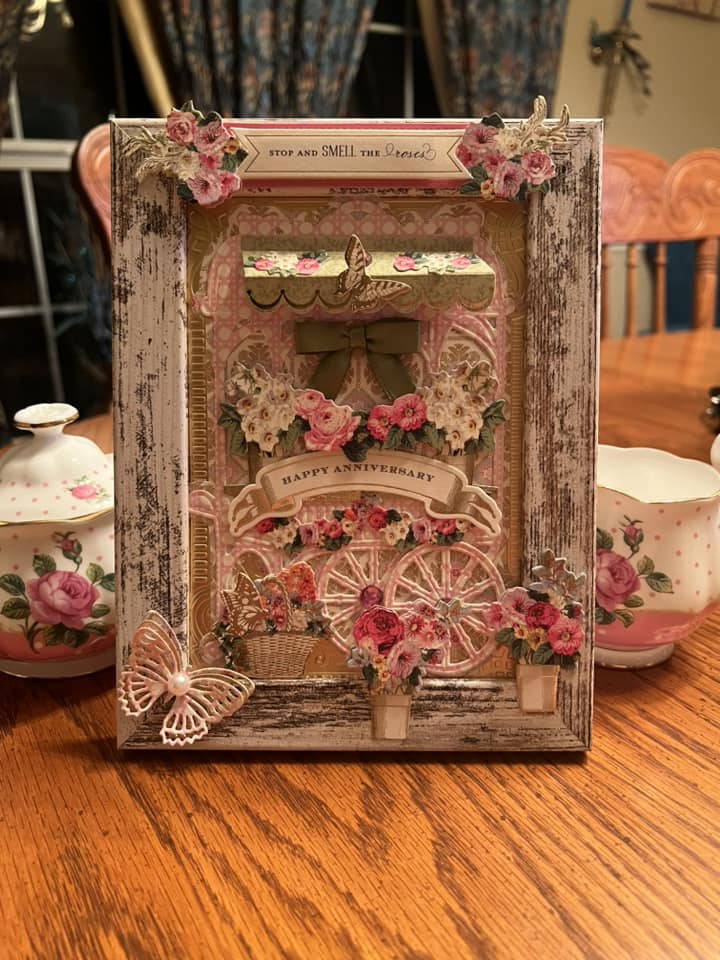 Thank you to all of our wonderful crafters for inspiring us with all of these gorgeous projects. We are headed to the craft room to create spring projects with all of your beautiful posts in mind.
Bye for now,
Anna