Hi friends,
Can you believe that it's already March? Spring is in the air and it's evident on this week's Craftspiration post. If you have been looking for a little card making inspiration, then you are in the right place! Our crafters never lack ideas, creativity for making gorgeous projects. Scrolling through and seeing all of the innovative crafts each week makes us feel warm and fuzzy inside. It is such a delight to be surrounded by such a creative group of crafters.
Donna shared, "My best friend commissioned me to make 6 thank you cards to give to her staff for working extra hard on a presentation. These are the two cards I made for the ladies who are tea drinkers. Thank you Anna Griffin Inc. for making it easy to make an opulent card!"
We know that the recipients are going to love these!
Shellie said, "Happy Sunday Share, Anna and Griffinite friends! Today, with countdown to National Craft Month, and with anticipation for your new Cardcentric die set, I'm playing cards with original Compendium, and thinking of Cherry Blossoms coming with the Spring season ahead."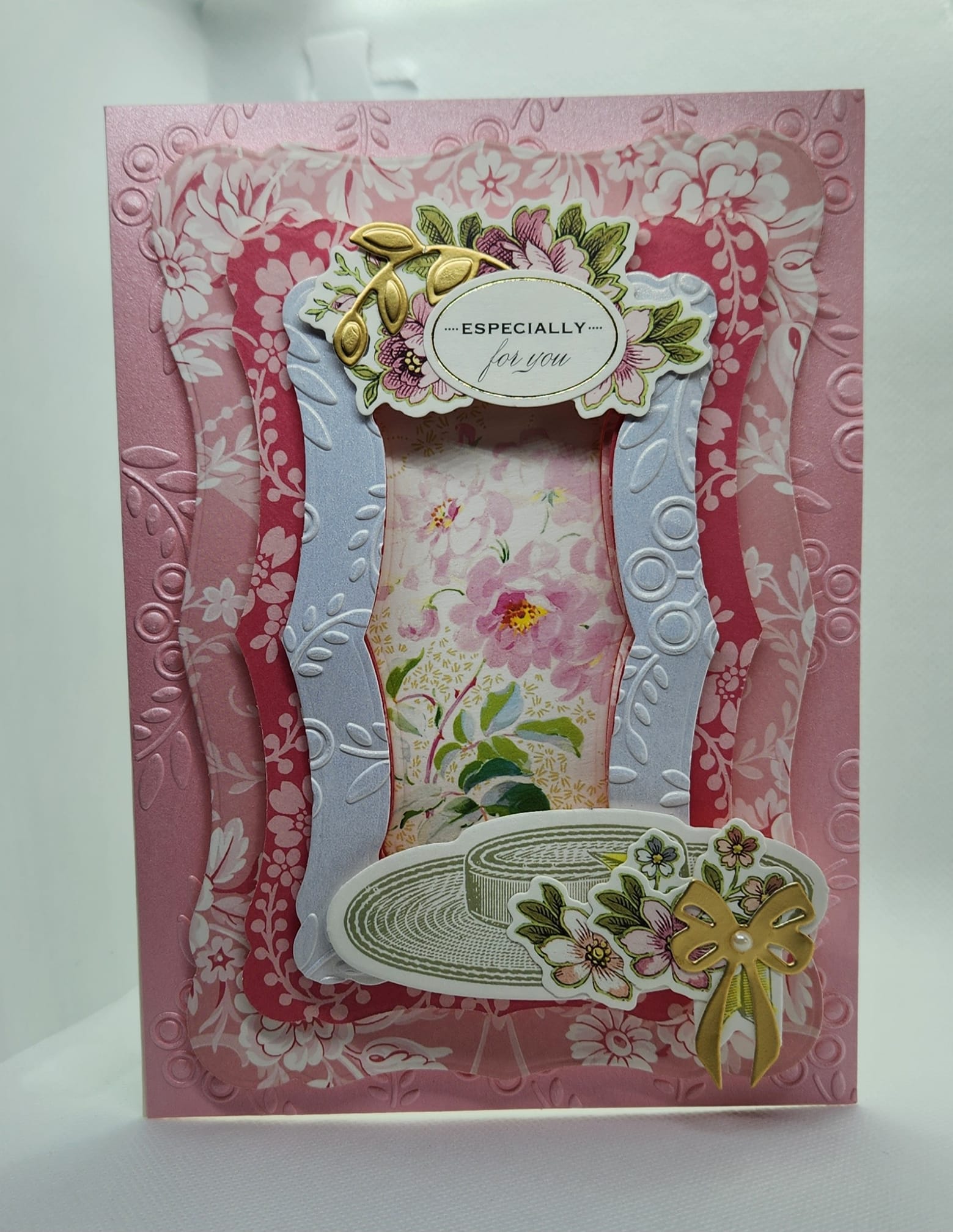 Laura posted, "Really enjoying my cardmaking time with new ideas! Also, Thank you Anna for the pretty Valentine's Cards and Envelopes."
We love this interpretation!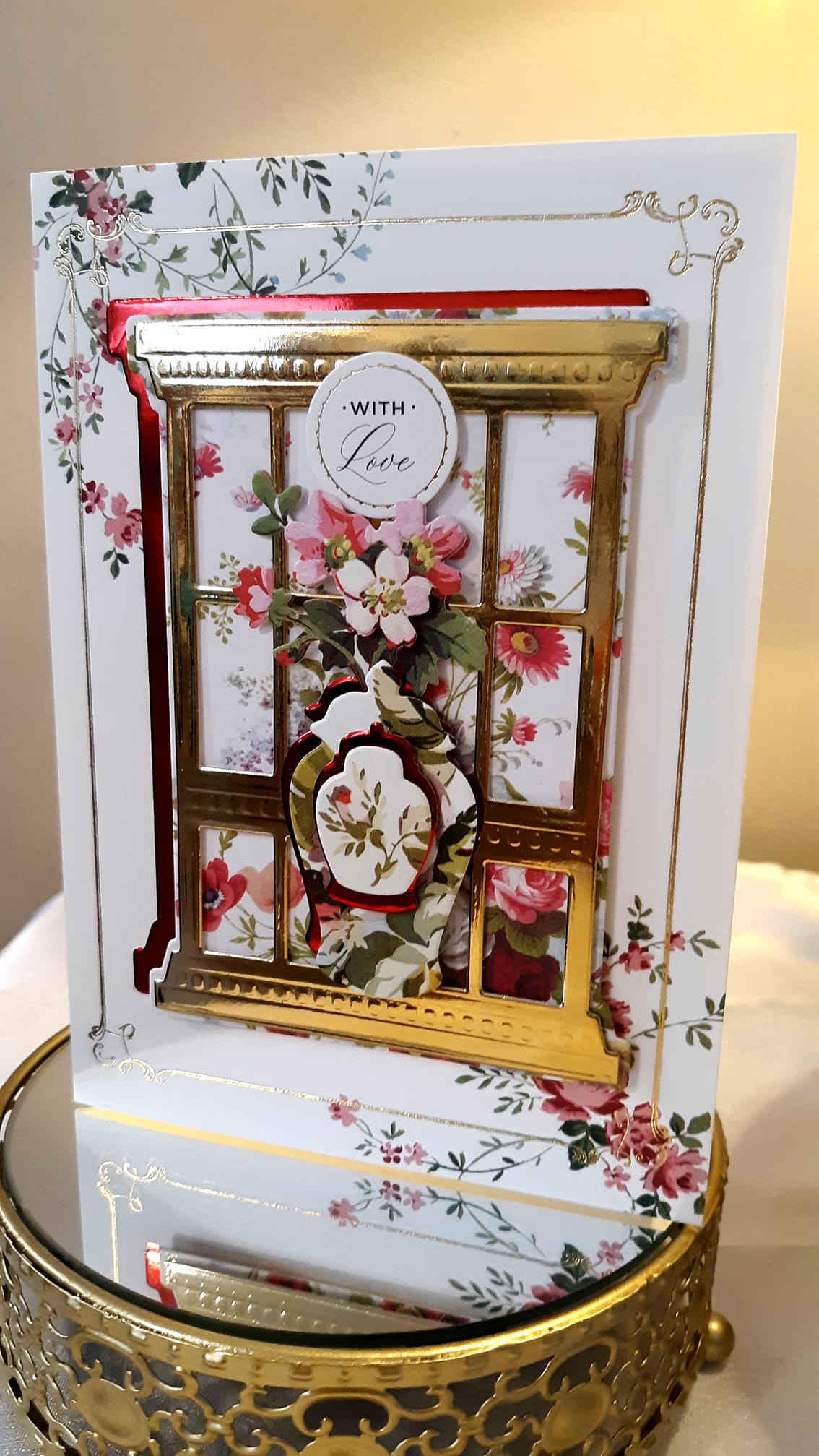 Julia said, "I didn't make this today, but I did make it when I got my charmed items. I also used a few embellishments I had from other AG purchases."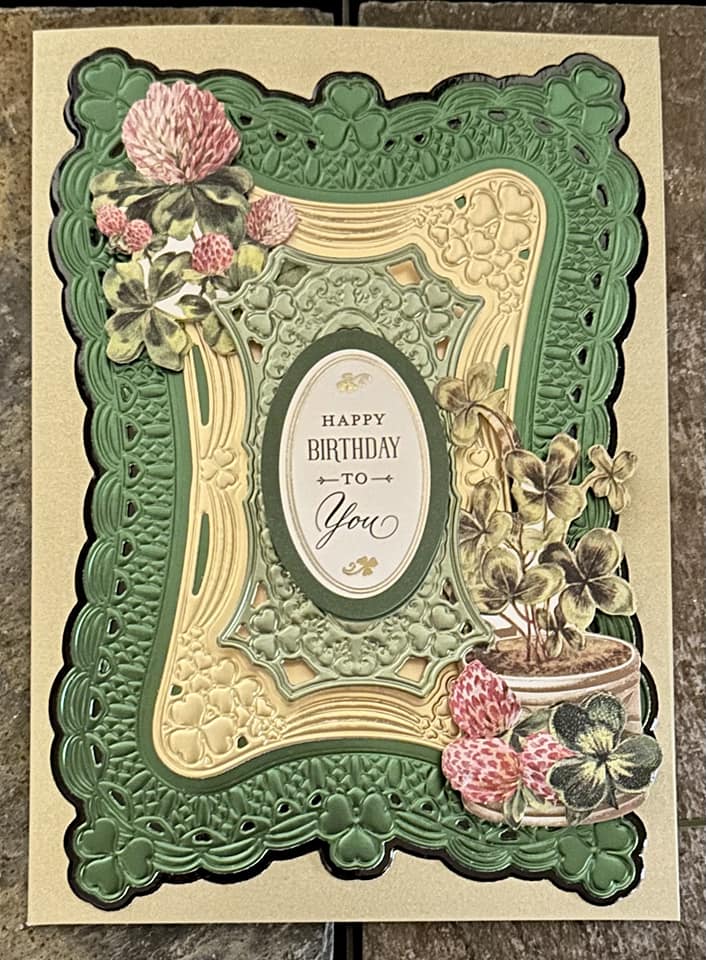 Terry posted, "I made a few St. Patrick's cards mixing and matching colors from the China Cabinet kit and Anna's cut and emboss shamrocks."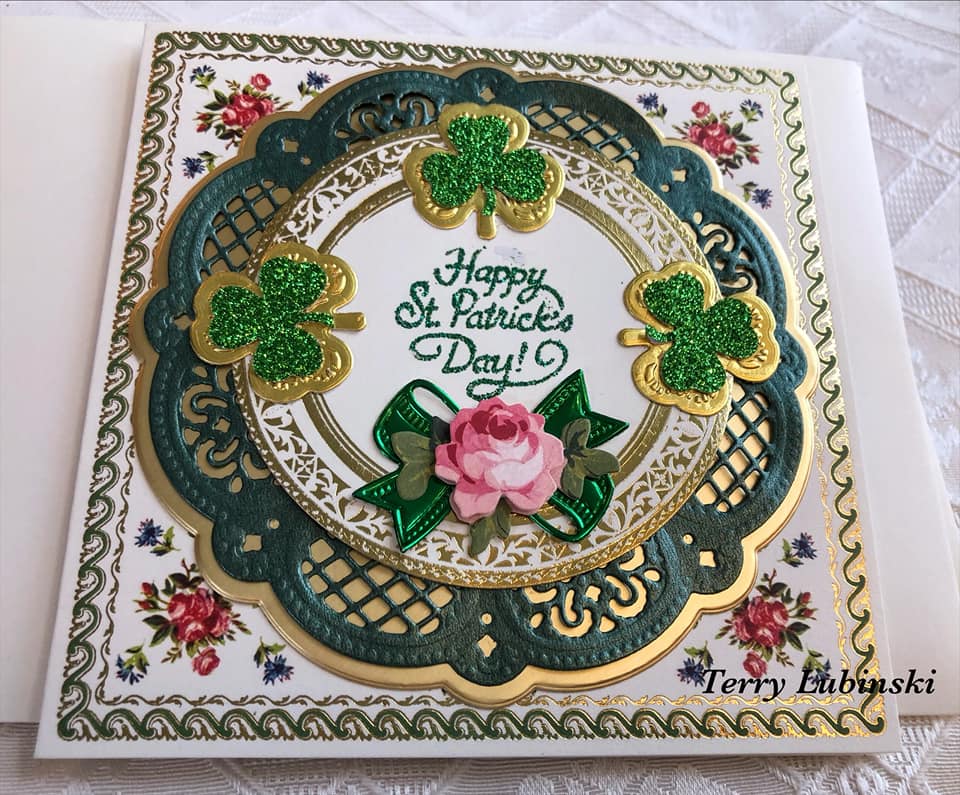 Shirley wrote, "I dug up some old pics of a daughter-father dance and used the floral papers from CAH and made this layout."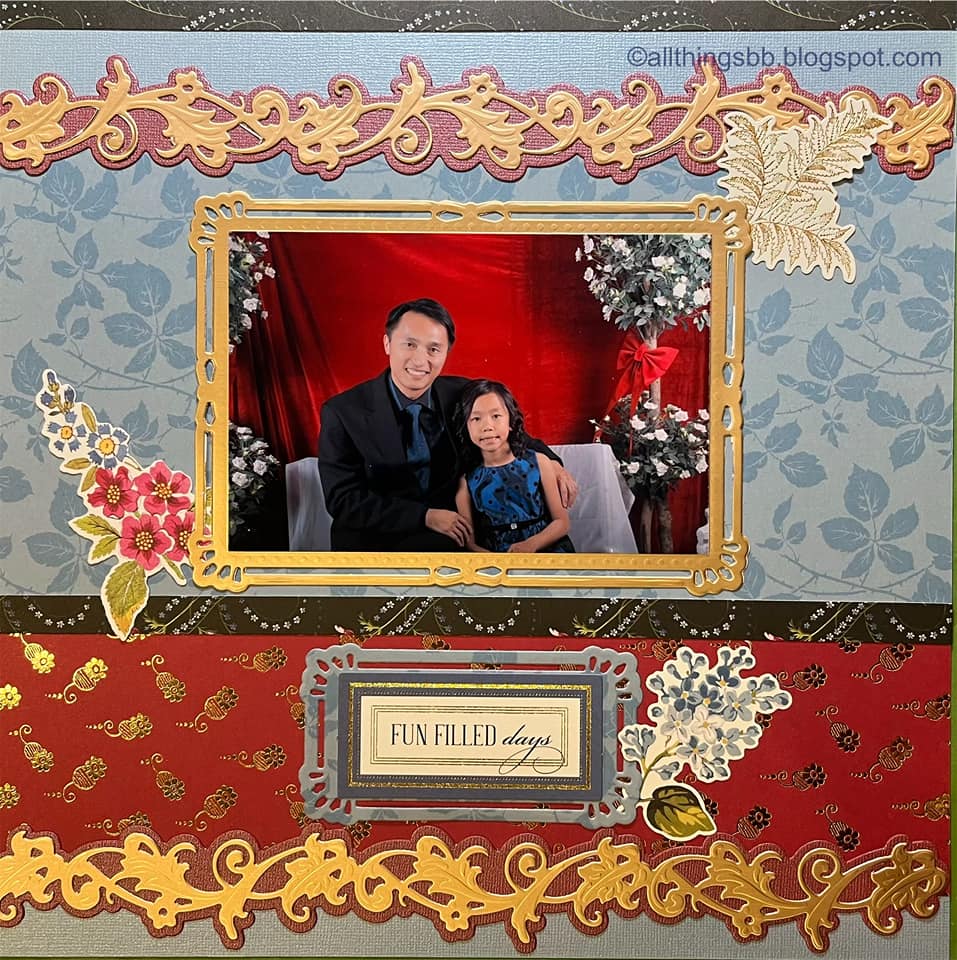 Terry shared, "Blessings to my Sunday share friends! This week I've been trying out the new Cardcentric Compendium dies. A great go-to set to add to your craft room! The two beautiful pieces of Annalise paper on this card may be my favorite."
Gorgeous work!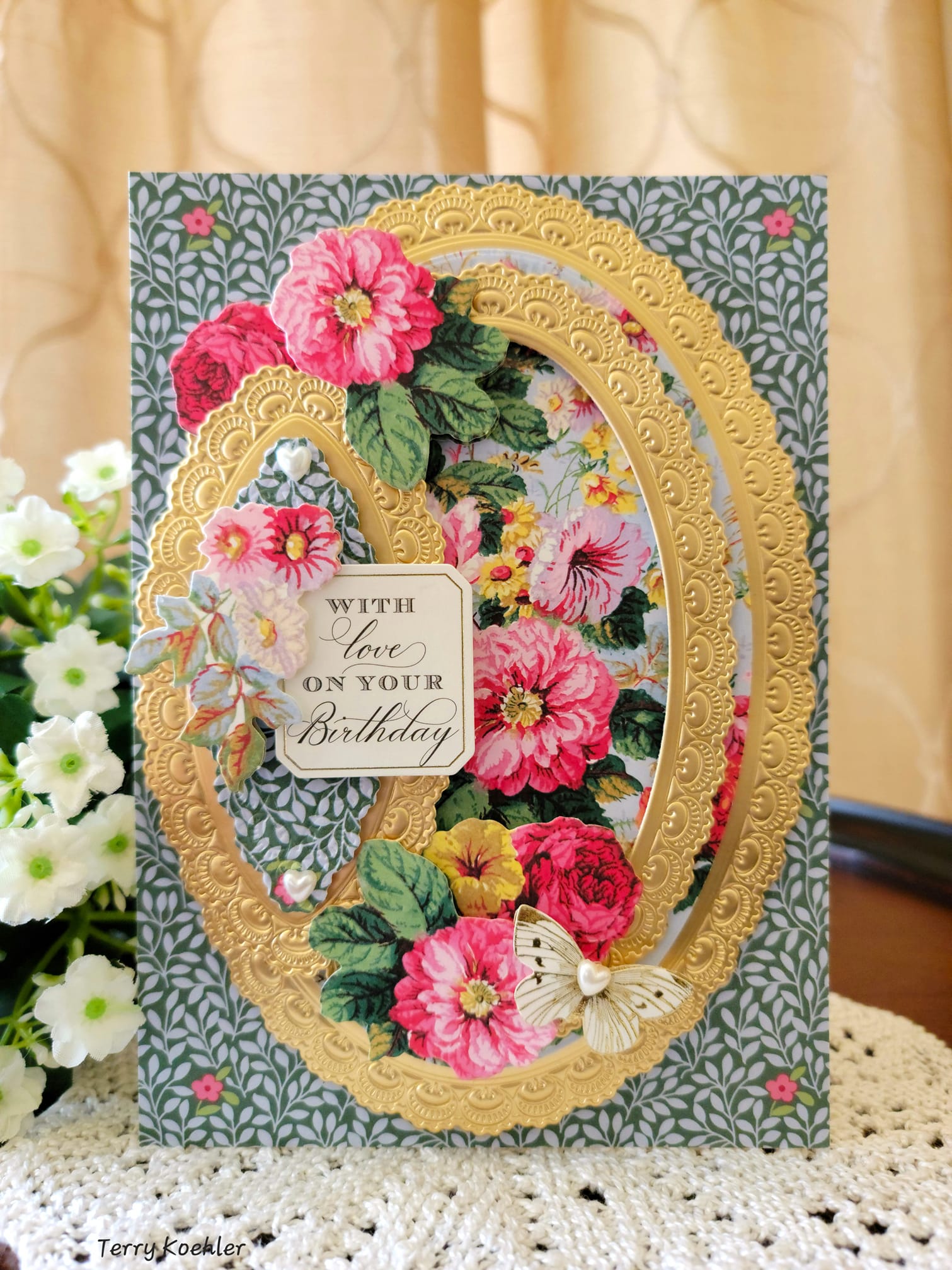 Tracy said, "I wanted to make an Irish country cottage that I would love to live in; complete with butterflies, stunningly lush flowers and greenery. I couldn't have accomplished it without Anna's Gingerbread House Dies and her other gorgeous products. Thank you for making it possible for me to create my magical dream home!"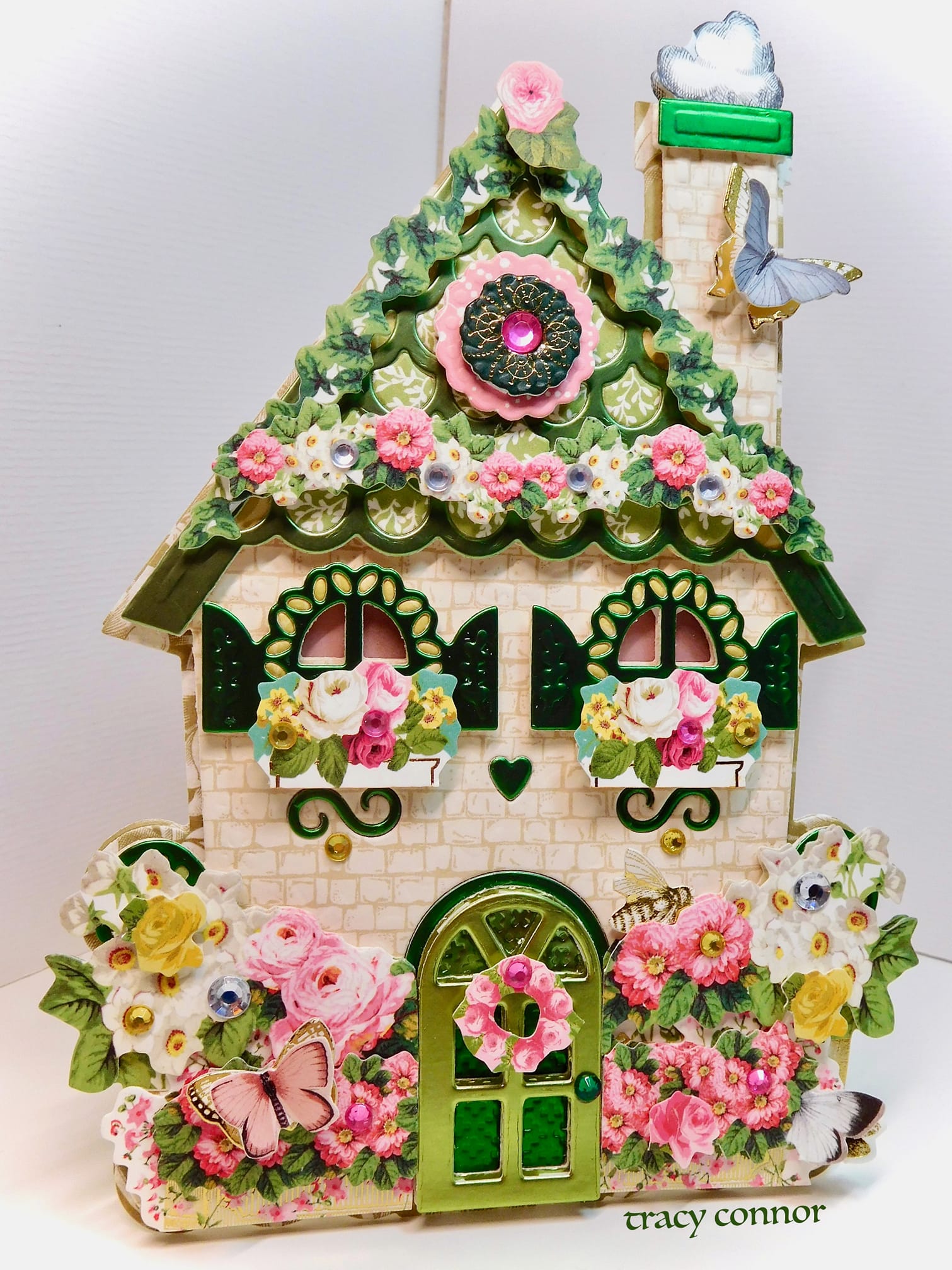 Annie Laura shared, "I made another page from my CAH2 papers for my two Yorkies. AllieMae on the left died 6/2020 and I got Blaze 6/2021."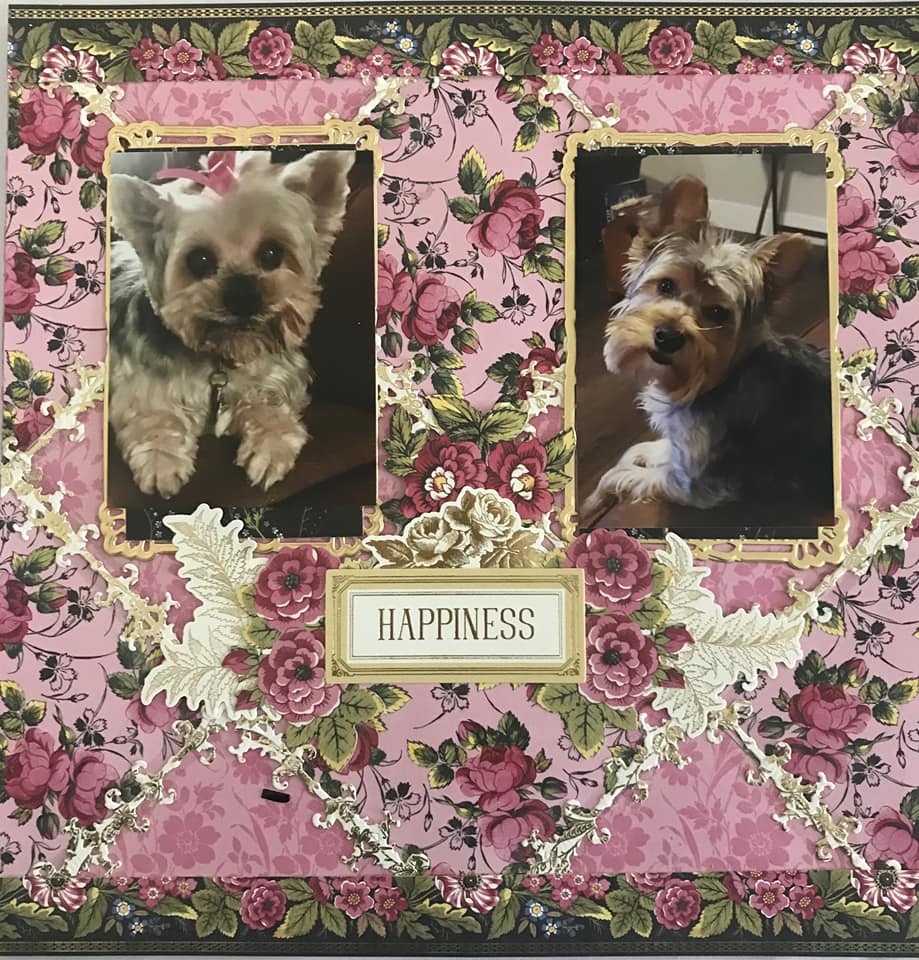 Stacey posted, "It's my husband's birthday today and I made him this chocolate cake card while his real chocolate cake is baking in the oven. This 'handsome' brown matte foil cardstock is delicious!"
Happy birthday to him! He's going to love this delicious cake card!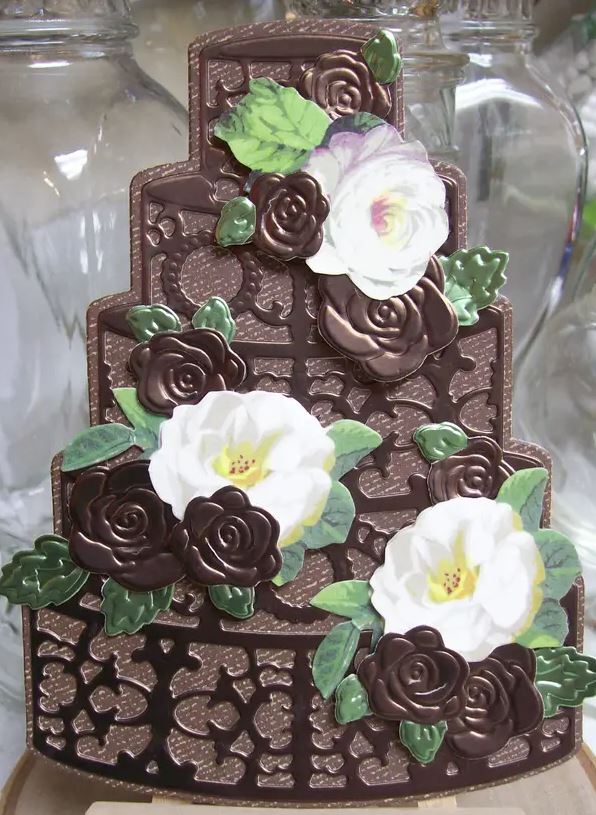 Kim Jaime said, "I love this sets of dies and the compliment of pieces."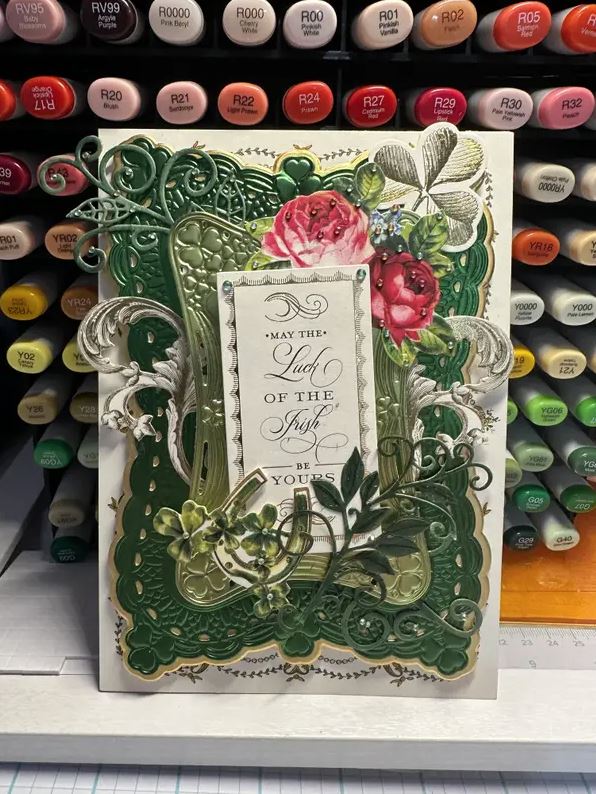 Sherry posted, "I finally started making my St.Patty's Day card. Here's the first. I love making shaped cards."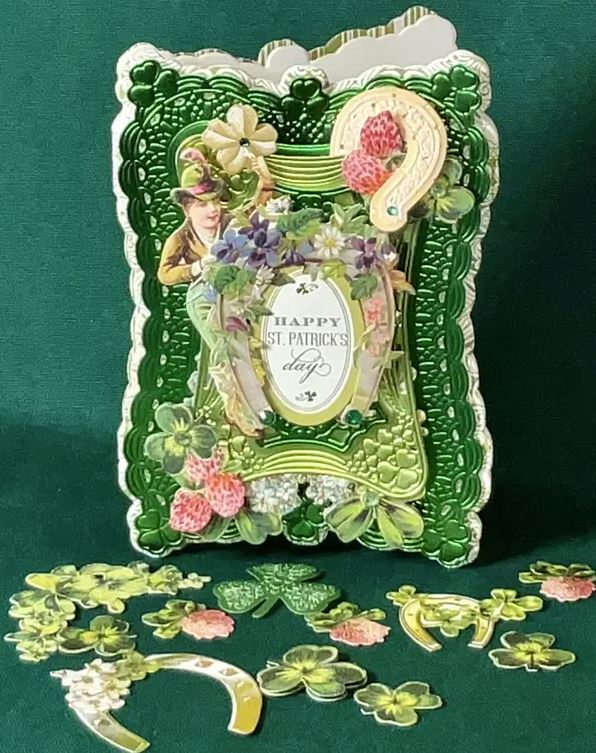 Dayle shared, "I love the garden arch and have not used it in awhile. I thought they might be pretty as a accompaniment to the stand alone spring garden cart."
What a great idea. Thanks for sharing!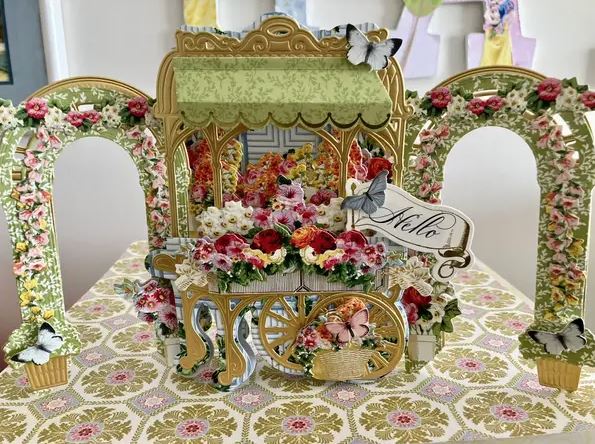 Kaye wrote, "I spent the last few days die cutting butterflies & dragonflies so I'd have just the right one on hand when making a card."
It's so fun to see all of these beautiful butterflies and dragonflies ready to created with!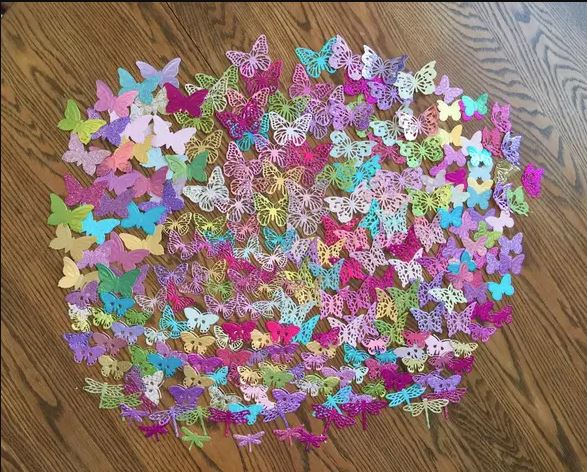 Martha shared, "I just can't wait for Anna Griffin Inc. Canton Bleu Scrapbook Kit!!! So Willow and I went to France today. Fun playing with Tour Eiffel Dies and Willow of course we packed everything up in our cute Purse Card Die Set."
Love this page and the beret!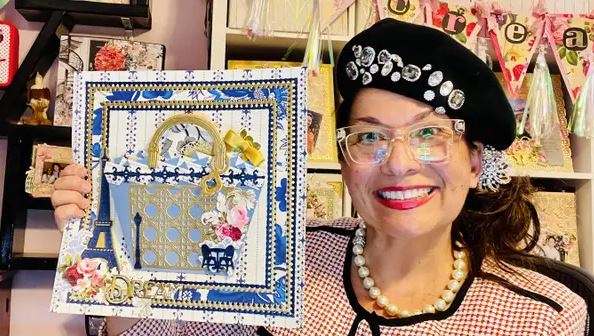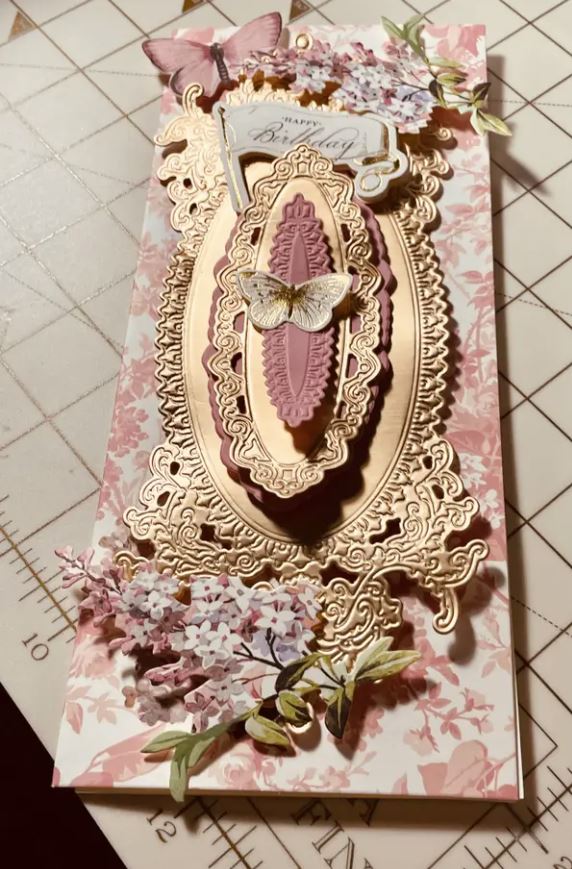 Sheri shared, "Here's my easy to mail cards, only one foam dot high. All the papers are from the BASKET CARDSTOCK PACK, which I love and a few solids from PERFECT PALETTE PAPERS. The inside is just something I picked from CRICUT."
Eggs-cellent work, Sheri!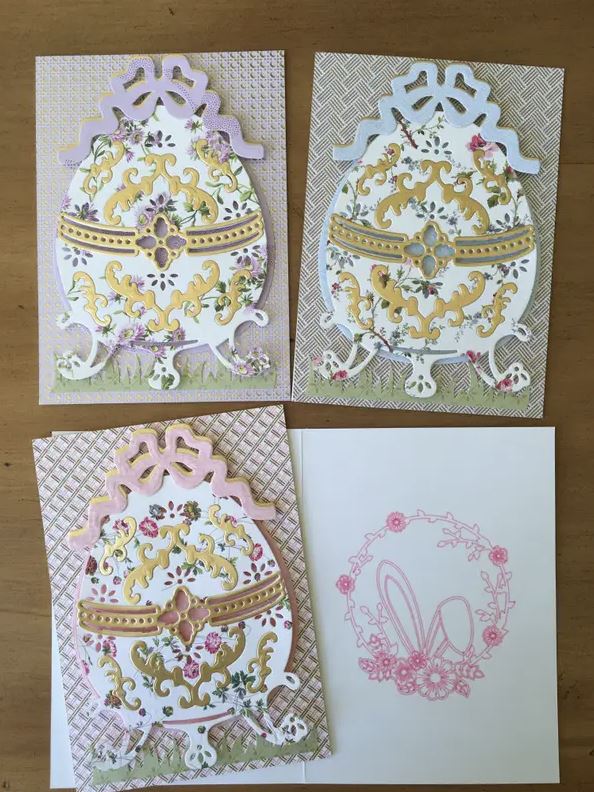 Everything shared on our social media channels is beautiful. We love seeing the wonderful creations that you make each week. To be featured on next week's Craftspiration post, be sure to keep sharing your projects with us. We love to see your work! If you missed our AGTV show: Kickoff Crafts yesterday, then you can catch up here.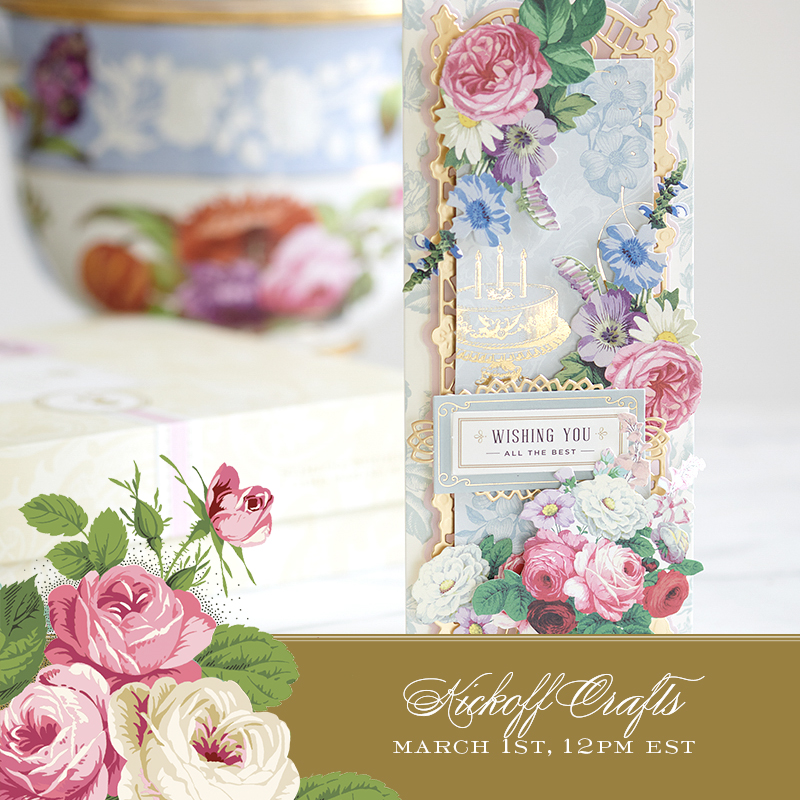 Bye for now,
Anna