Hello Friends,
We hope that you are having a great week, and a wonderful start to spring! Fresh projects popped up all over our social media channels, and we are excited to share them with you today. From Easter crafting and 3D purses to Griffinte gatherings, there is a lot to see on today's Craftspiration post!
Come take a look!
Lorri said, "The Easter Egg easel die is so much fun to work with. I'm glad I finally purchased it. Easter eggstravaganza."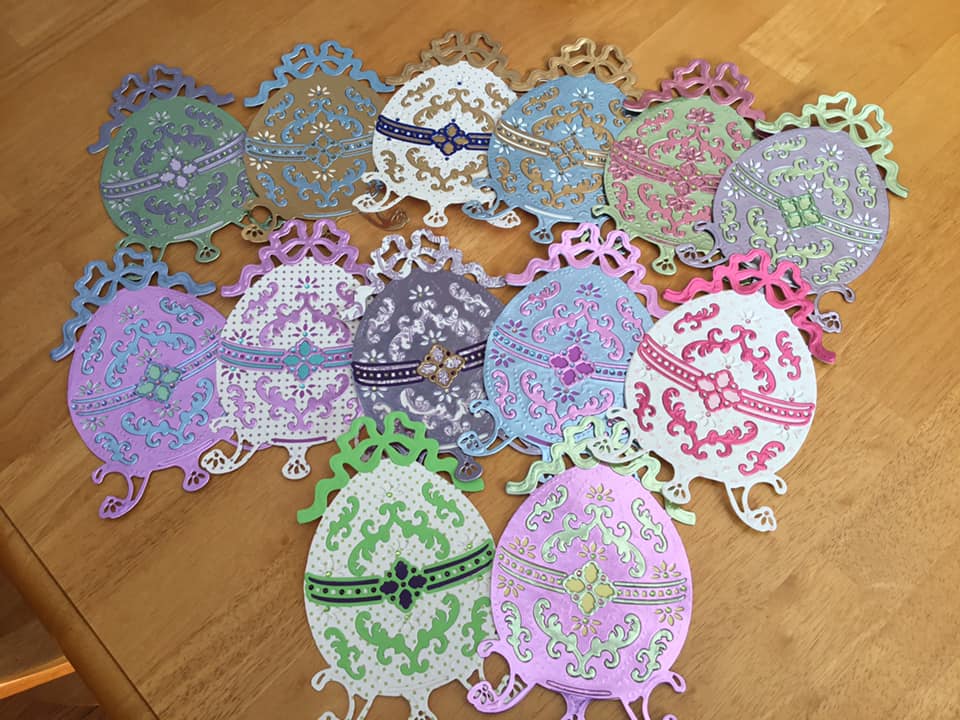 Shirley posted, "I made a couple of Spring themed cards for friends and family using the lovely spinner card making kit and 3D fancy French frame dies. I sent one to one of our beloved AZ Griffin gals!"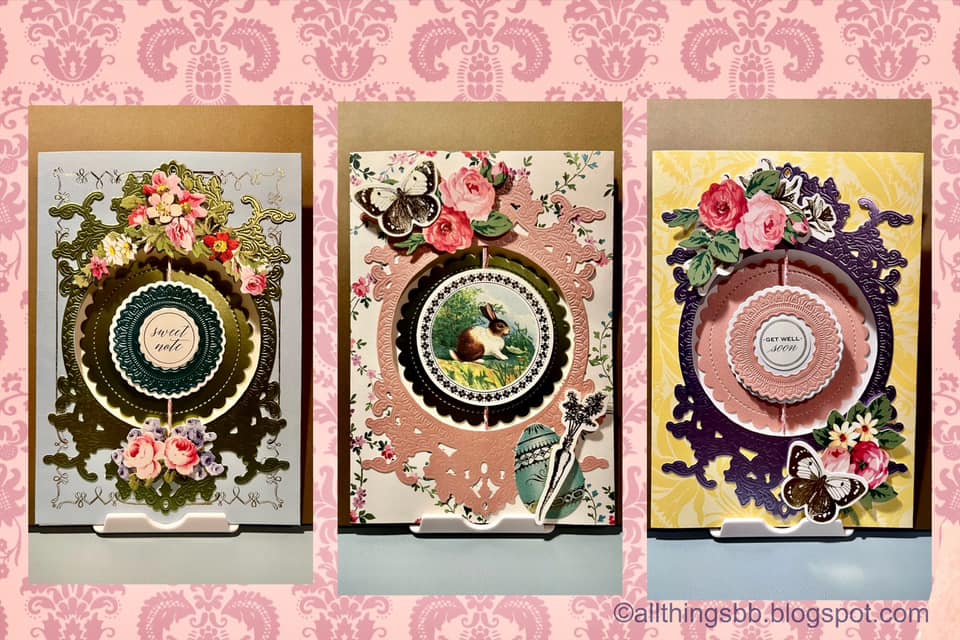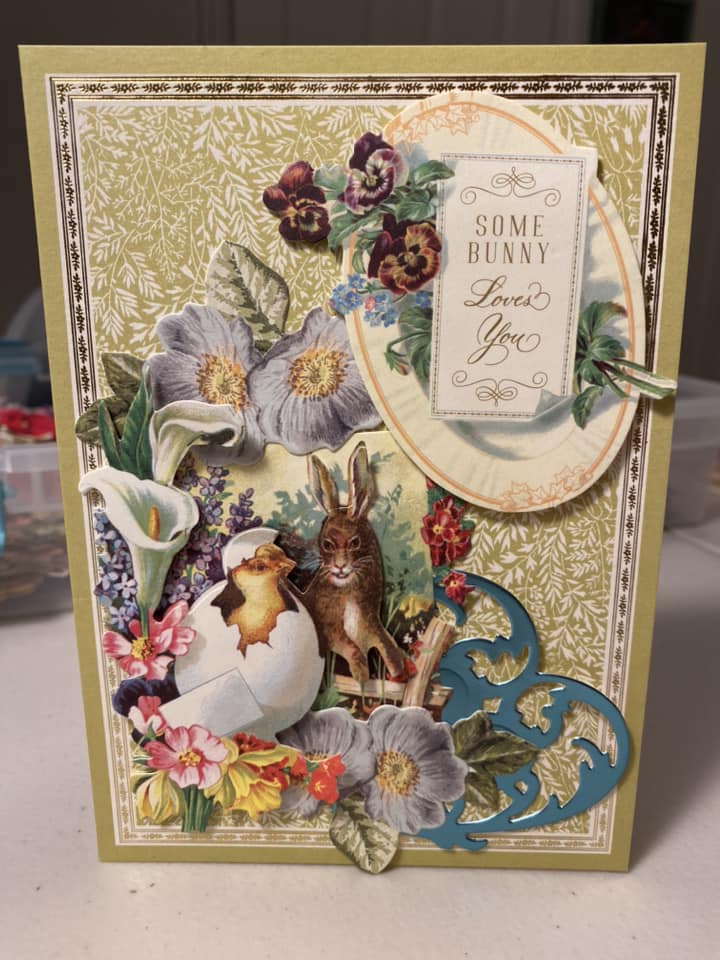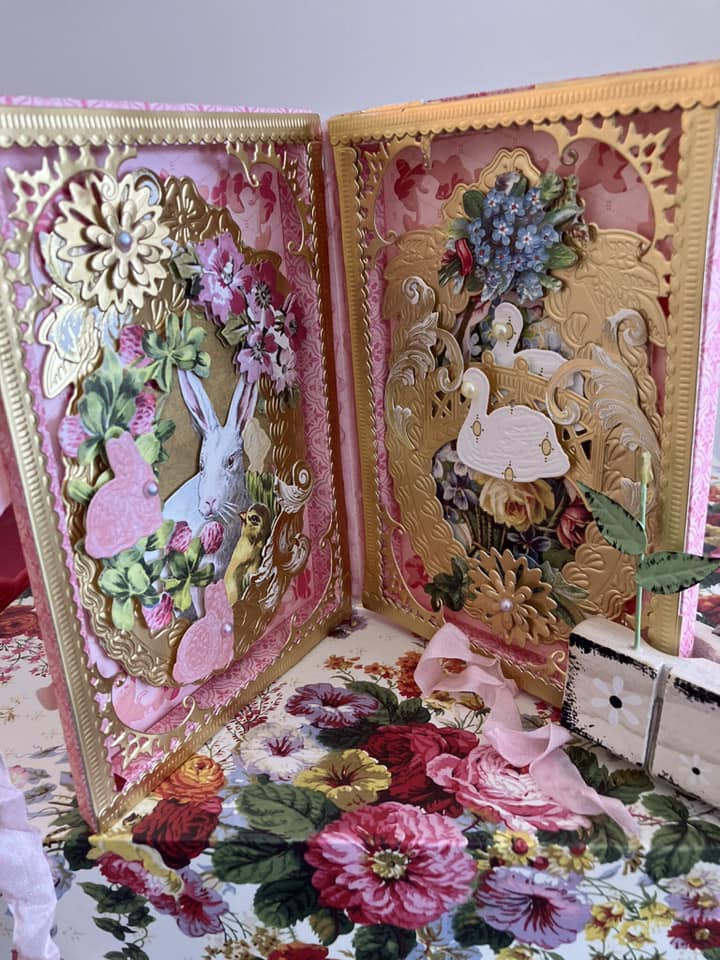 Terry wrote, "The Sugar Eggs are so cute- a perfect Easter diorama! I made a birthday card for my friend whose birthday is today, but also sailing "The Great Loop" with her husband and are docked in a marina for a month. I sent a St.Patrick's, birthday, and Easter cards to open one at a time wherever she happens to be on her trip."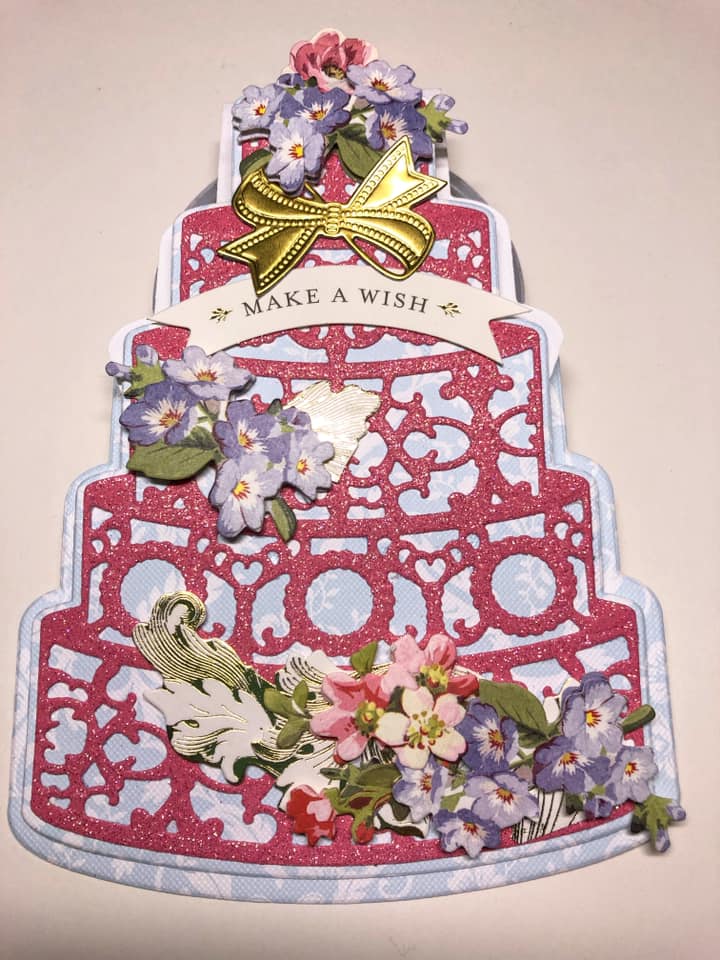 Coletta said, "
I have had my three grands for a few days and haven't been able to craft today. Here is a recent make with the
Flower Cart
turned Key West Tropical – All Anna."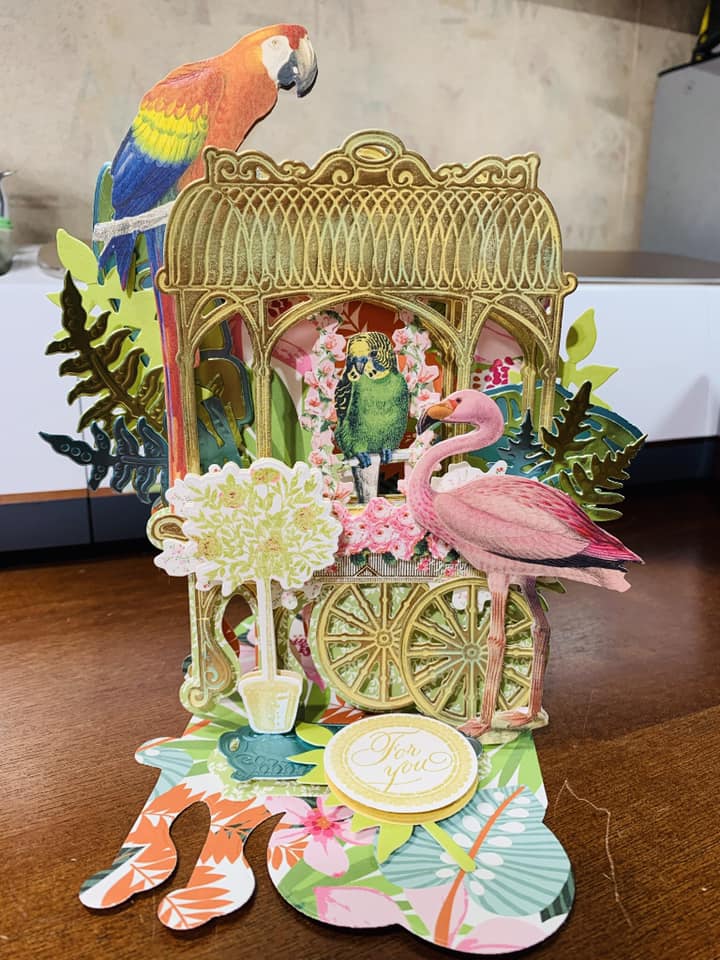 Maria posted, "Finishing up Easter cards today! Enjoy your day!"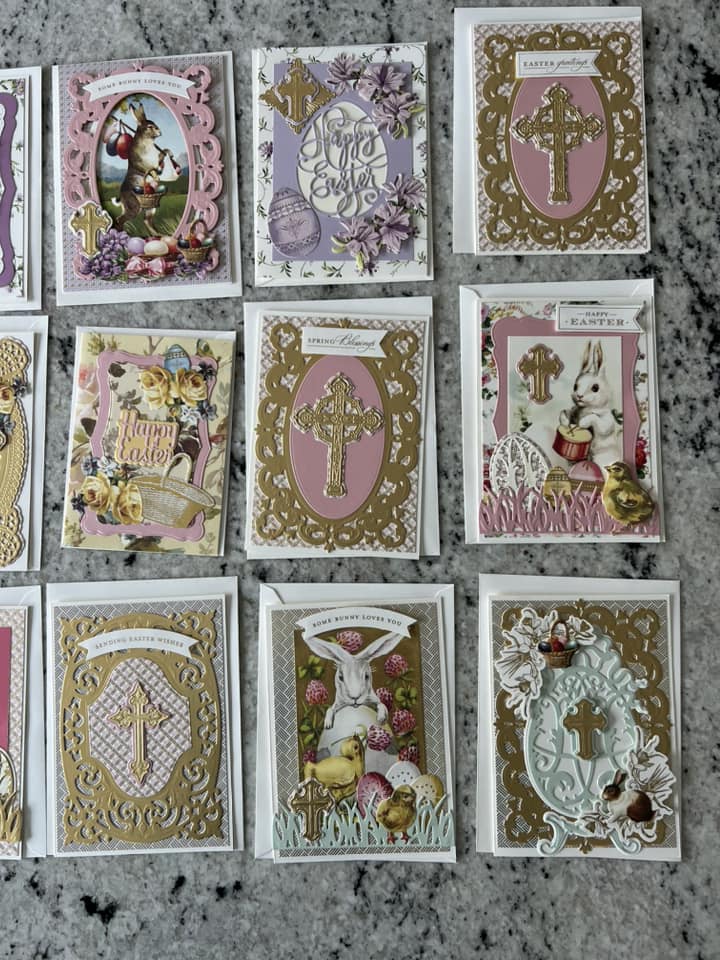 Clare said, ""Basket" mini-purse from the Pierre Lapin 2023 Spring Collection, shown in McGregor Green. Also available in Flopsy Yellow, Mopsy Pink, Cottontail Ivory and Peter Blue. With side gussets and velcro closure."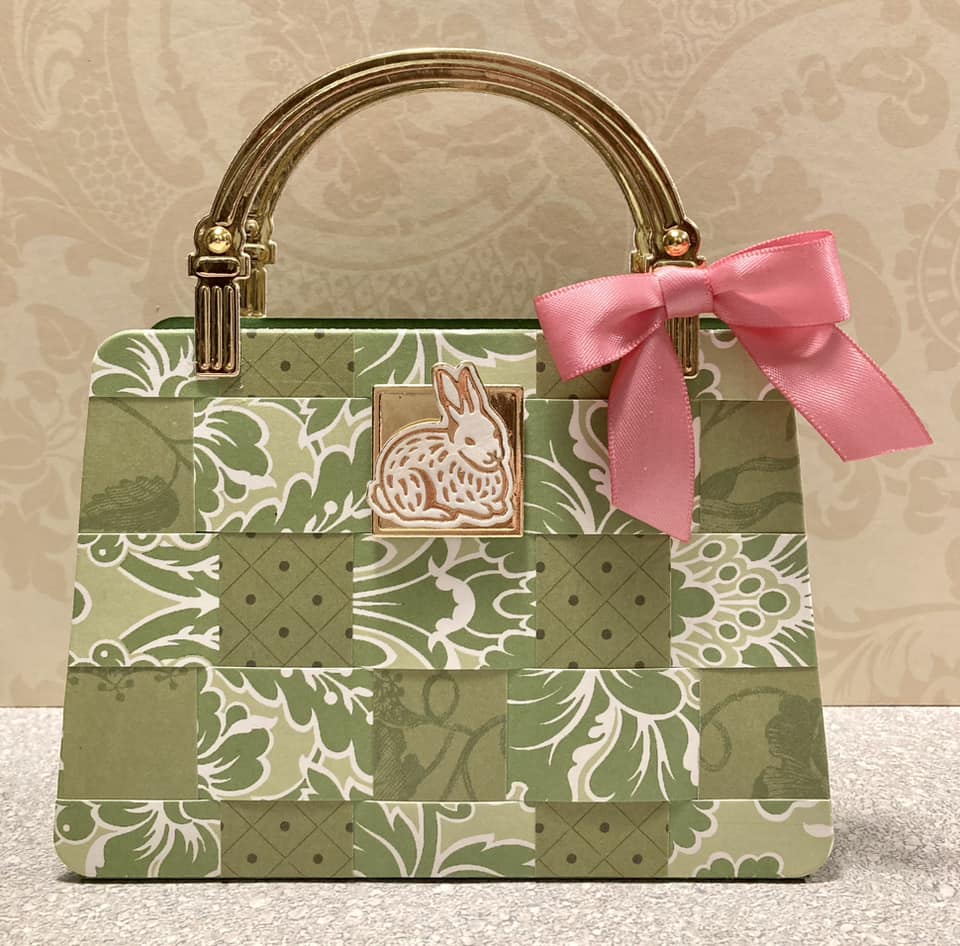 Michelle shared, "Getting ready for Easter using my new sugar egg dies and making boxes inspired by the latest finishing school "All Hearts" class."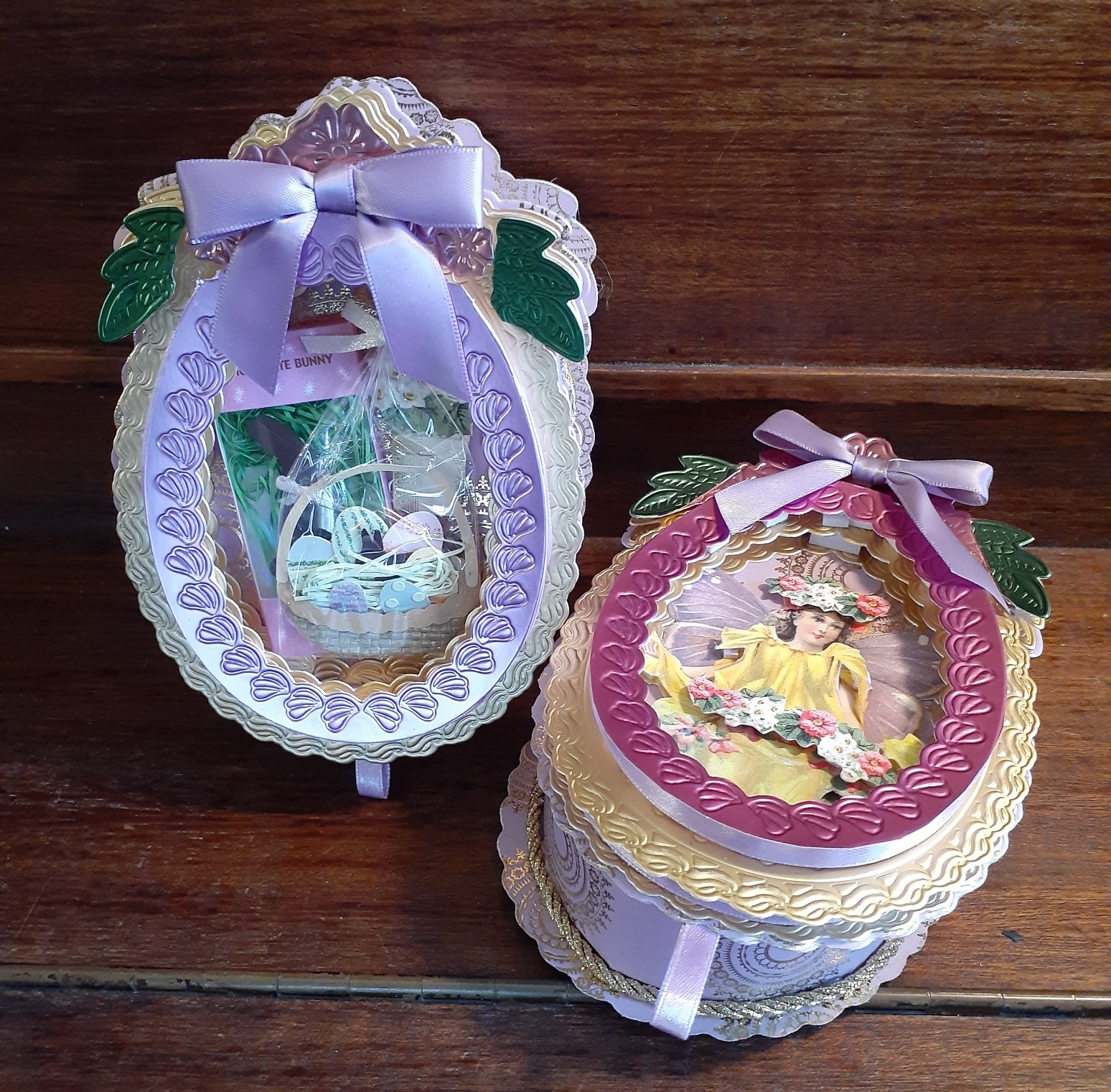 Richard said, "Hey everybody hope you're having a great day. I'm playing around with a little bit more Easter. Everybody else's looks great."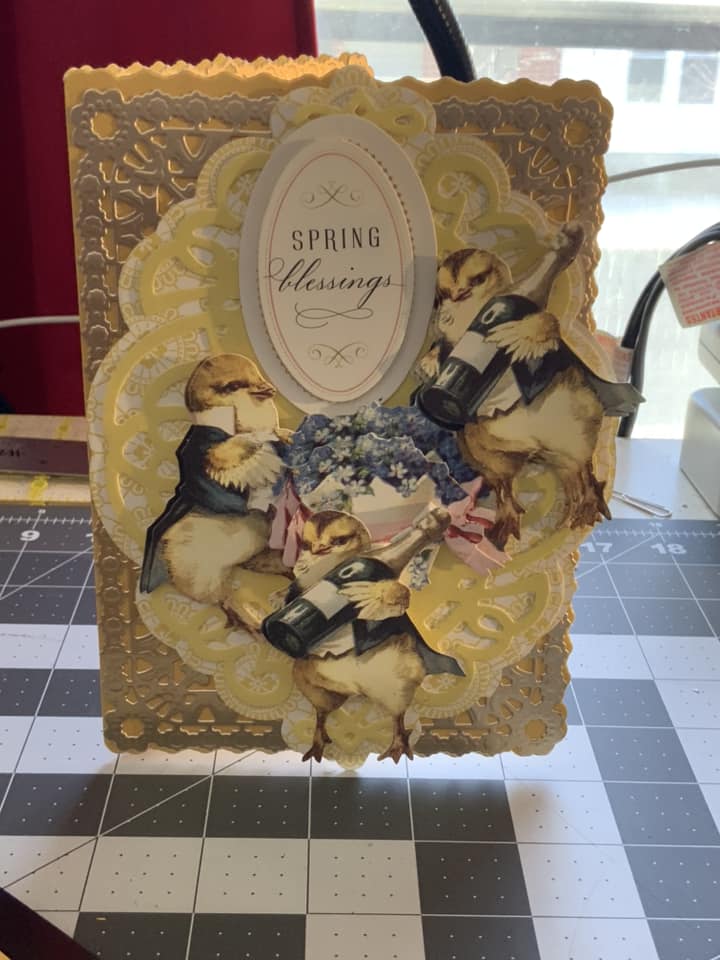 Donna posted, "This is the first purse that I made with my Luxury Quilted Purse Card Dies. Love how cute and easy they are to put together!"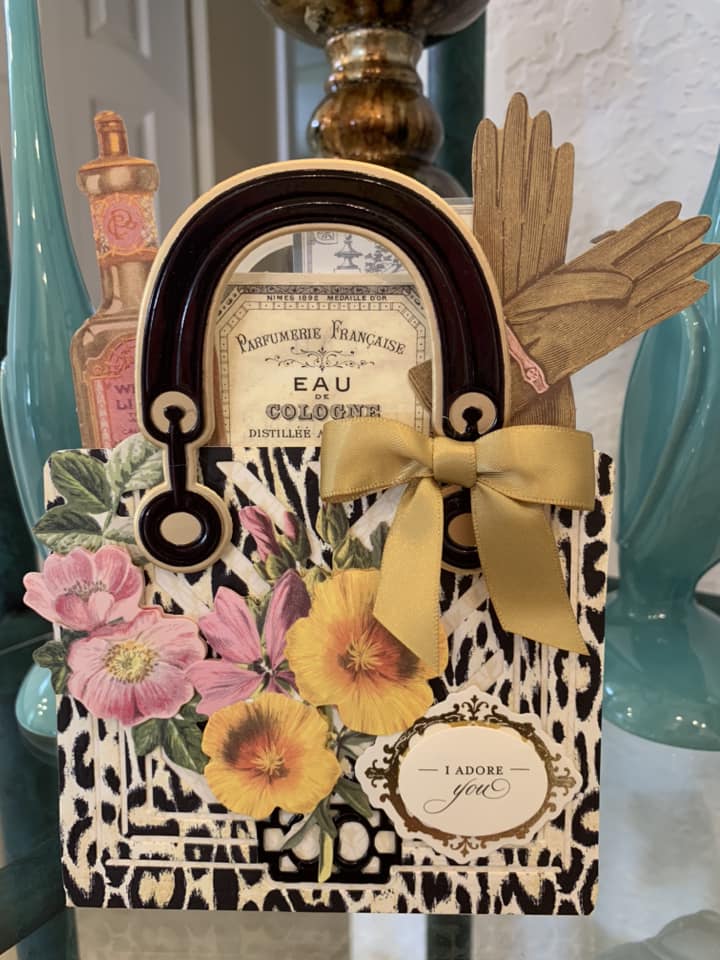 Julia shared, "This is an Easter card that I made using the sugar eggs scene dies, and the Easter egg cut and embossed dies. I didn't necessarily want an egg with a scene behind it, but I wanted a pretty egg for the front of the card so here's what I came up with. I used Anna Griffin marbled card stock for the egg, you can see it behind the happy Easter greeting. I also used the impression die cards, the gold and white embellishments from one of Anna's older kits, I'm not sure which one, and I hand cut the flowers myself by first using the celebrations rub ons as well as the spring rub ons from a year or so ago. I did that because I didn't have any of Anna's flower embellishments that really matched the color of my egg.  I also used the pastel foil card stock and a bow from the perfect palette bows. Happy Easter, everyone!"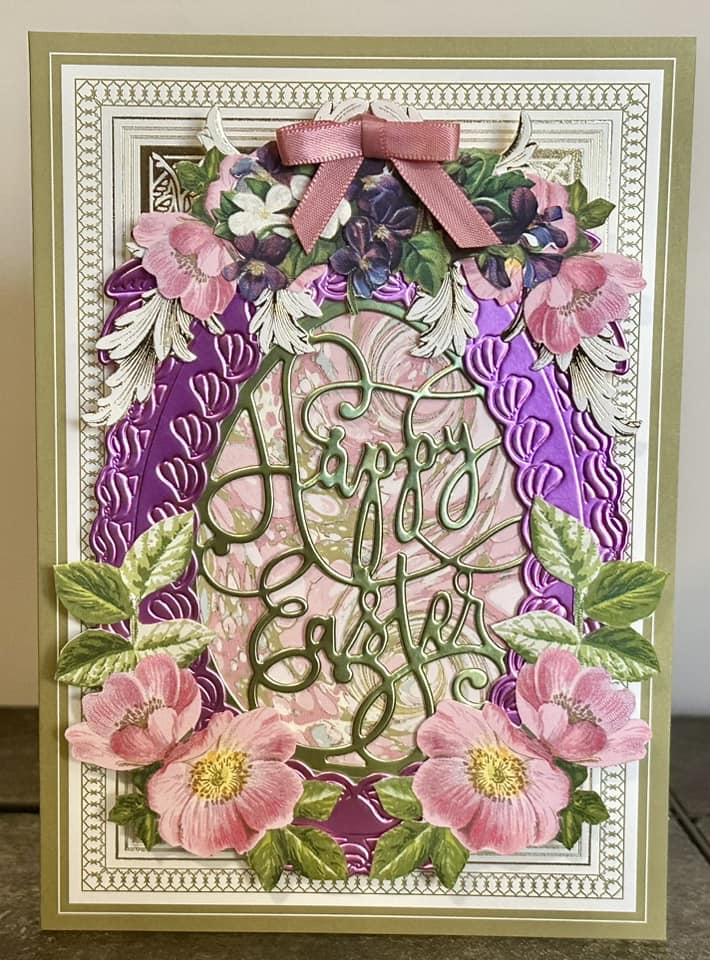 Donna Lee said, "Crafting with Penny Comeau and Vivian Kochis this weekend. Here is a page I made featuring my beautiful mother. I love that you can see a little bit of my father's prized Packard in the bottom photo."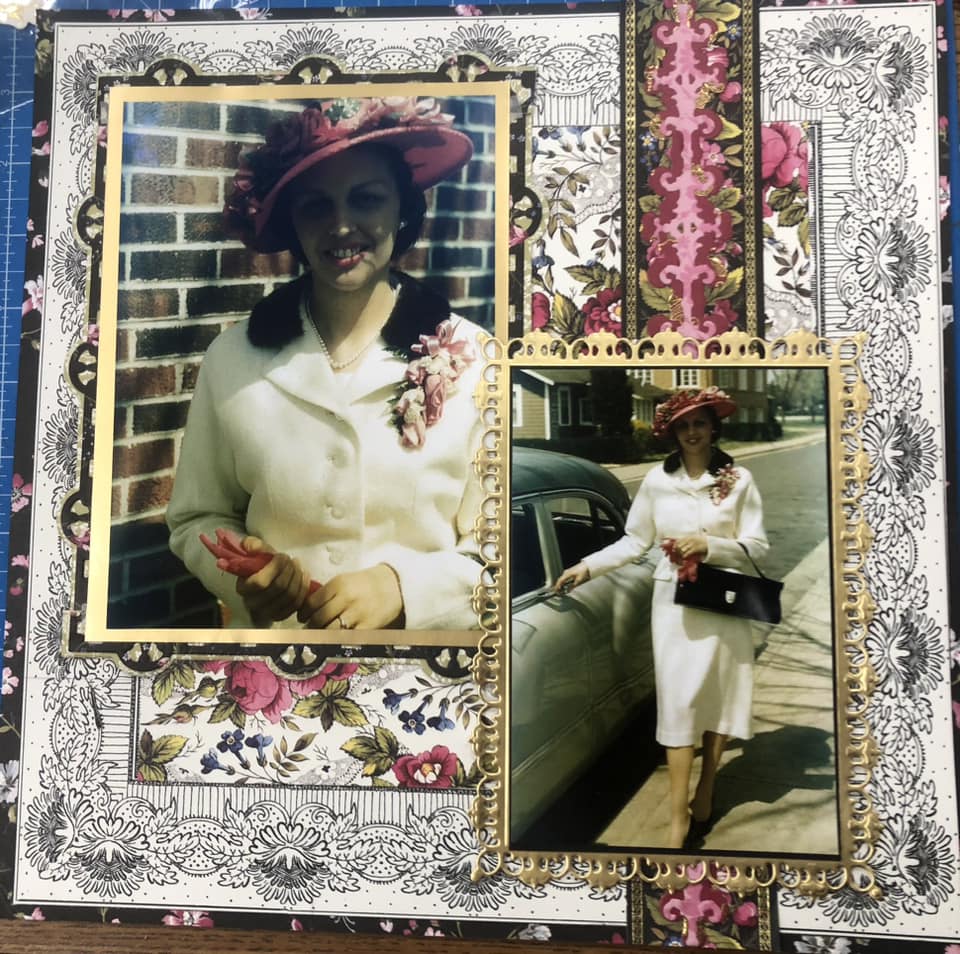 JoAnn shared her gorgeous easel card.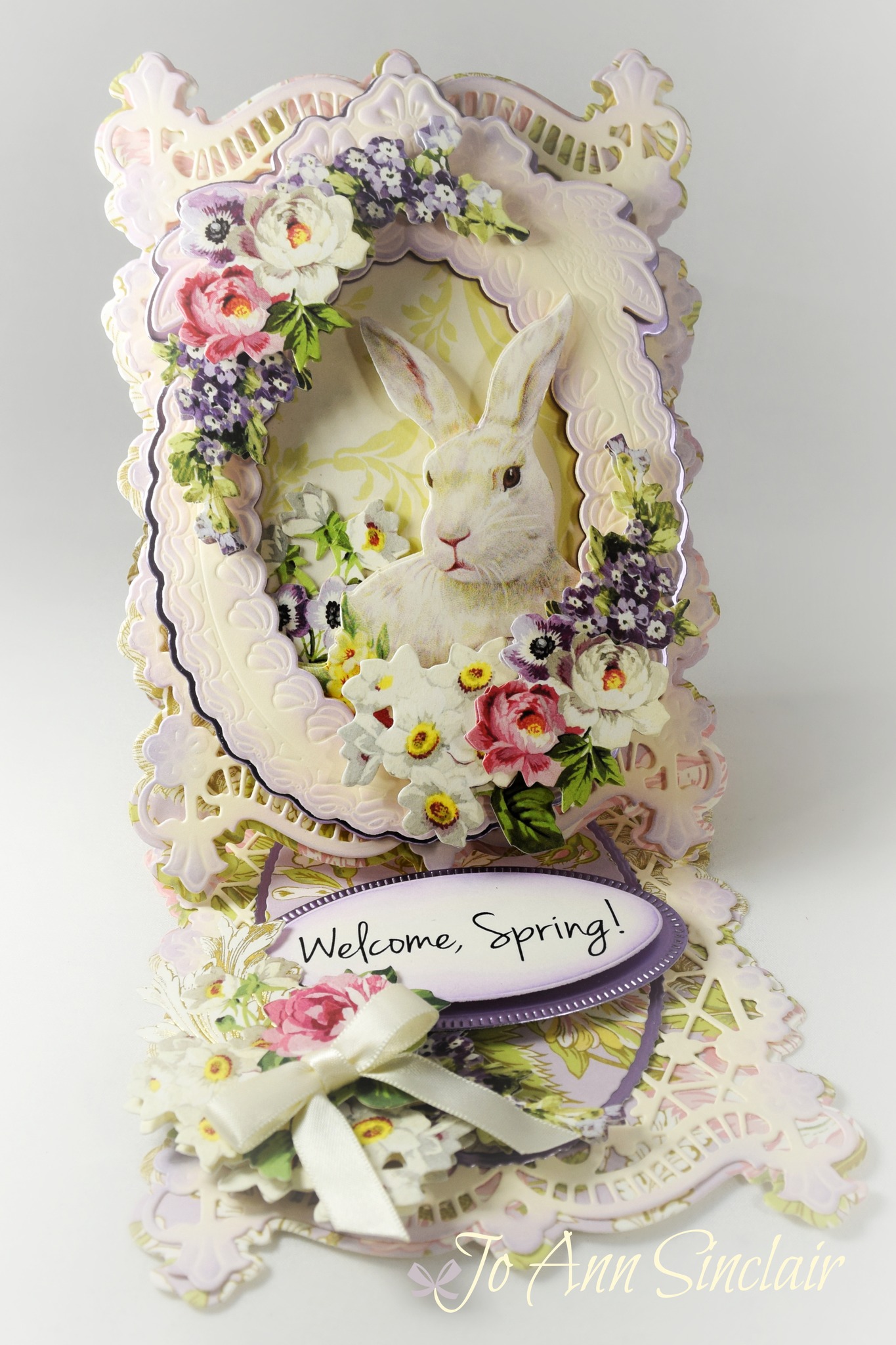 Lourdes posted, "I made this 47th wedding anniversary card for my husband. We renewed our vows in this picture. I used the Cardcentric dies, cut a second one and placed it on both sides of the frame. The easel die is from the Easy Easel dies. I used Anna's white glitter paper, pink and gold rose paper, cartouche dies, the stopper from the Flower Cart box, and corners and flowers from China Cabinet box. My husband loved his card as did our children and grandchildren."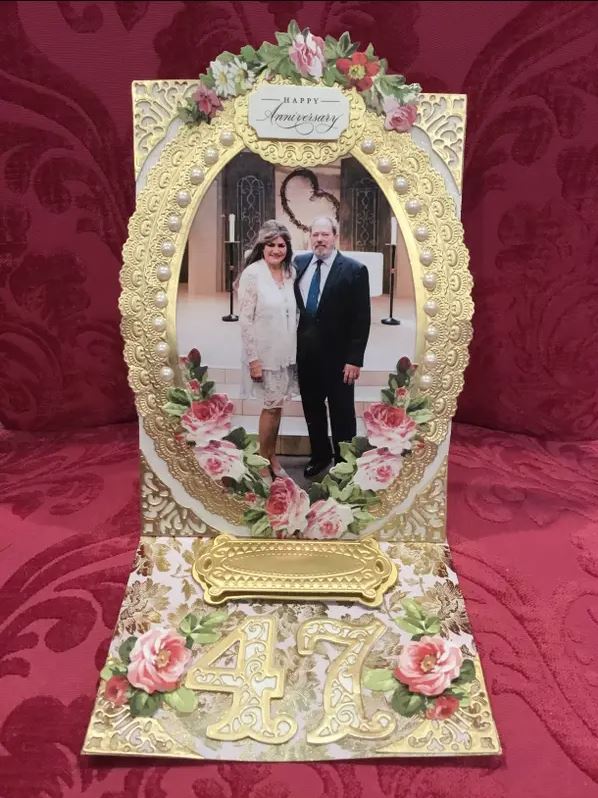 Peggy posted, "I decided to make 20 flower carts with butterflies and bees for a state conference coming up in April. Bees will be added soon. The theme for the conference "Bees and Butterflies." I'm glad I have 4 weeks to make them all."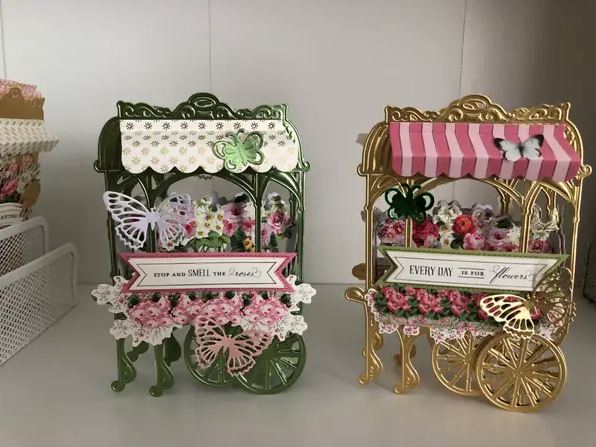 Adina wrote, "When I was just a little girl I asked my mother, what will I be Will I be pretty Will I be rich Here's what she said to me Que será, será Whatever will be, will be The future's not ours to see Que será, será What will be, will be When I grew up and fell in love I asked my sweetheart, what lies ahead Will we have rainbows Day after day Here's what my sweetheart said Que será, será Whatever will be, will be The future's not ours to see Que será, será What will be, will be Now I have children of my own They ask their mother, what will I be Will I be handsome Will I be rich I tell them tenderly Que será, será Whatever will be, will be The future's not ours to see Que será, será Another throw back! I could hear Doris Day singing this song the whole time I worked on this card. I must be going through the Que Sera Sera phase of my life right now."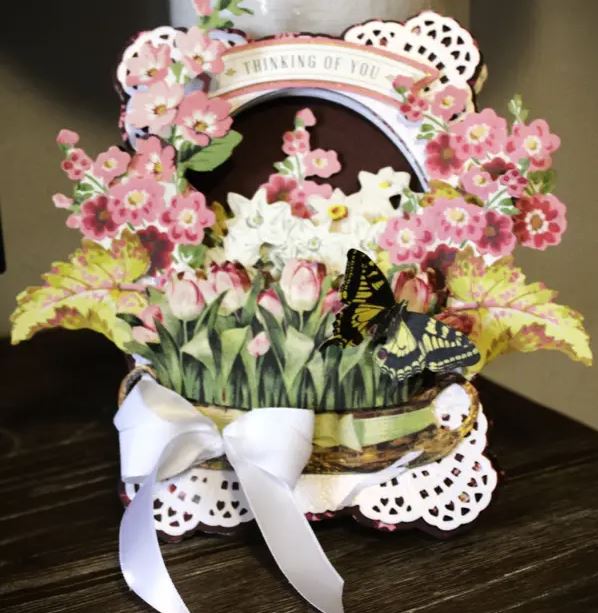 Jimmie said, "I really enjoy the sugar egg die set! I forgot about my Nanas sugar eggs at Easter until this die came out! I love how those memories pop up! #NationalCraftMonth #beautifulinthemaking"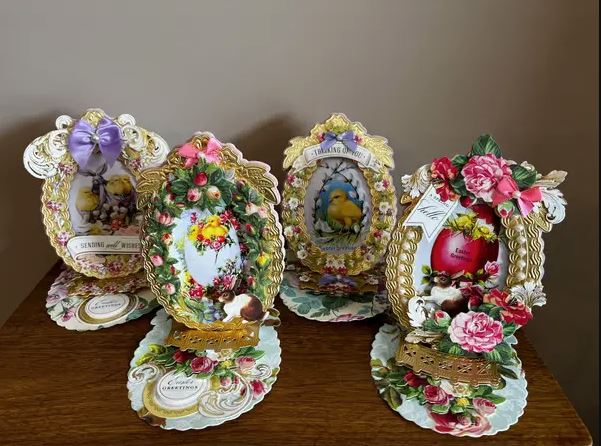 Jennifer shared, "The background layer is from the Rose Anniversary paper collection, the one with the blue ribbon. Flowers are China Cabinet. My husband always refills the humming bird feeders in our back yard. I love these colors. Yes, he'll be good with the pink and the flowers because he knows how much I love Anna Griffin's products."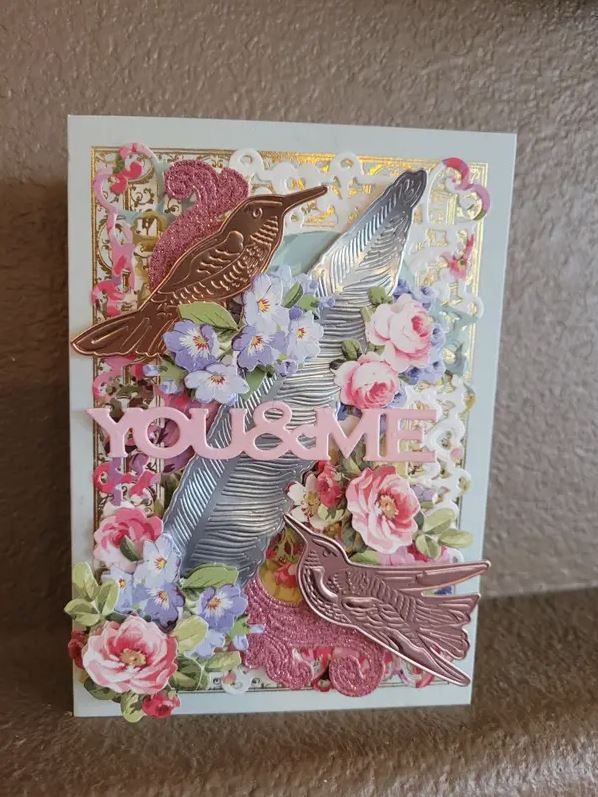 Chrissie wrote, "I made this today during Finishing School, mostly with pieces left over from other projects. I guess you could call it my 'kitchen sink card'. I used pink, ivory, and green metallic, Marbelized paper, and gold foil, as well as – Pirouette embossing folder, Border Trim die, Love 3D die, Mini 3D Flower dies, Foliage dies, Pollinator dies, Flourish cut and emboss folders None of this is new, but I still love it all, and it makes me happy to give old dies new life!"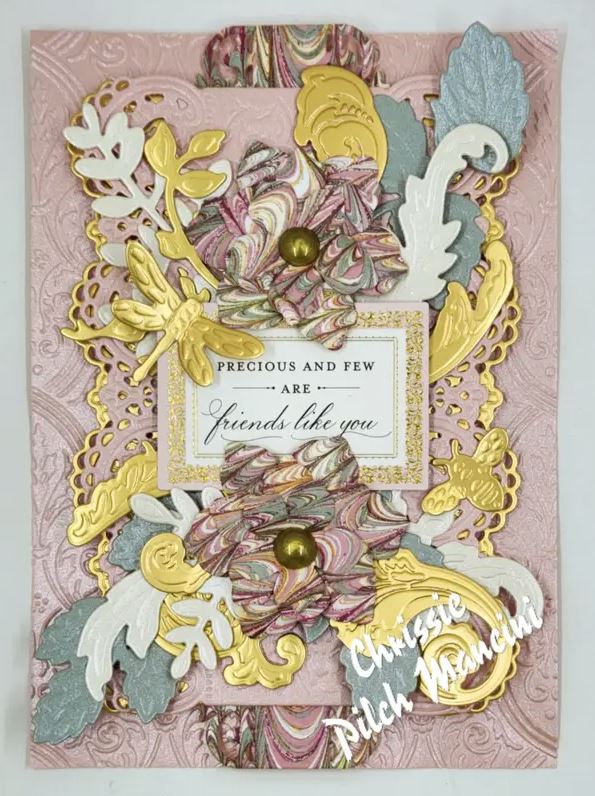 Jane shared, "I think @LAURA OCONNELL is probably Anna's biggest fan! @Anna Griffin is her Queen 👸!! Laura is an awesome crafter and an important member of the Arizona Griffin Gals! Love ya, Laura!! Arizona Griffin Gals Spring Convention 2023."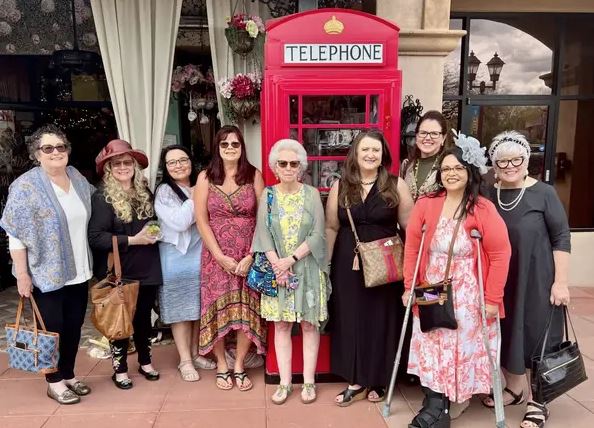 Jane also said, "After Tea on Saturday, March 11th, some of the ladies met up for a three hour shop-athon!! Smiles, laughter, sisterhood, conversations, etc etc! Smiles all around and being present in the moment was awesome! Afterwards we went to dinner where we discussed, you guessed it, crafting!! Pictured in this photo: Vicka Hammill, Pam Brink, Jane Shouse, Sylvia Tabor, Brenda Grote, Stacy Biehle, Karen Stout, Barbie Stowell, Carole Martucci, and Laura O'Connell. We visited Scraps of Love in Peoria."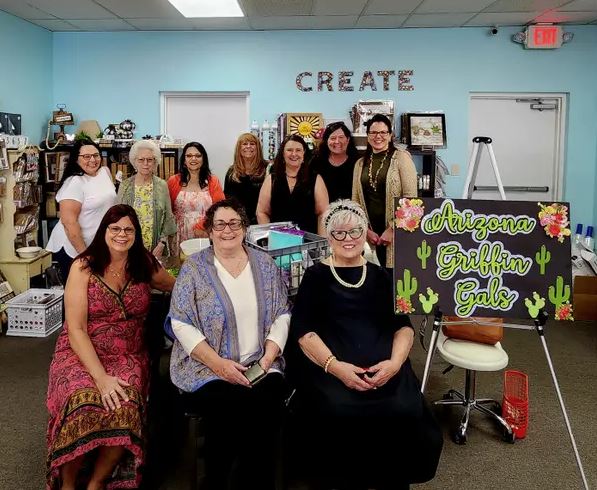 Karenbeatrice posted, "I made this purse for a co-workers girlfriends birthday. He said it captured her personality perfectly. She loves red, pink and bling, hence my color pallet. I used the new Anna Griffin Luxury Purse die auto-ship along with Anna Griffin Elenore Collection Paper, Anna Griffin Mascara Roses, Anna Griffin Celebration Stickers & Sentiments Anna Griffin Simple Signature Cards, and bling. I mirrored the Mascara Roses and used lots of the Celebration Stickers and Sentiment embellishments inside, such as the champagne bottle, balloons, and present, and more Mascara Roses, along with the Simply Signature Card which I trimmed it down and had a perfect fit. Those are really great for these cards. I hadnt crafted in a while and I really enjoyed making this card so much I'm inspired to make many more."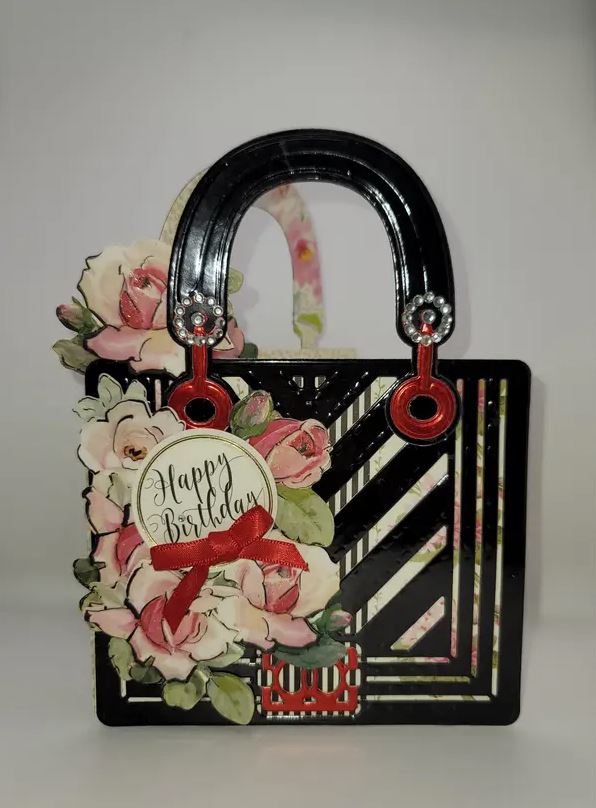 Thank you all for sharing your fantastic paper projects with us this week. For your chance to be featured, post your crafts with us on Facebook, in our private community or email us at rsvp@annagriffin.com. We look forward to seeing what you come up with next! For your chance to win a ticket to
Crop At Home 3
, participate on our
Facebook
giveaway celebrating National Craft Month! It's going to be the scrapbooking event of the year and you don't want to miss it!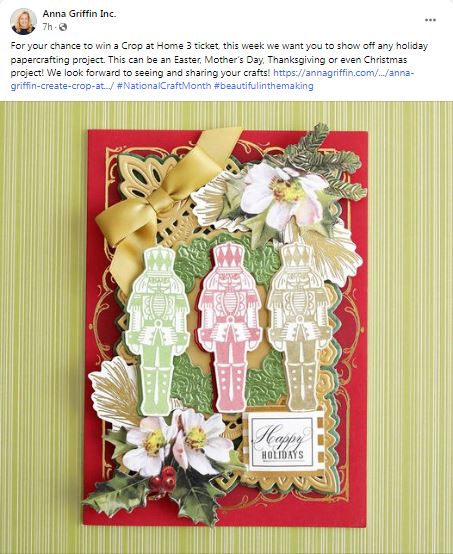 Bye for now,
Anna