Hello crafters,
It's hard to believe that we're half-way through March! We are thoroughly enjoying seeing your St. Patrick's Day, Easter and spring projects. There are also debut appearances from some of our new die sets! Whether you are a card maker or scrapbooker, you are sure to find inspiration on today's Griffinite show and tell!
Come feast your eyes on today's share!
Sally wrote, "I'm still working on my daughter's wedding scrapbook. I used the Square Cardcentric Compendium Dies to enhance the picture and embellished with the Garden Floral Stickers."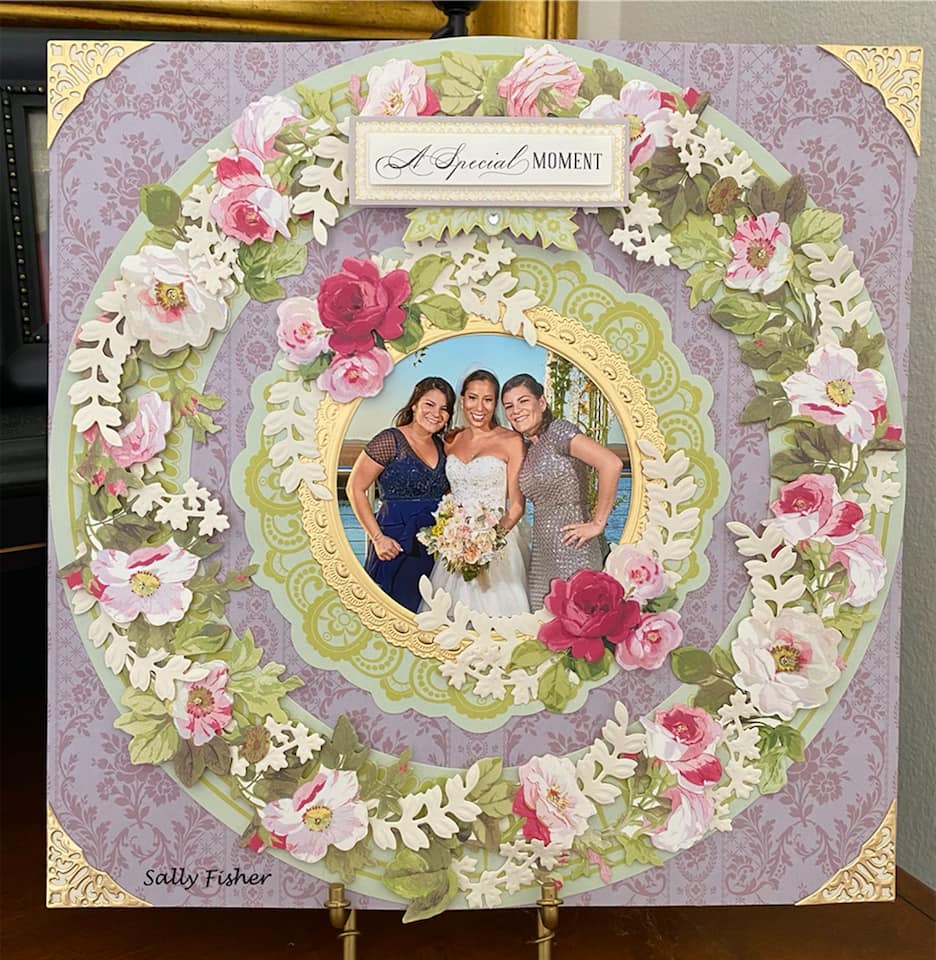 Nora posted, "I made a shaker card using the Sugar Egg Scene dies. All Anna Griffin. I liked it so much I made 2!"
These shaker cards are so much fun!
Clare shared, "I was feeling purse-envy (I don't have the new dies yet) so I fished around in the virtual back of the closet and used the original purse die set. If I'm out of style, please be gentle 
. I also used the bow corners from the China Cabinet set. The black is Anna's metallic (pearl) cardstock. This is my Christmas card of the week."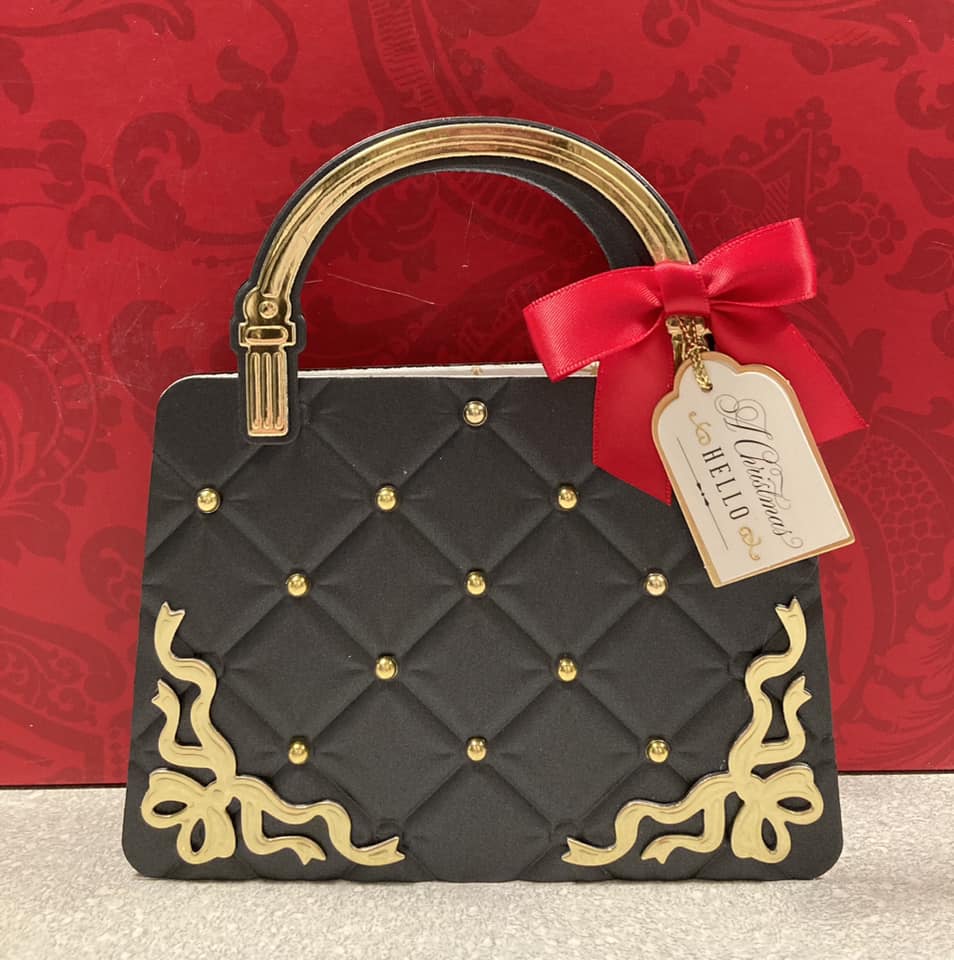 Gay Lynn said, "Making some St Patrick Day greetings!"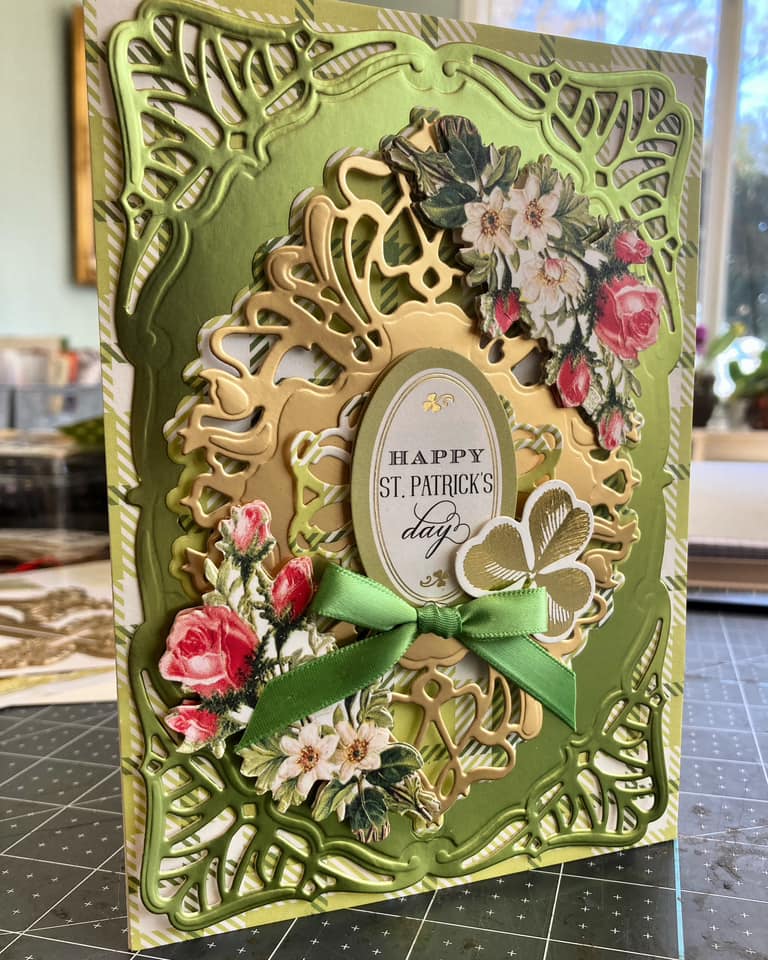 Loraine posted, "Made this Anniversary card for my honey!"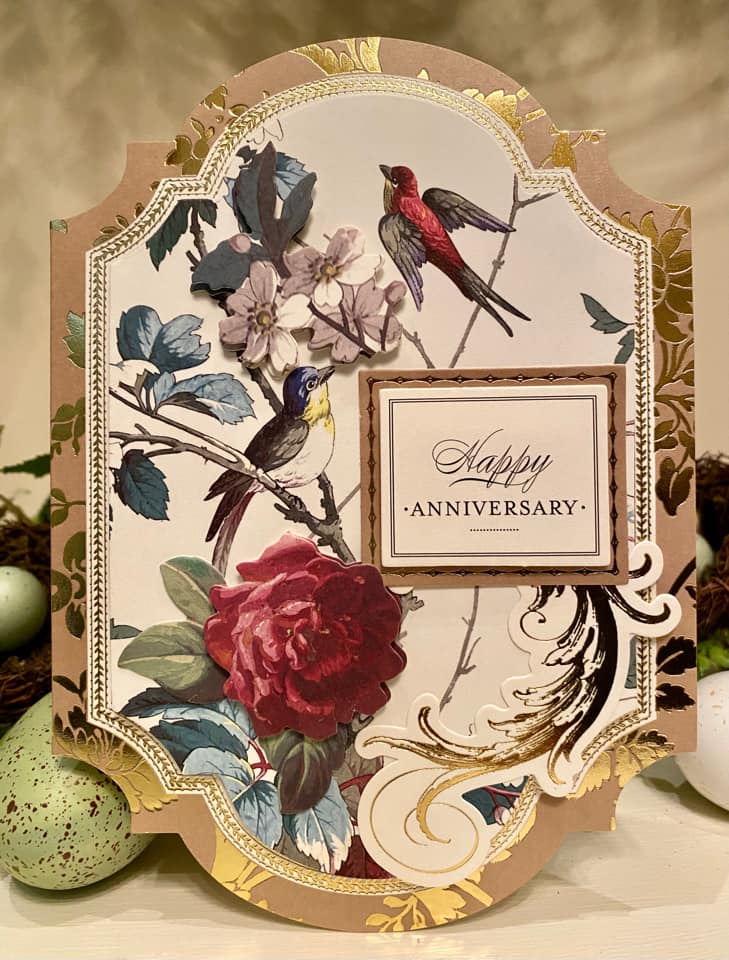 Yvonne shared, "Sharing another Easter card with the Faberge Egg and a little vintage chick."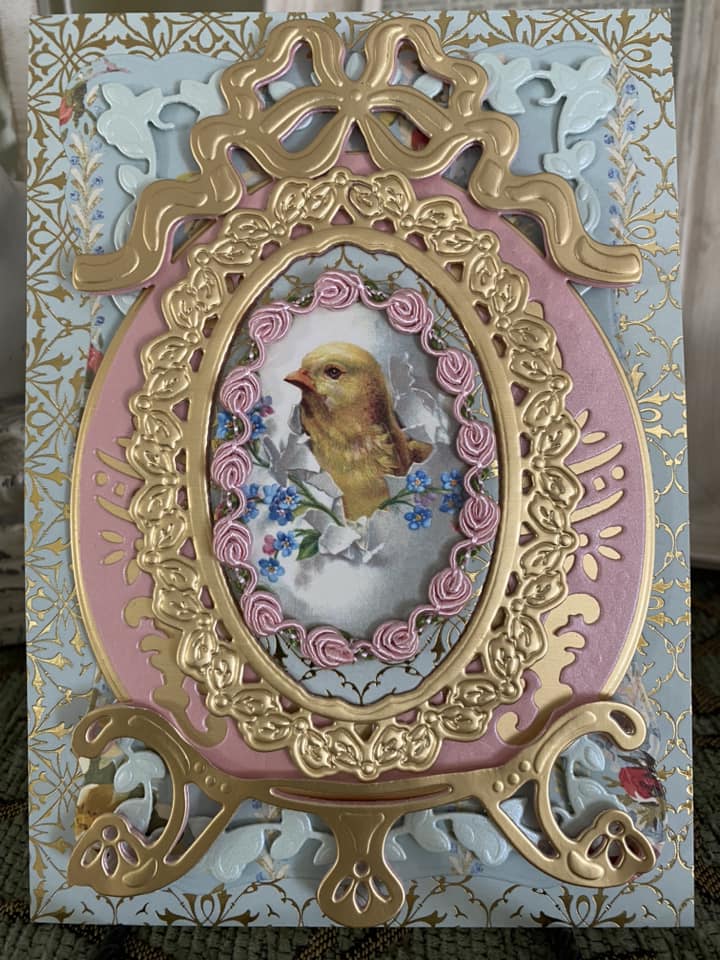 Jenny said, "Another card for the share."
This is lovely, Jenny!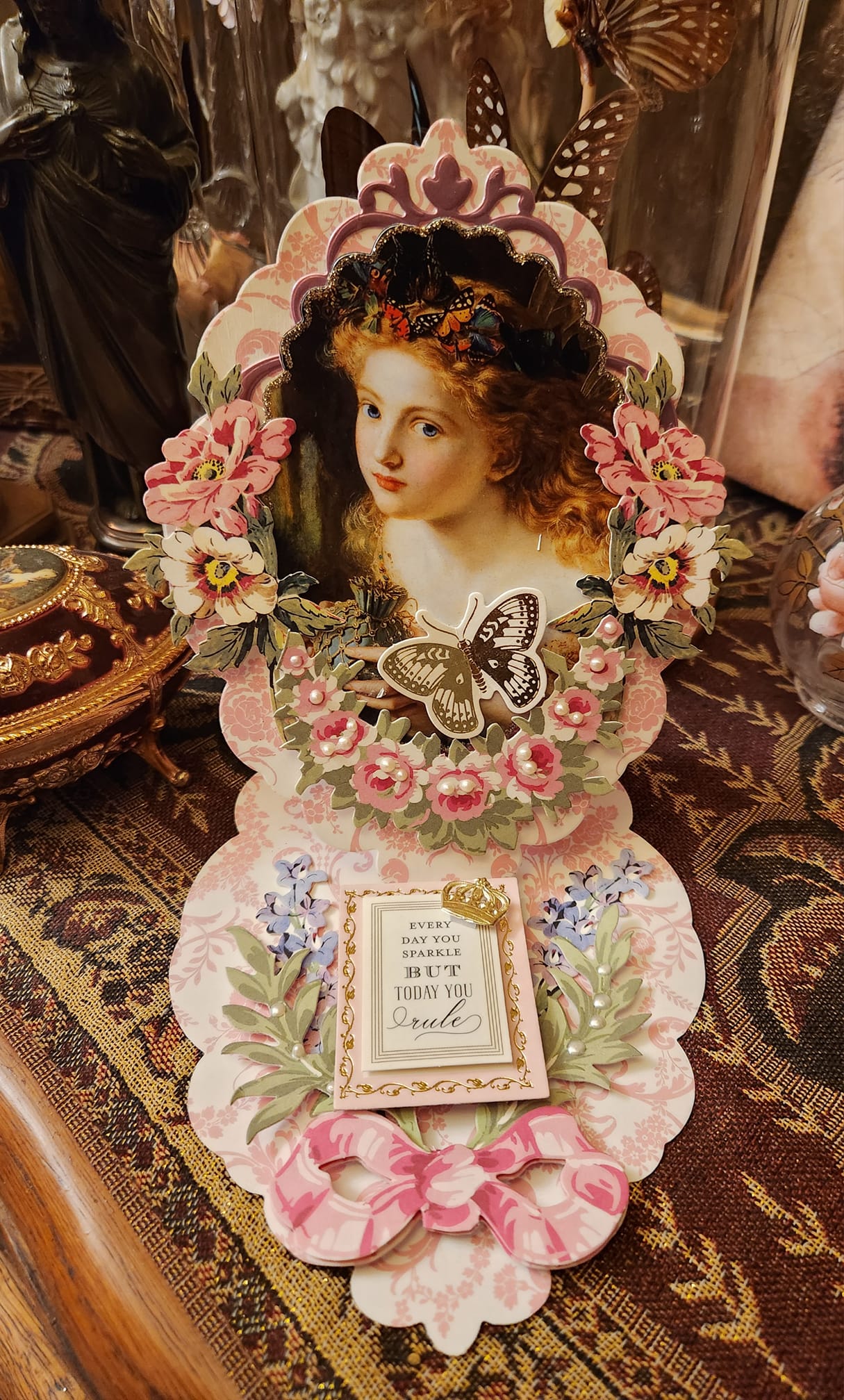 Tracy posted, "I have a sassy, little Chihuahua who loves grabbing my reading glasses and "wearing" them in her mouth. So, I thought I would make a decorative box for my nightstand to put them, as well as my tv remote, in. For this, I used dies from the China Cabinet, Rose Swirl and Explosion Box die sets. Also, the easel picture on top of the box folds flat… just in case I want to store the box in a drawer."
What a wonderful box! We love how you constructed it!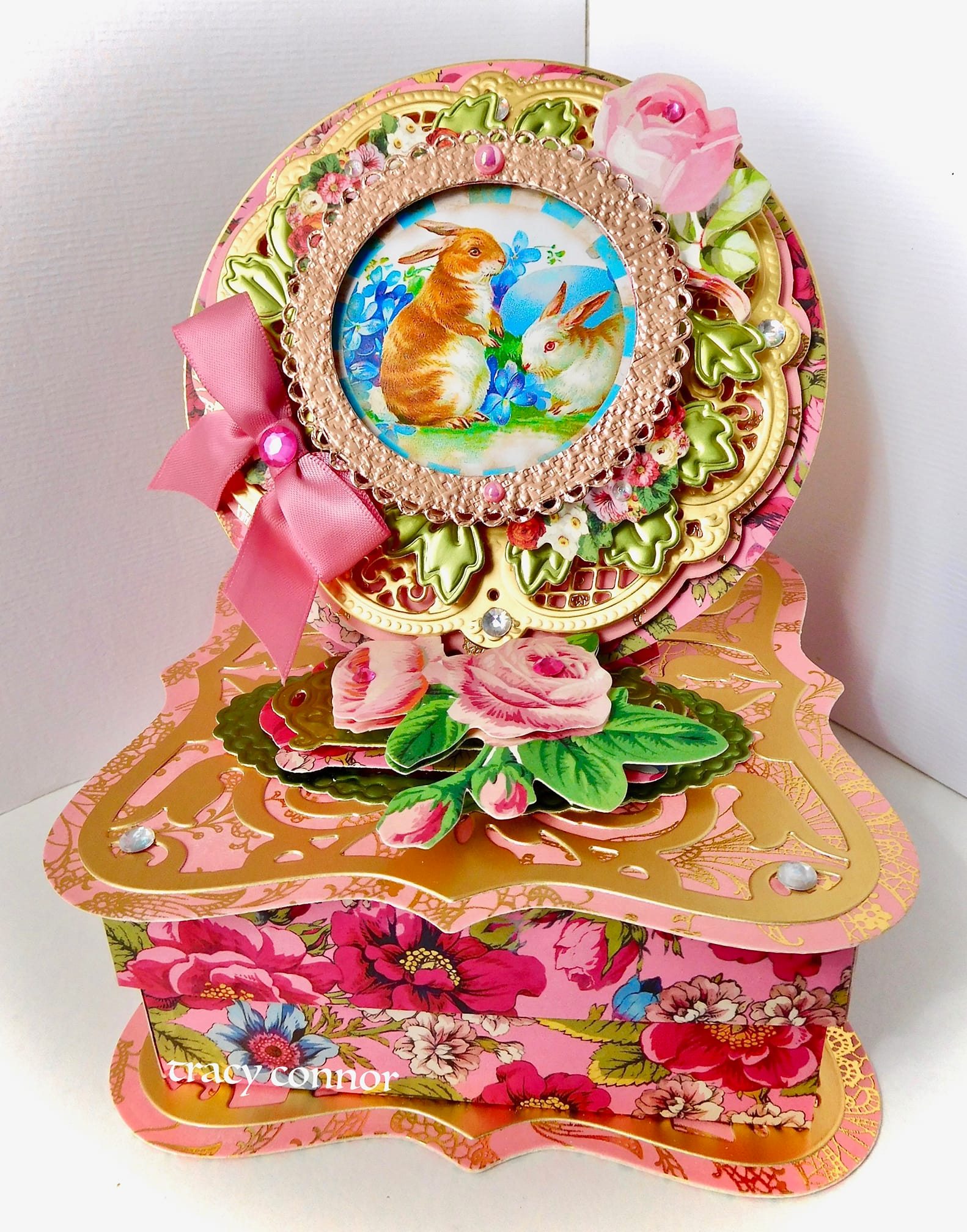 Dayle wrote, "I used the gorgeous papers from the Grace paper bundle. The flocked papers are just like velvet. The background is from the delicate engravings card toppers. Swags are from Flower cart. Plus various Anna flowers and bunnies from Easter stickers."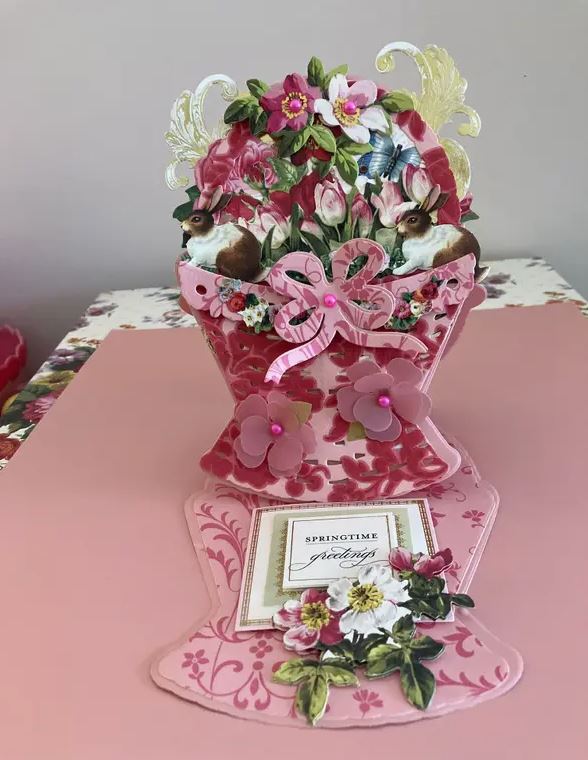 Frankie shared, "I have a friend who's daughter is having a baby and so I had an idea for a baby shower card. I made this little umbrella as a prototype and ending up liking it enough to use it on a card. I'll do another lighter one for a baby but thought this one would work for various other occasions like under the weather, hello spring, or the friend one I'm using it for. The paper is Anna's as are the butterflies, and the flowers."
This is stunning, Frankie! Great work.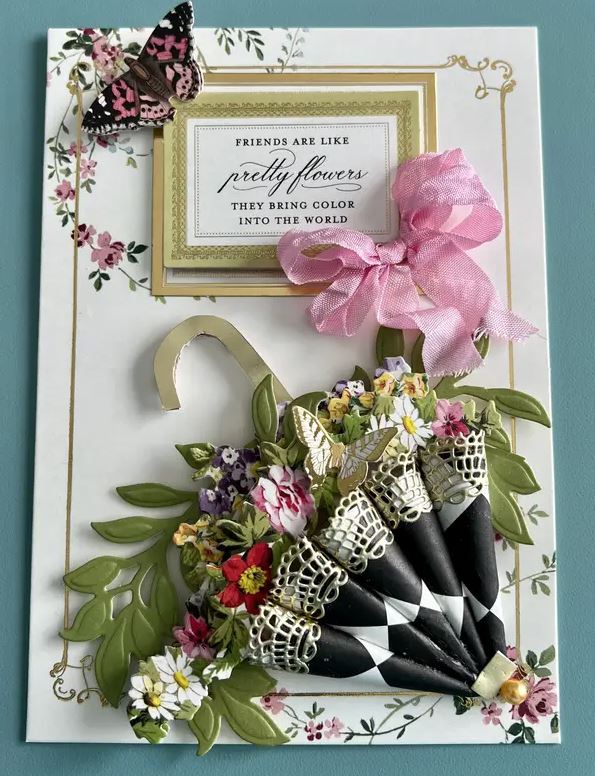 Mary said, "Made with #annagriffininc Ag2363 paper, Slimline Georgette Lace Embossing folder, Wildflower Garden die, frame die from Create Crop at Home 2 and Christmas Journal Pack. Title made with Photo and Cricut using Anna's mat foil card stock and black card stock. I used gliding wax with the embossing folder to really make it pop. To get the look of lace paper that was 12″ wide, I embossed three lace motifs, and covered the seams with Anna's Fall Borders. I am submitting this for the #nationalcraftmonth #beautifulinthemaking because sometimes all we get is a "Staycation." I hope Anna isn't discouraged by our small group! We met during a snow storm and only a few braved the weather. We held a card drive and donated them to a retirement center."
The Annadictions group is amazing! Thanks for sharing!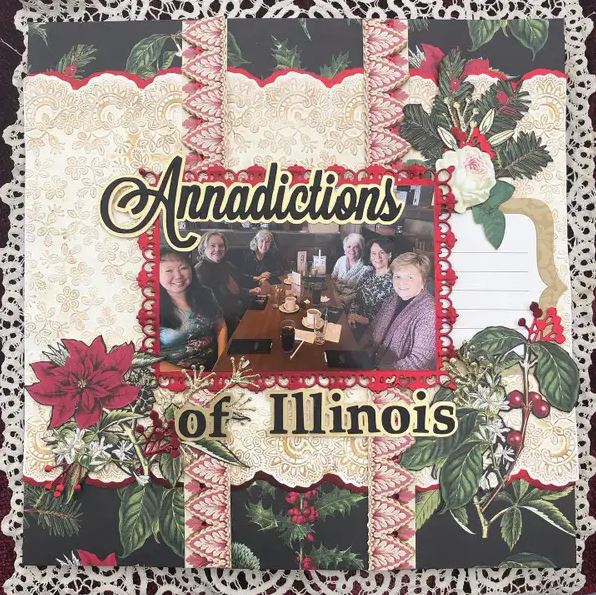 Julie posted, "Finished my St. Patrick's Day cards really easy with the vellum toppers! Now to get them out to the post office in the rain! Feels like an Irish day here in California!"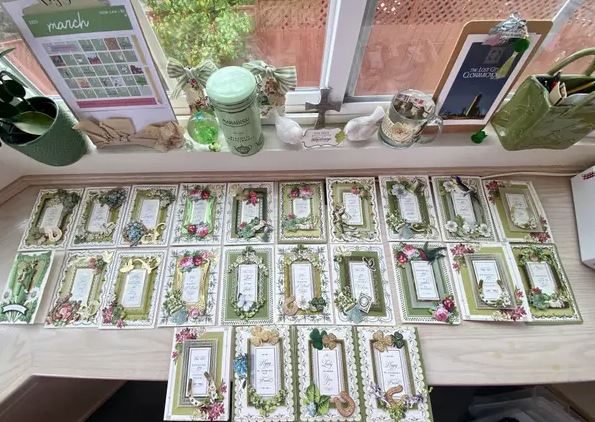 Mary said, "I've gotten several great new products in the last few days, so I wanted to try them all. This is my first effort with a lot of them, and I had a lot of fun making it (The bunny looks a tad demented, but it's just a couple of tiny rhinestones)!"
Adina wrote, "Thank you, Miss Mary, for the box of Anna goodies that arrived in the mail today. I couldn't wait to make a card!"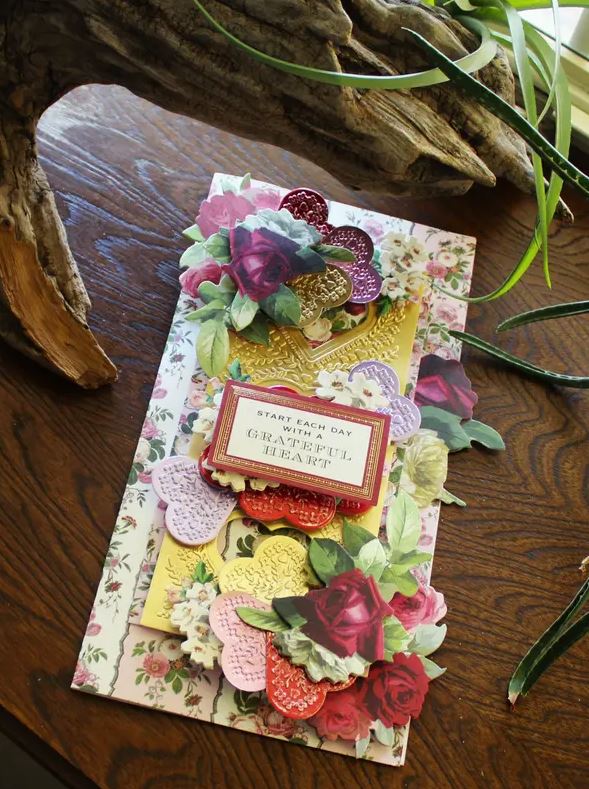 Sonya said, "I came home and my Luxury Purse dies had been delivered! Martha's papercrafting was doing a YouTube live tonight with these dies so I crafted along. You can't tell but the lavender ribbon and handles match. I know the lilac embellishments are a bit big but they matched the papers. This was so very easy to do. I made the gift box."
The pattern peeking through is gorgeous!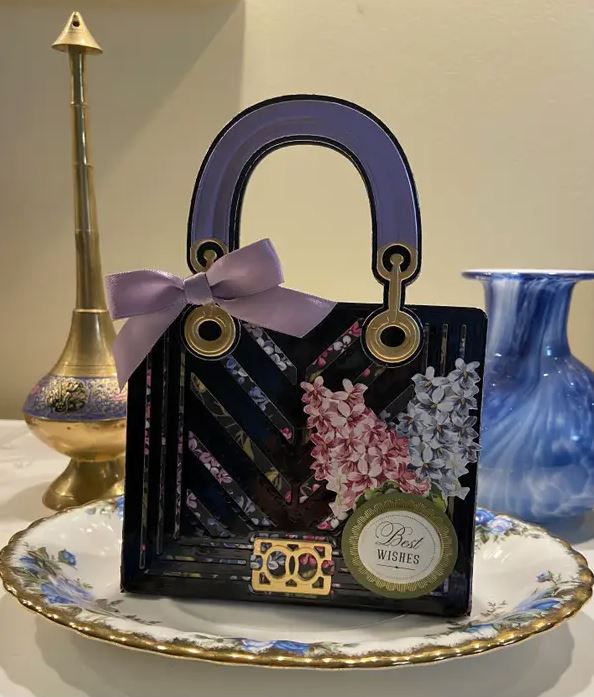 Sherry shared, "Here is my first try with the new Quilted Purse dies. I am loving it for sure.. I want to wait and add the embellishments when I know who I will be sending it to and for what occasion. So for now I have added a "scarf" to keep it company. I think it looks cute like this. Just a note: when my daughter saw it she wanted me to make her 80 as table favors for a bridal shower she is hosting.. And if 80 table favors weren't enough she also wanted me to make just the front of the purse and attach the menu on it for each place setting. I can see this one will be a big hit for a lot of different occasions."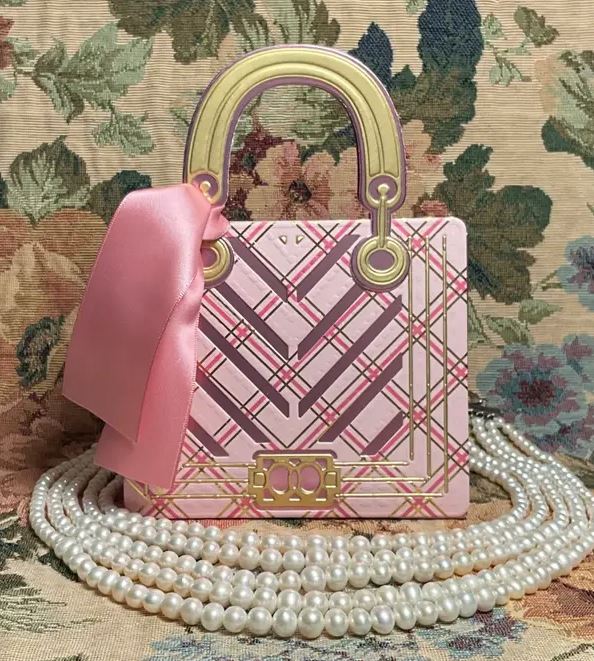 Janice shared, "Even though we had a touch of snow this morning I'm pushing for spring! I tried to mimic old Vintage Easter cards. I really had a lot of fun making this card!"
You did an amazing job! This card is vintage perfection.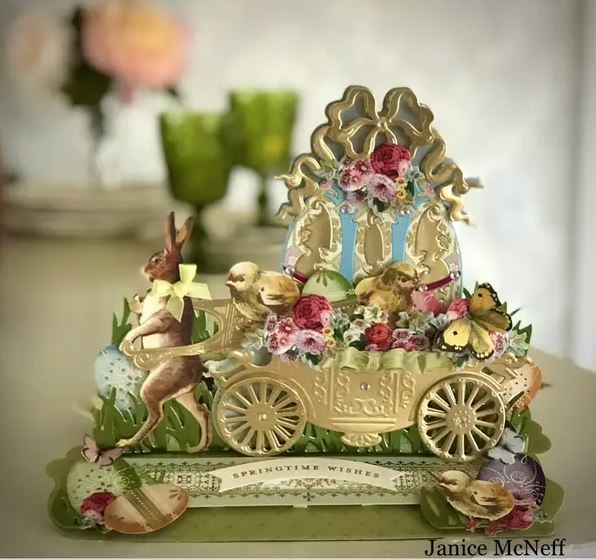 Cindi said, "Working on some cards. I like how differently the Neoclassical Concentric Frame die looks in different cards. The pink one was an older card I saved, but finding it, it seemed to be lacking. So I carefully disassembled it and added the frame die and some eggs from a die that cut out little bunny and egg silhouettes. The birthday card could be an Easter one too, I'm in that color way right now. Looking forward to my Sugar Egg dies and pastel matte foil. I'm starting to feel a little encouraged with my results,  thanks to Anna and AGTV."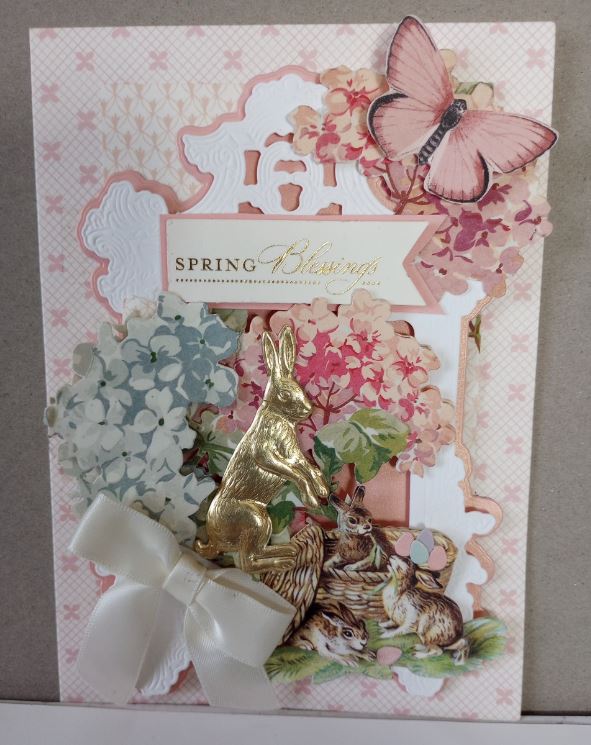 Week after week, we are floored with the amazing things that you all create. We know that our community loves to see what you are building in your craft rooms and so do we! Keep up the incredible work, everyone. If you would like to be featured in Craftspiration, post your projects with us on our Facebook page, in our Finishing School Community or email us at rsvp@annagriffin.com. We're excited to see what you come up with next!
Bye for now,
Anna