Hello friends,
2023 is off to a great start! We are so glad that you all had a wonderful holiday season spending time with friends, family and loved ones. Now that we have celebrated the New Year, we are hitting the ground running! From our AGTV show: Birthday Wishes that aired yesterday (you can watch the replay here) to our 13th anniversary shows on HSN on January 17th, there is a whole lot of crafting going on! It looks like many of you are getting the new started in a beautiful way with birthdays, valentines and more.
Come see what was made and shared this week!
Patricia said, "Happy New Year to you and yours…now that it's January – it's time to create Valentine's Cards."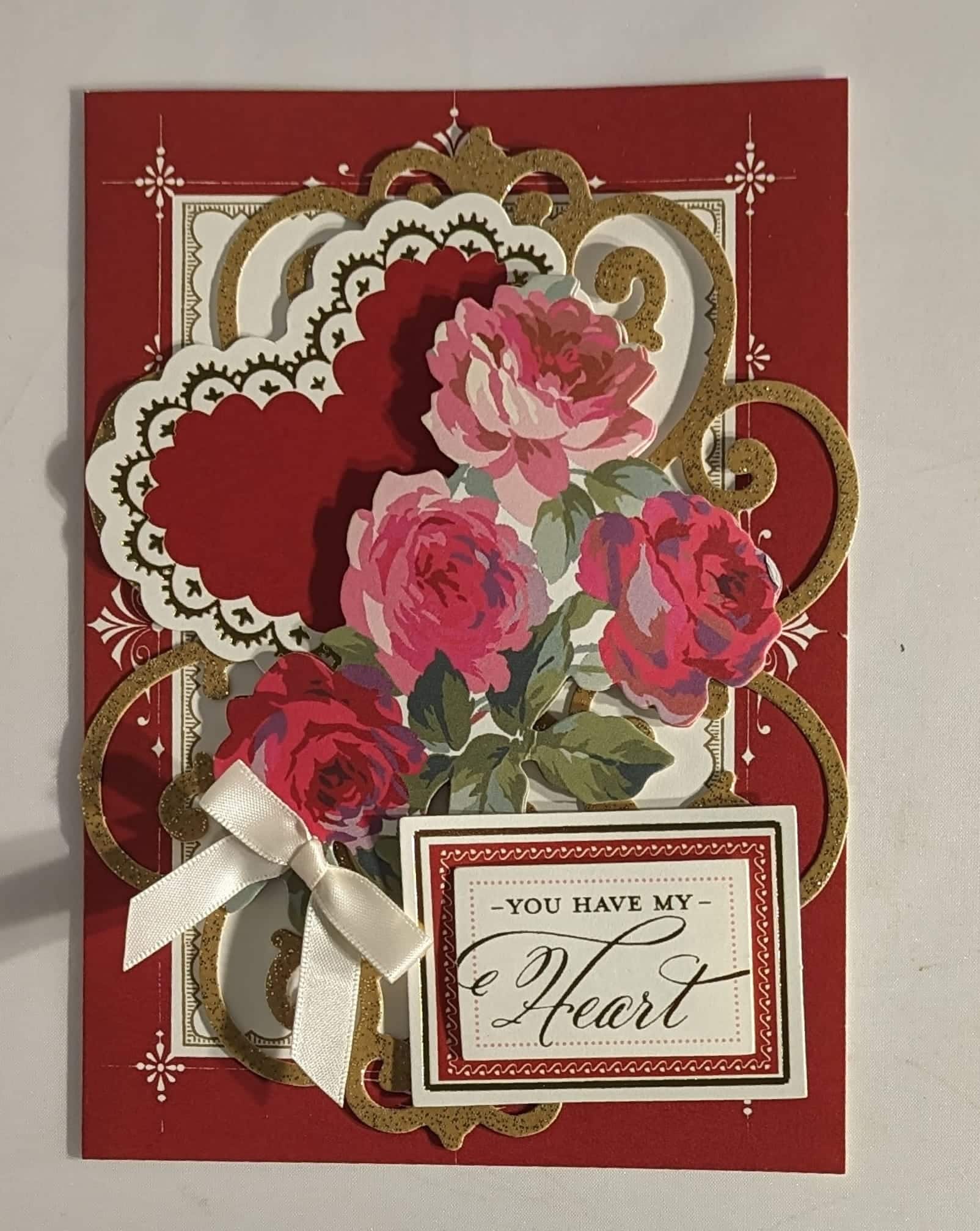 Yvonne posted, "Happy New Year Anna!! I finally made a Ferris Wheel Easel card from the Paisley Papers."
Love this card, Yvonne!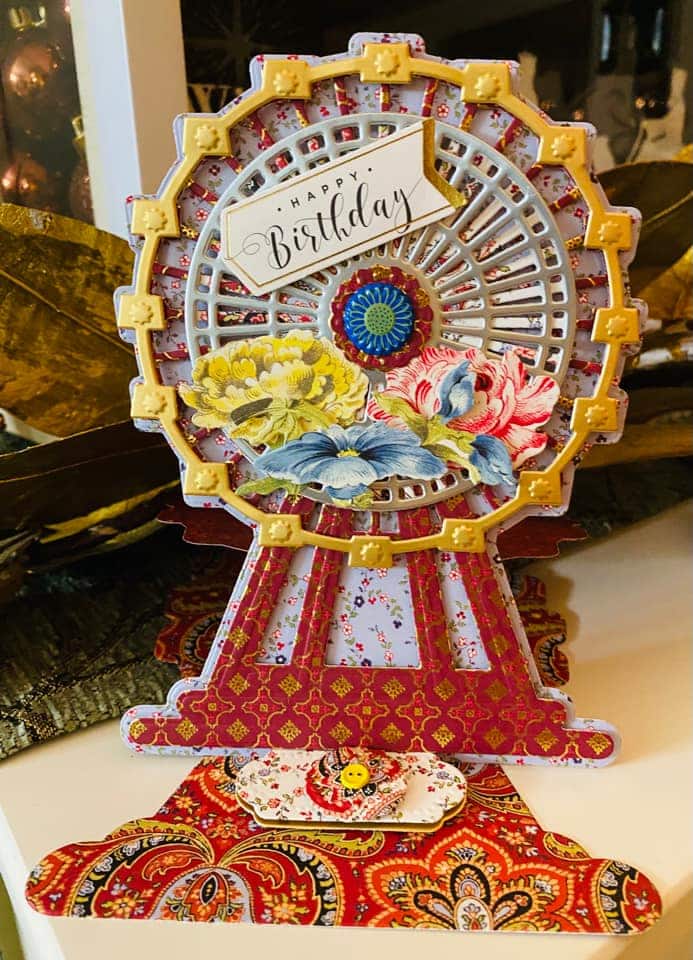 Jacquie shared, "Work in process for nursing home Valentine's day cards."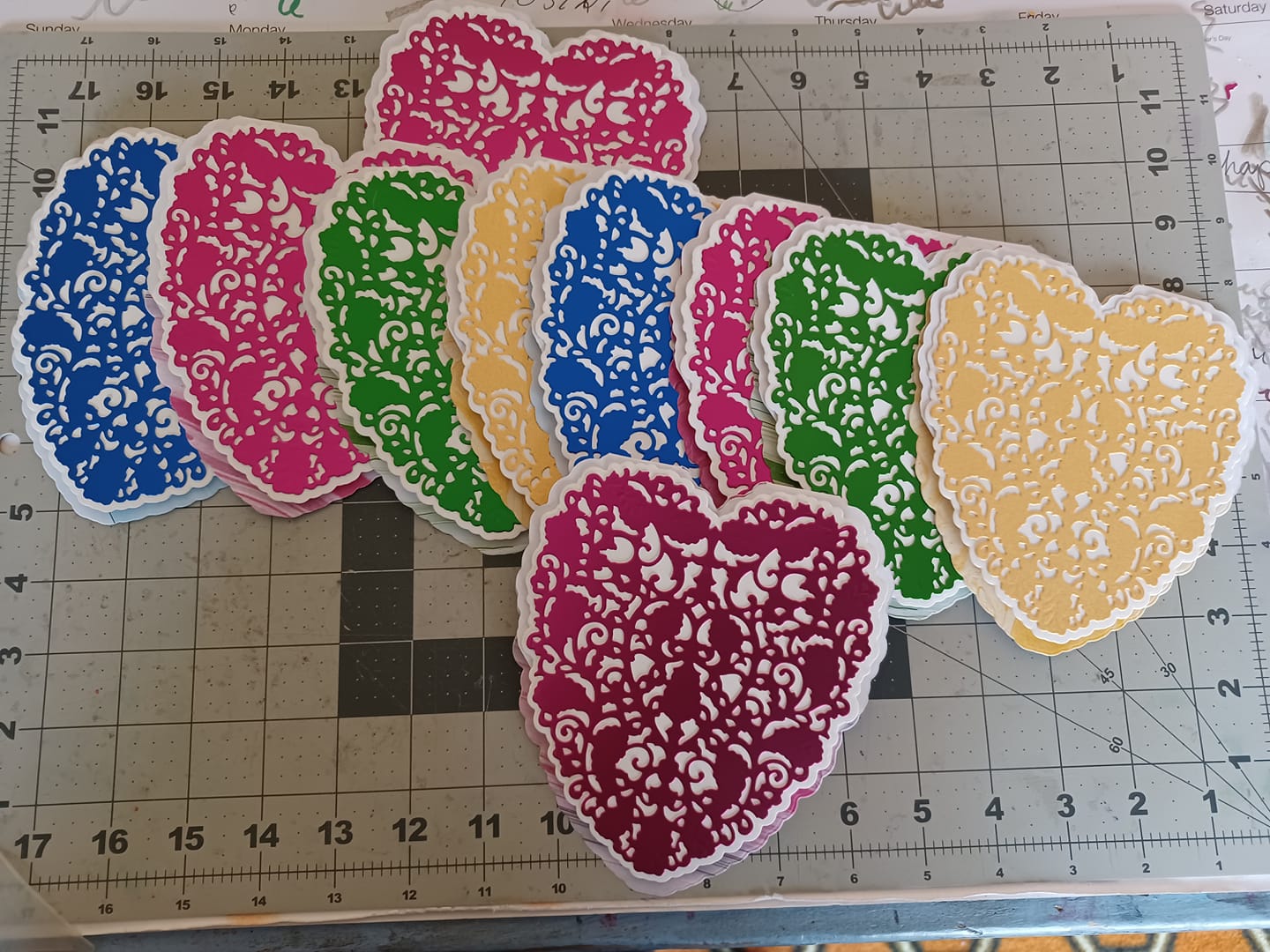 Dayle shared, "Time to scrapbook Christmas 2022! First of this year's Christmas pages."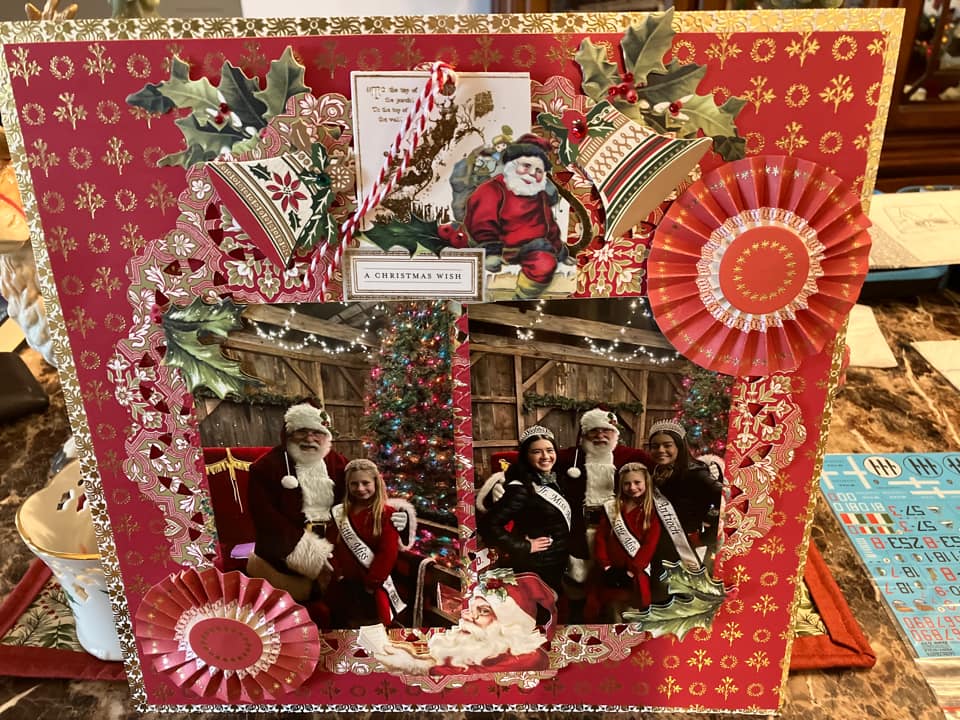 Terry said, "New year, fresh start, life's a canvas, begin your art! Wishing all my crafty friends a happy, creative & blessed 2023! My card today features the Romantic Frame Dies, Heirloom Lace Paper, and a new favorite, the gorgeous Antique Luxury Matte Foil Cardstock."
Happy New Year, Terry!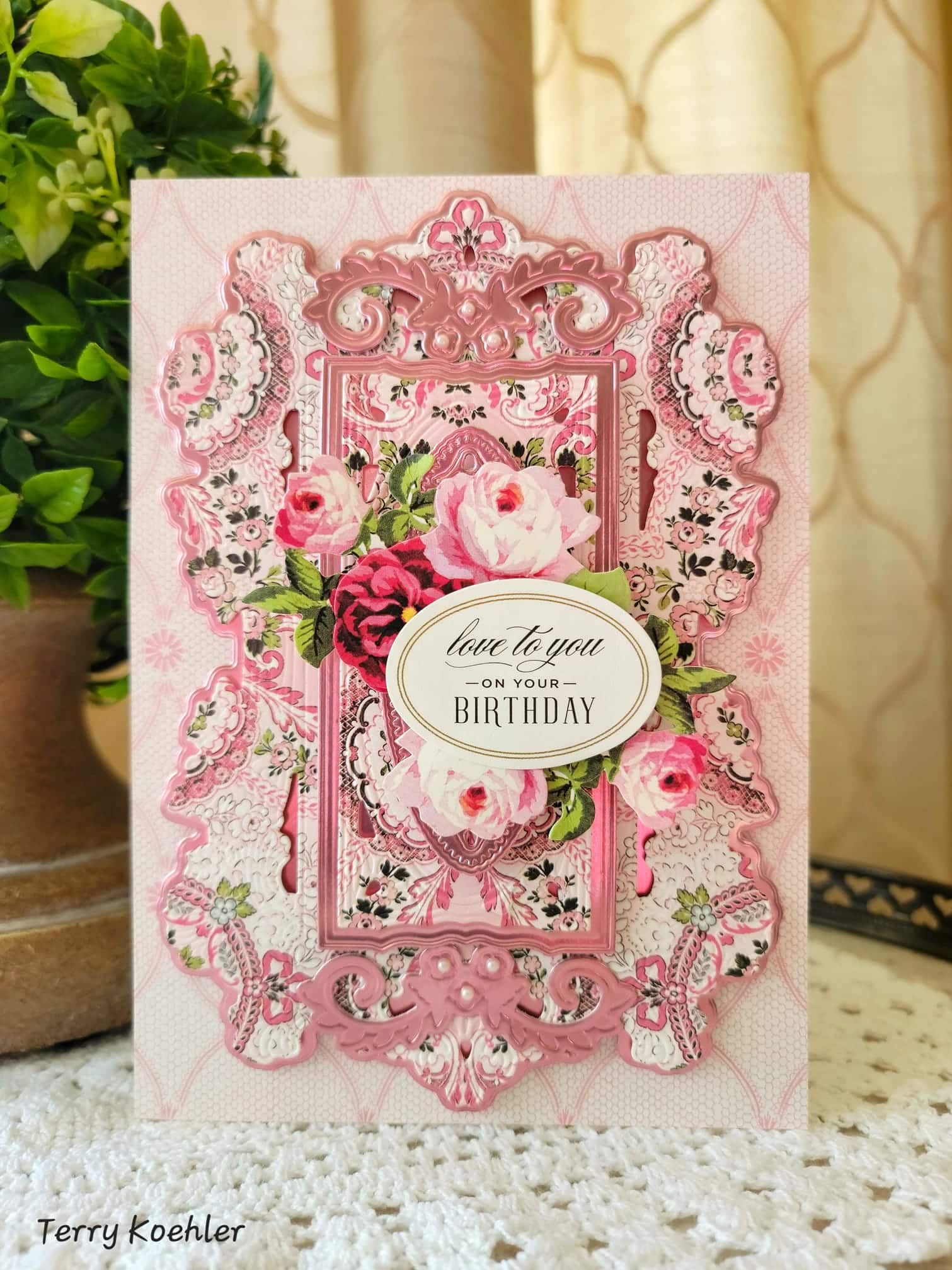 Barbie wrote, "Week #1 of Make A Christmas Card Every Week! Played with the Kiragami dies from Create 8. It took me a bit to get the sandwich layer correct but then I was on a roll and die cut all that I had! This one is my favorite! Love the little glitter cardinal inside the Kiragami!"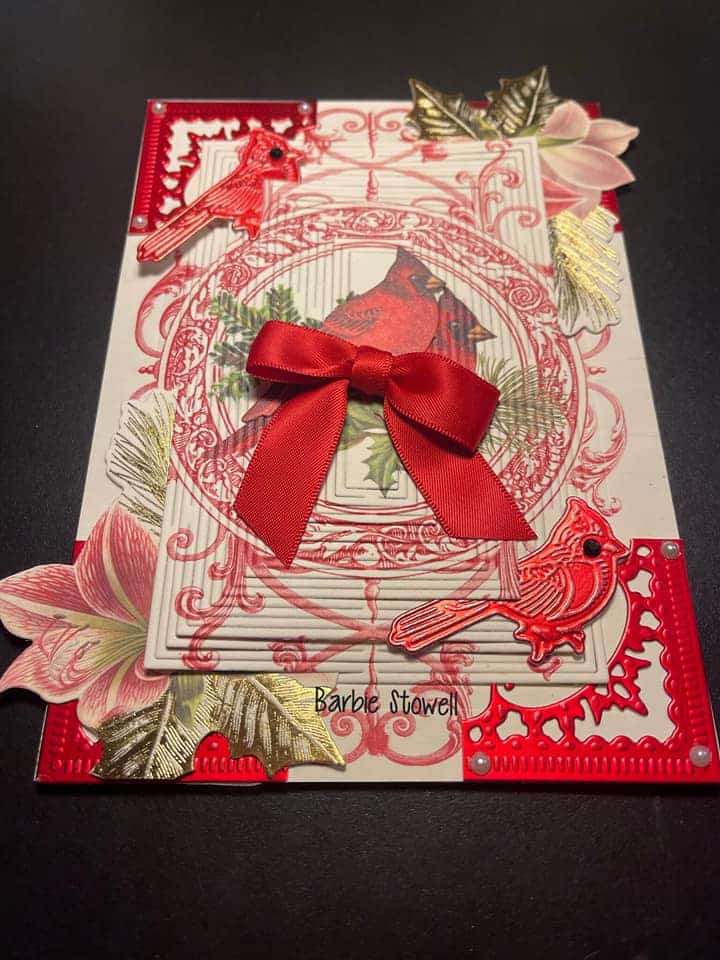 Mary Beth said, "
A New Year…on to the next holiday…VALENTINES!!"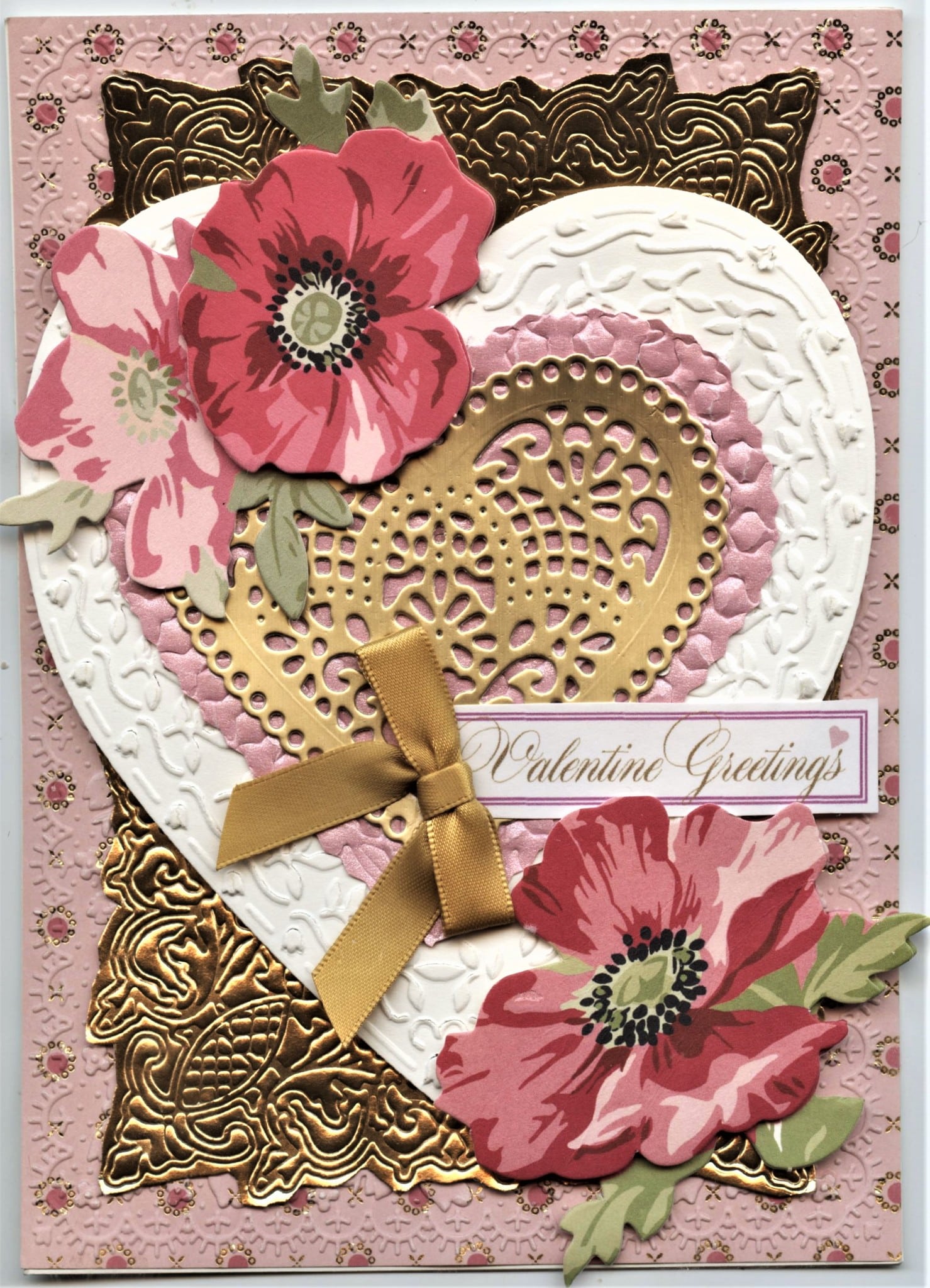 Vicki Allison made this gorgeous card.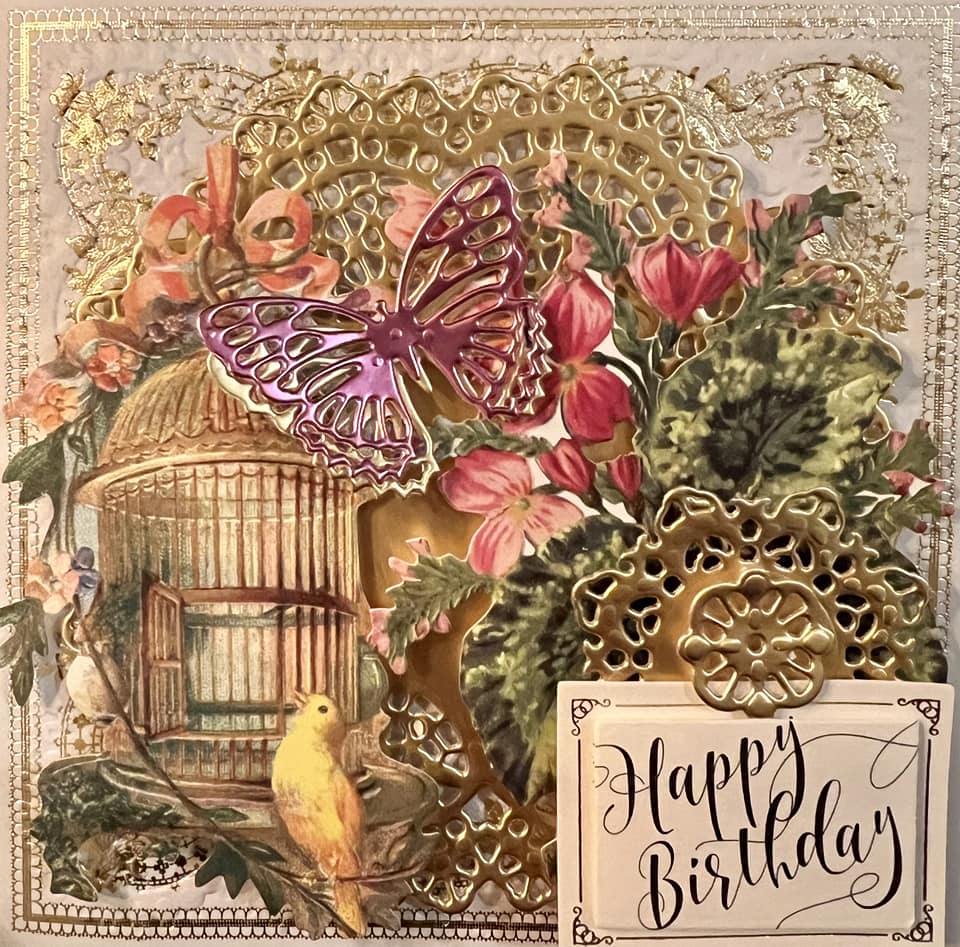 Sheri said, " To continue the party from AGTV, I used the CAKE DIES to make 25 bridal shower invitation for my NEW Daughter's party. And then made a card for her gift, she loves lilies so the centerpieces had lilies and of course Anna had the prefect match."
This card is just gorgeous!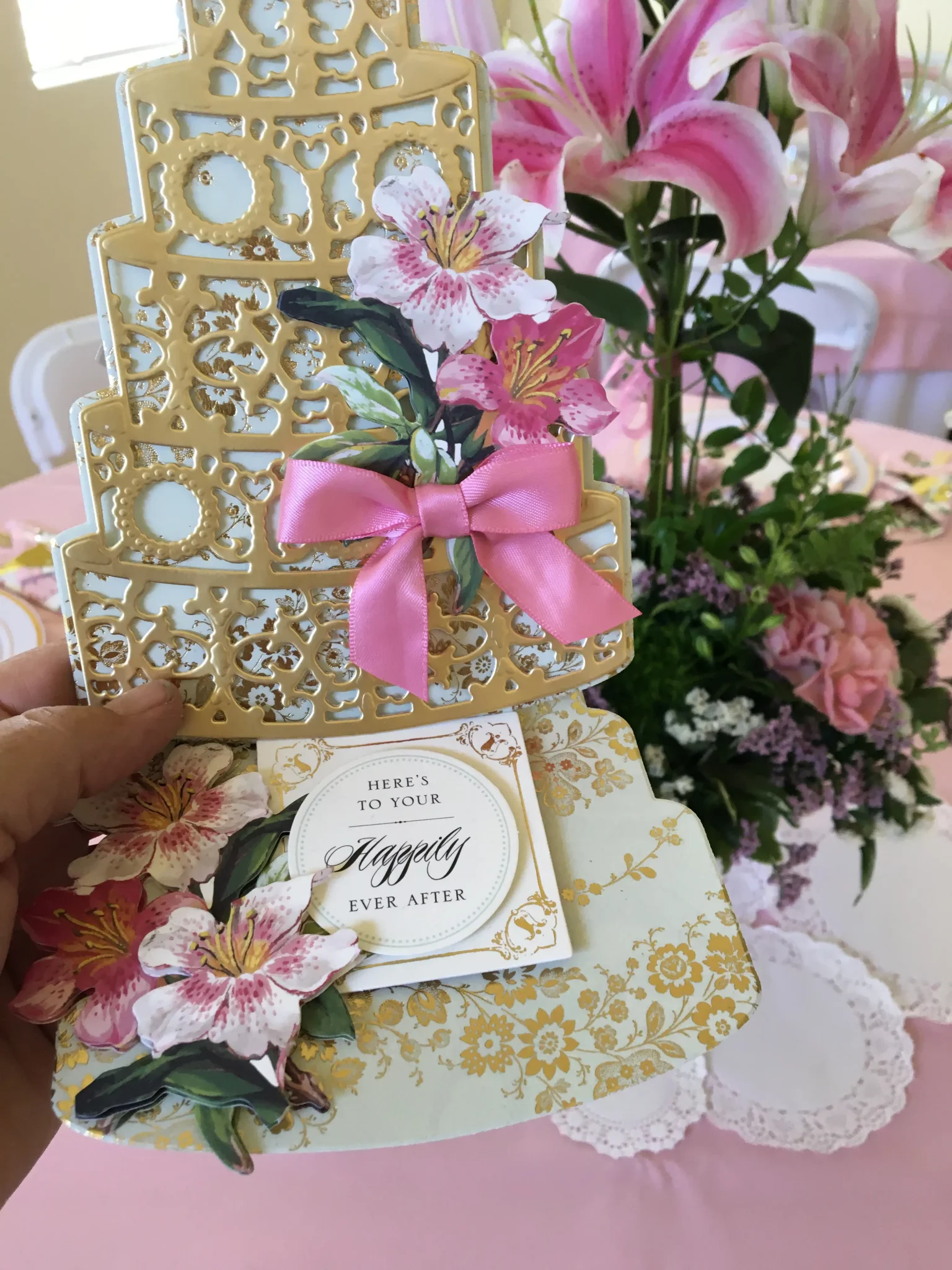 Adina ❤️ "I'm having so much fun making Valentines!" ❤️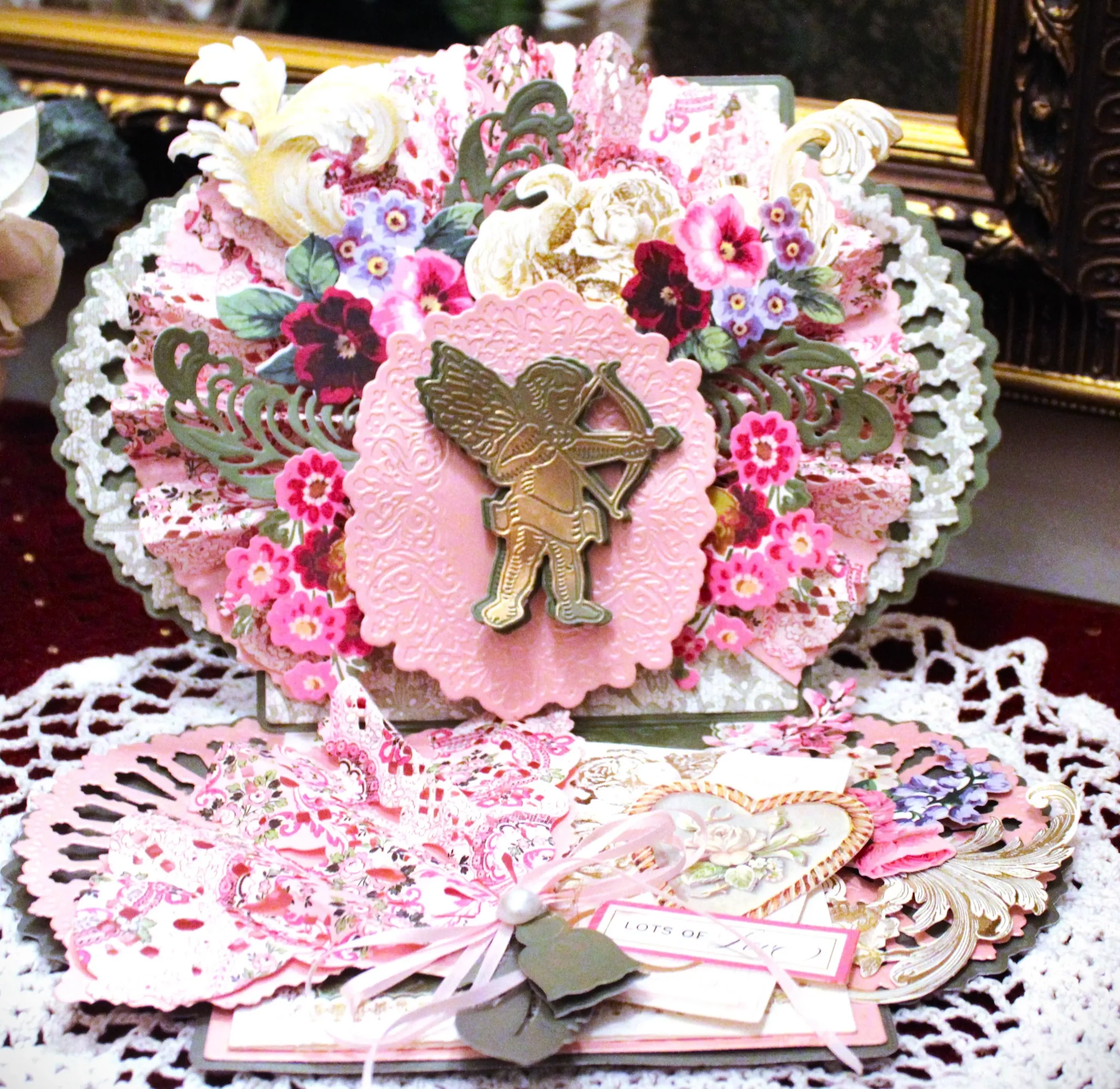 Linda posted, "Dear Griffinites: Happy New Year and All the Best for 2023! One of the first AG kits I purchased was the Explosion Card Kit… I was creating a few this weekend – and here's one with the China Cabinet embellishments."
Great combo, Linda!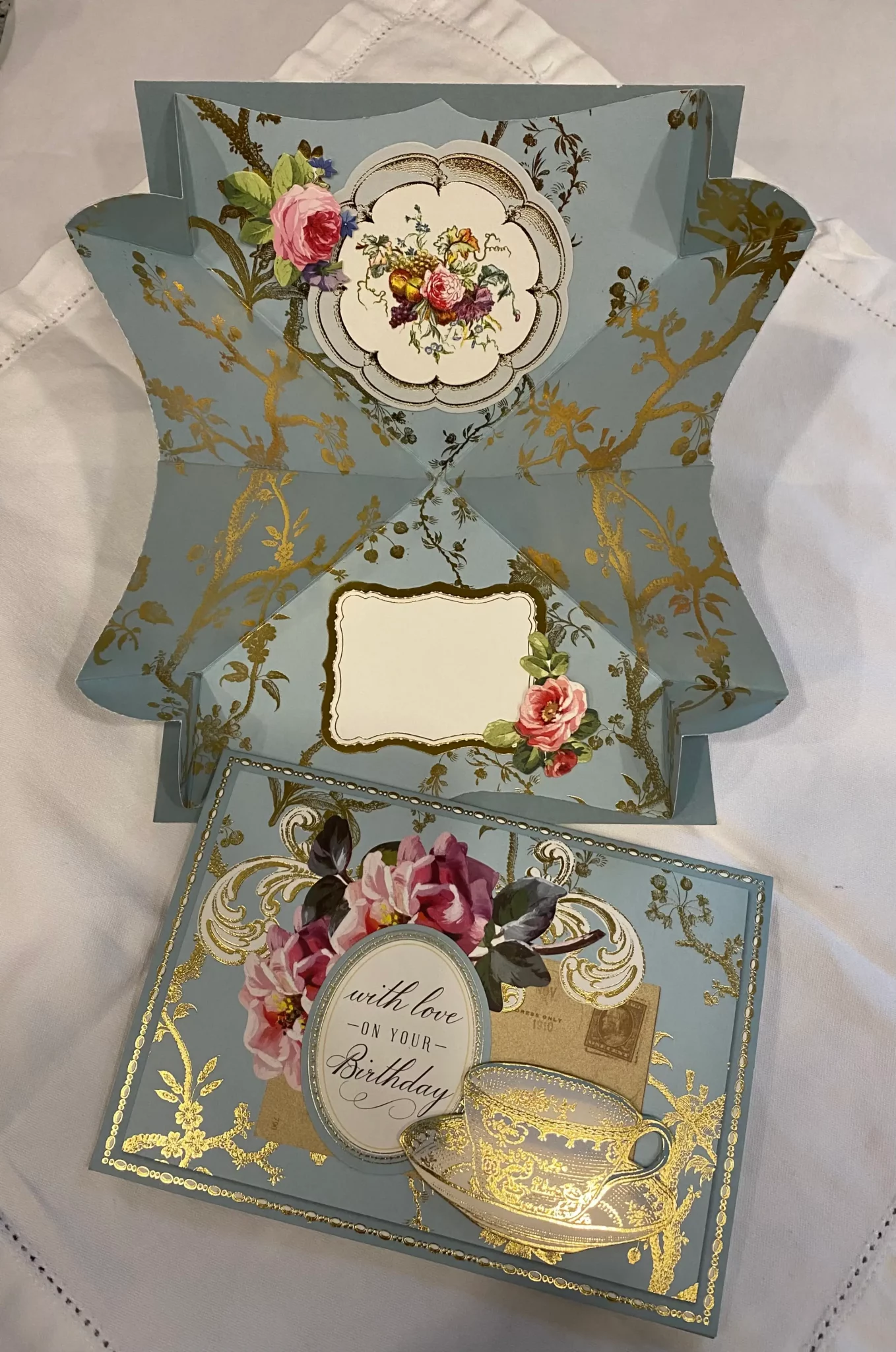 Jan wrote, "Let's face it, blue is the most favorite color of most people. I am in heaven with this whole kit."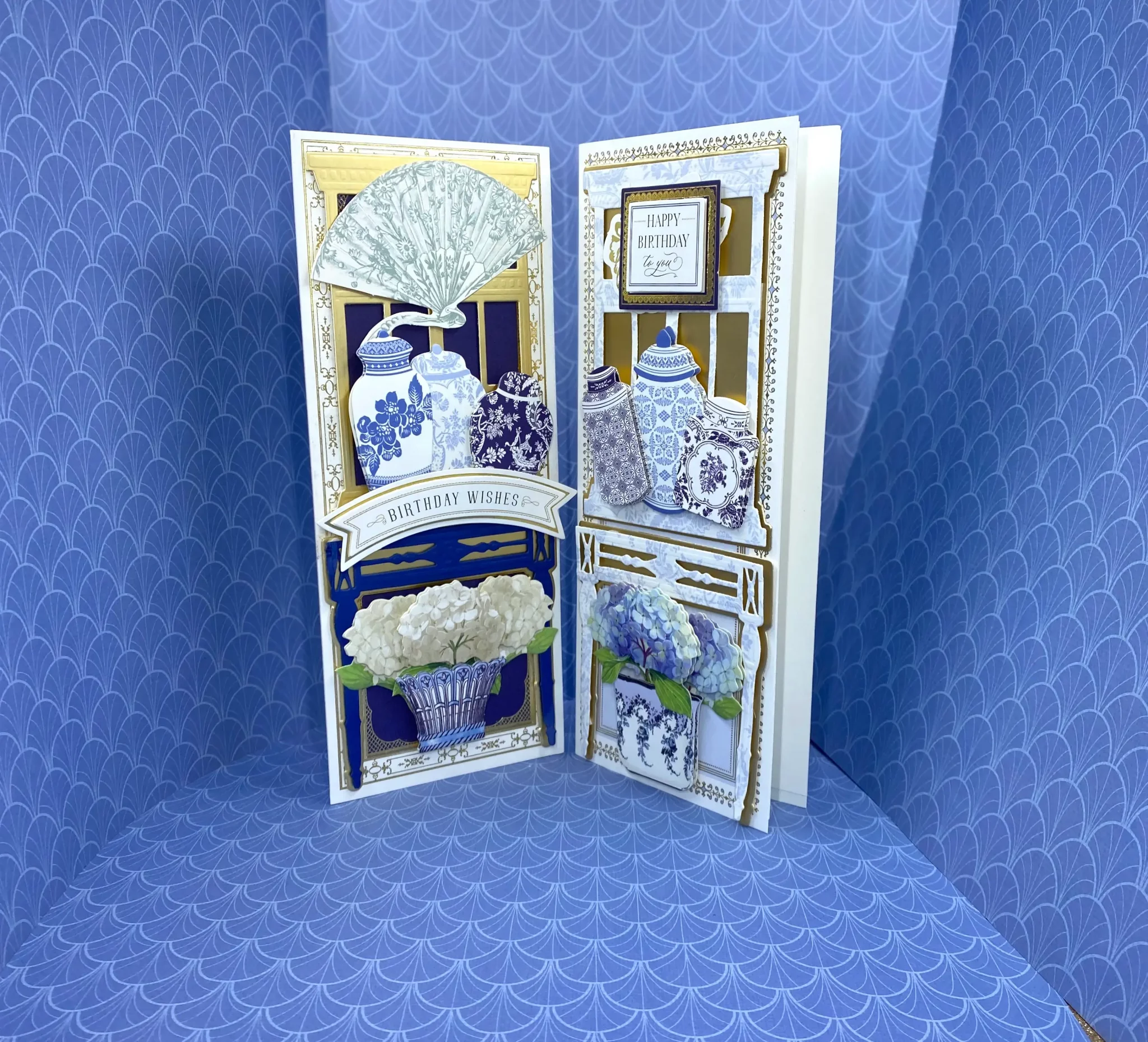 Leticia said, "My husband & I visited our daughter in Georgia last month. She made our visit so special, it was like staying at a bed & breakfast!! She & her family moved out there in July & I missed her terribly!! She's my Best Friend & Kindred Spirit- I made her a Carte Canton Blue thank you card. I used the following Anna Griffin products: AG Flower window box, 3D border floral stickers, Climbing vine, Greenhouse wicker chair, Shutter Drapery dies for curtains & I also used acetate to simulate glass window. I placed a ribbon on top of the card to pull it out of box. I printed some clipart jars & vases & used Anna's die's to cut out- I also included my favorite lil kitty sticker. All of it went into a AG slimline envelope made from some Chinoiserie paper I had. My daughter took a picture of it & said she loved it!! We're praying about moving to Georgia."
We will gladly welcome you to the Peach state!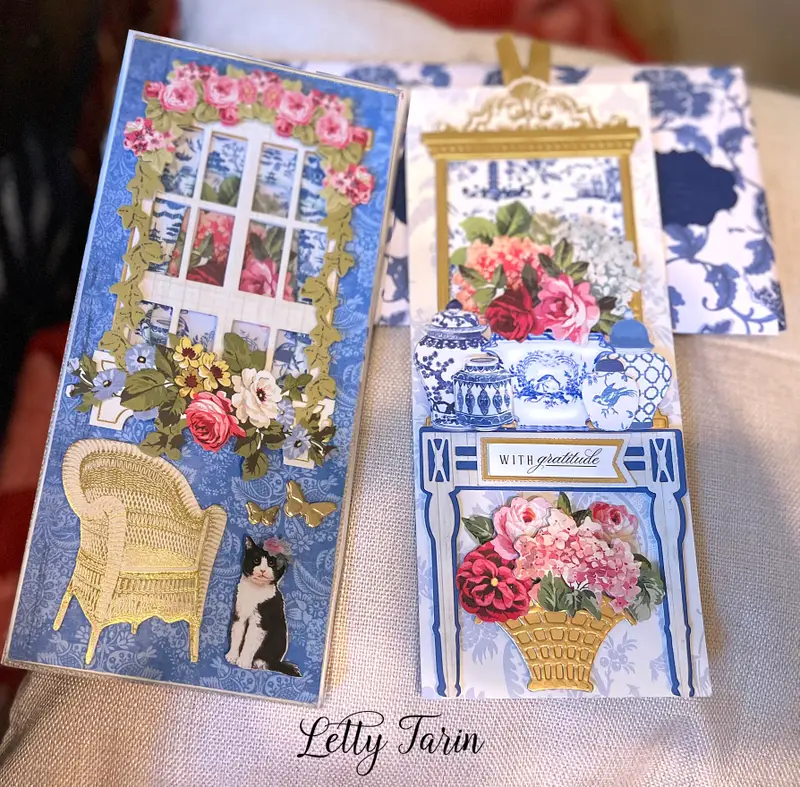 Beth shared, "Still working on Julianna's Onderland Party . I created this gift box by altering a Drawer easel card ( minus the easel part) I found on YouTube. The tea cup is a ready made project found in the Cricut Access Library . It is actually a 3D cupcake holder . I just sealed the top off to form a base to hold my flowers and number 1. I made several of the flowers using sculpting foam and my AG mini flower dies . I coated the foam flowers using a clear sparkle pen to make them look like they were made of sugar . AG products used in this project: tea cup papers, Card bases from FS china cabinet kit, embellishments from tea sticker die set , the round doily die from the square doily die set and the mini flower die set."
This is such a special card to commemorate a very important birthday.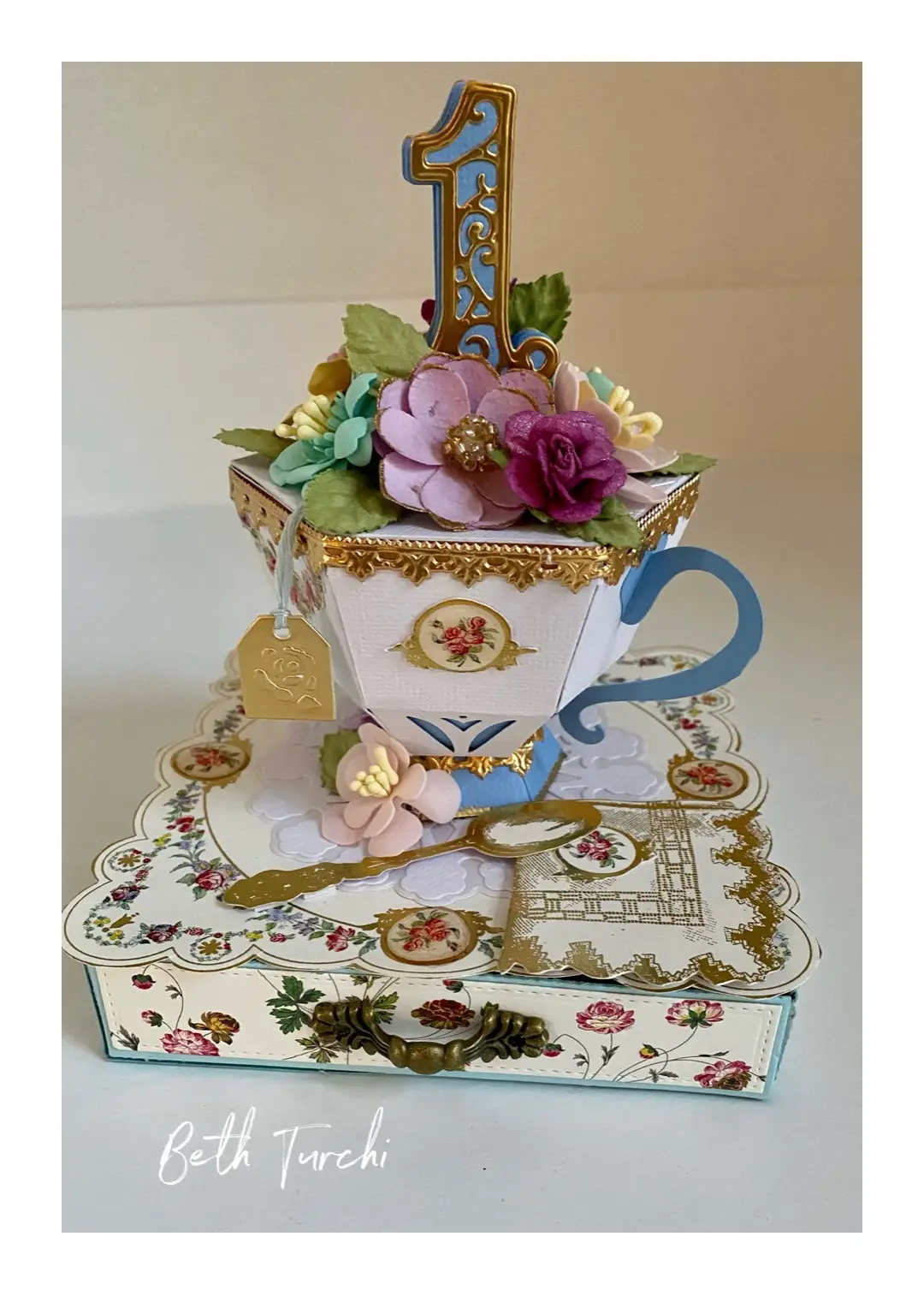 What wonderful paper projects. The future is looking bright! Continue to share all of your cards and scrapbook pages and we will share them here on next week's Craftspiration!
Love,
Anna