Hello Griffinites,
You've been crafting up a storm this week, and we are happy to see all of these gorgeous projects this week. It's fun to see you working with the new Wishing Well Finishing School Craft Box Kit and your interpretations from some of our tutorials! We are crafting for all season's around here and it's fun to see Halloween, Christmas and everyday projects all represented here.
Come take a look at what was created this week!
Sheri said, "Just watched the Wishing Well Finishing School Craft Box Class, Gosh 6 projects Wow!!! Beautiful!!! I want to make ever project. This is my own version but I'm going to definitely need a refill Paper Pack and Embellishments. I want to use so many of the beautiful flowers on each card. The flowers are a perfect size. Thank you for creating such beautiful products."
Gorgeous card! We love how you used the floral as a shadow layer!
Diane posted, "This is the EXTRA FUN new Perfect Present Easel Die that Anna introduced in an AGTV presentation.  I chose two different pastel blues in 5-1/2"x 12" Metallic Layers paper for the present, a sheet from the Floral Double-sided card stock for the easel and a 5×7"gold Matte Foil for the present lid and adhesive squares for a 3D look.   Flower embellishments are from the China Cabinet Finishing School Craft Box."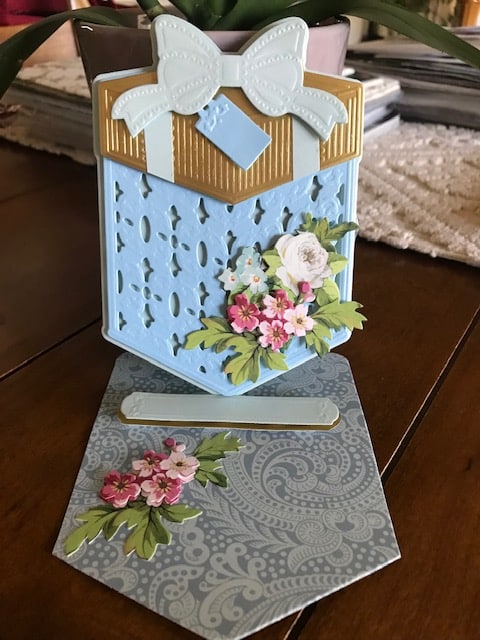 Eve shared, "First Halloween themed card for the year, the 3D slimline mantle & fireplace dies were screaming at me to cut them out of the shiny black foil paper."
Fright-tastic combo, Eve!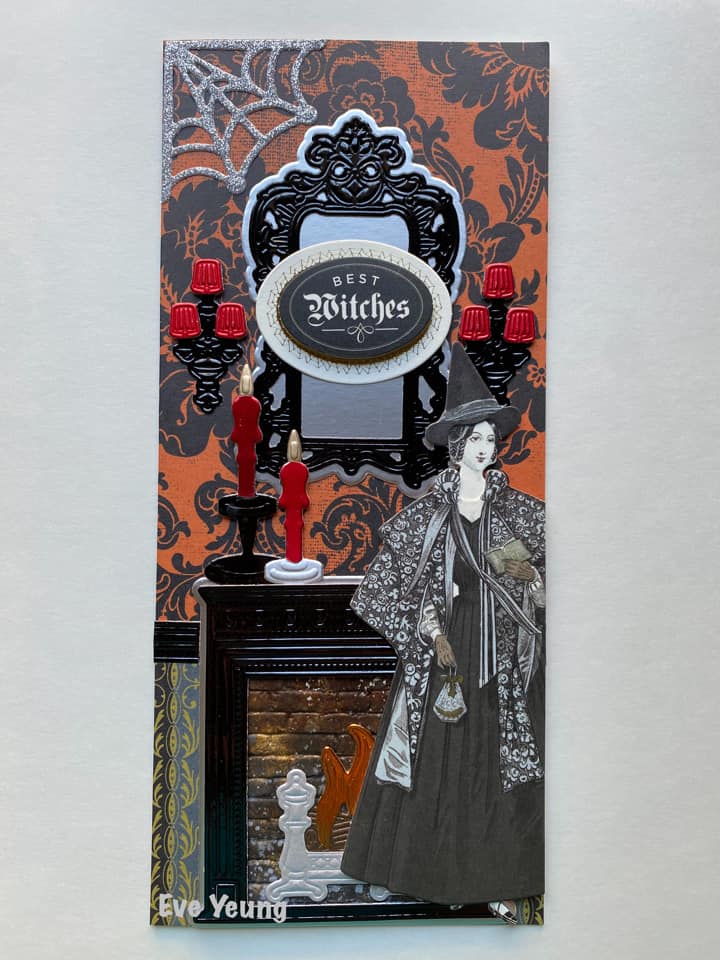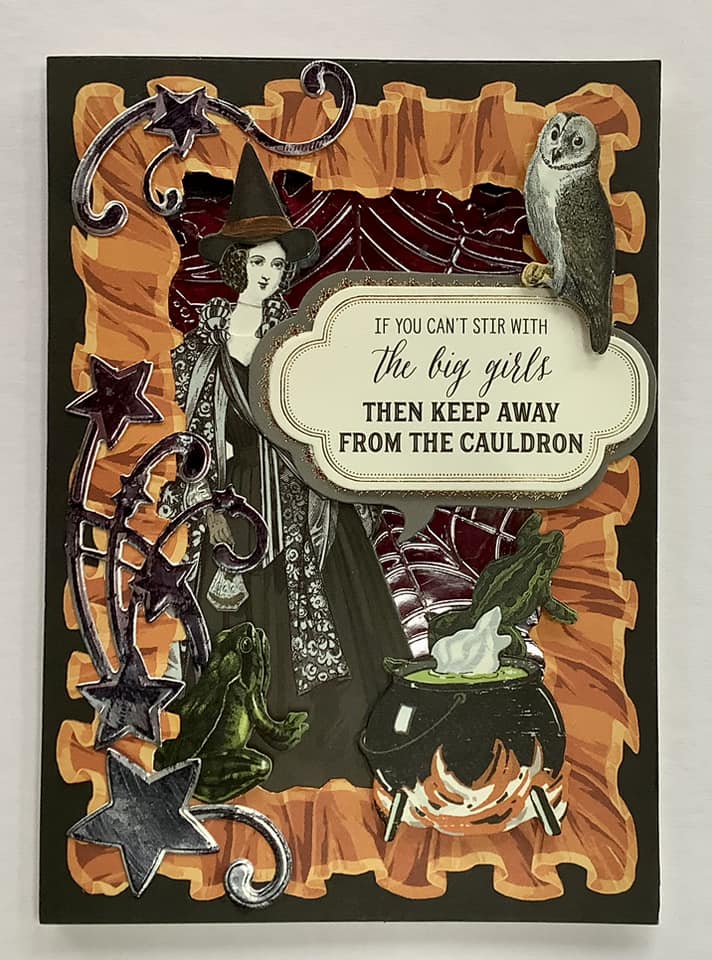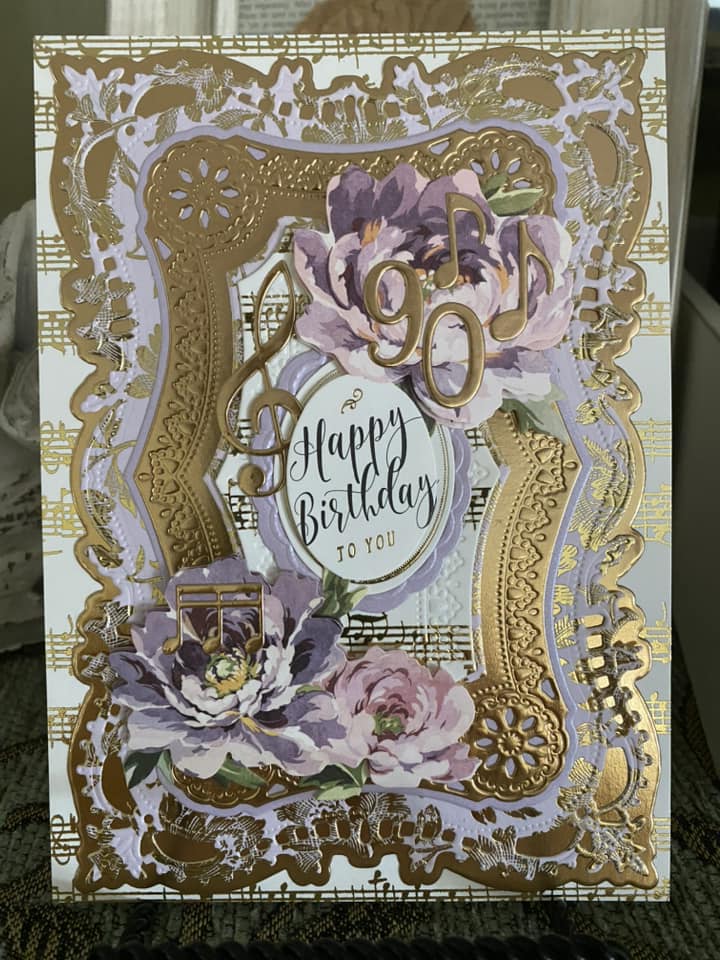 Jo Ann shared her card made with the Scary 3D Concentric Dies.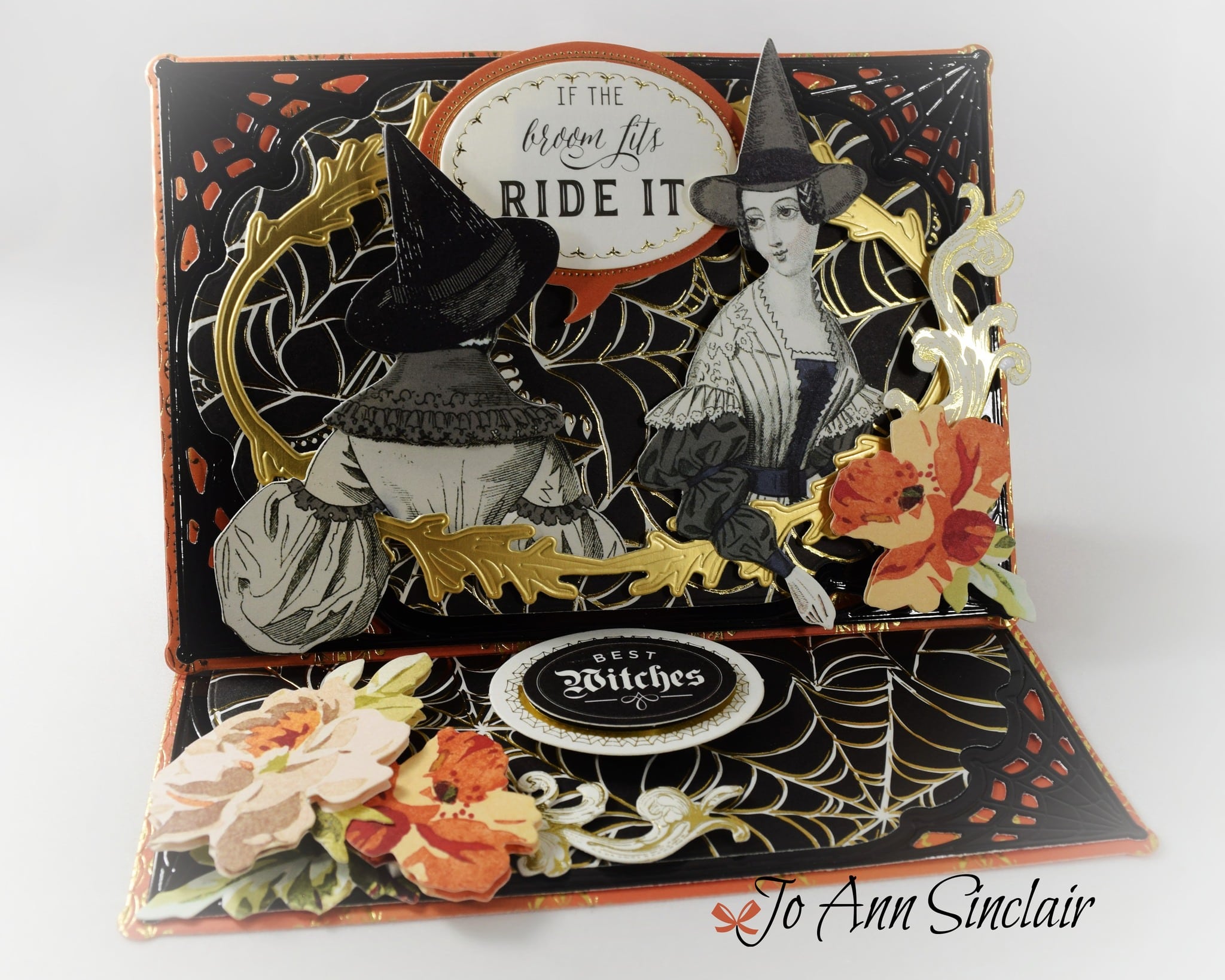 Fifi posted, "
Here is my Christmas
wish well
interpretation."
Oh what fun! These are going to be great for all seasons!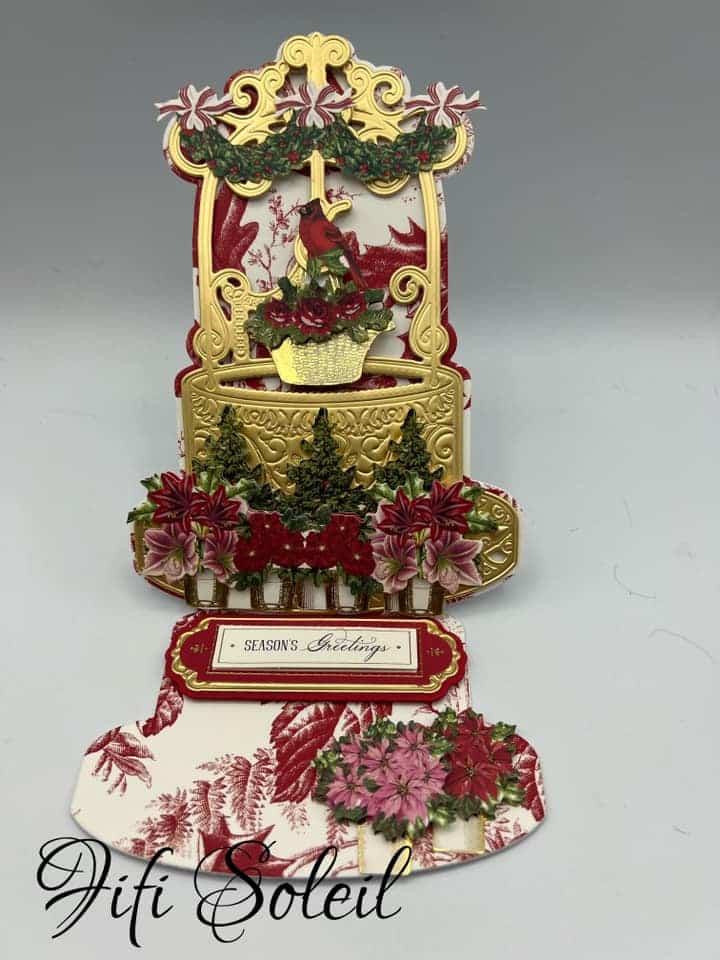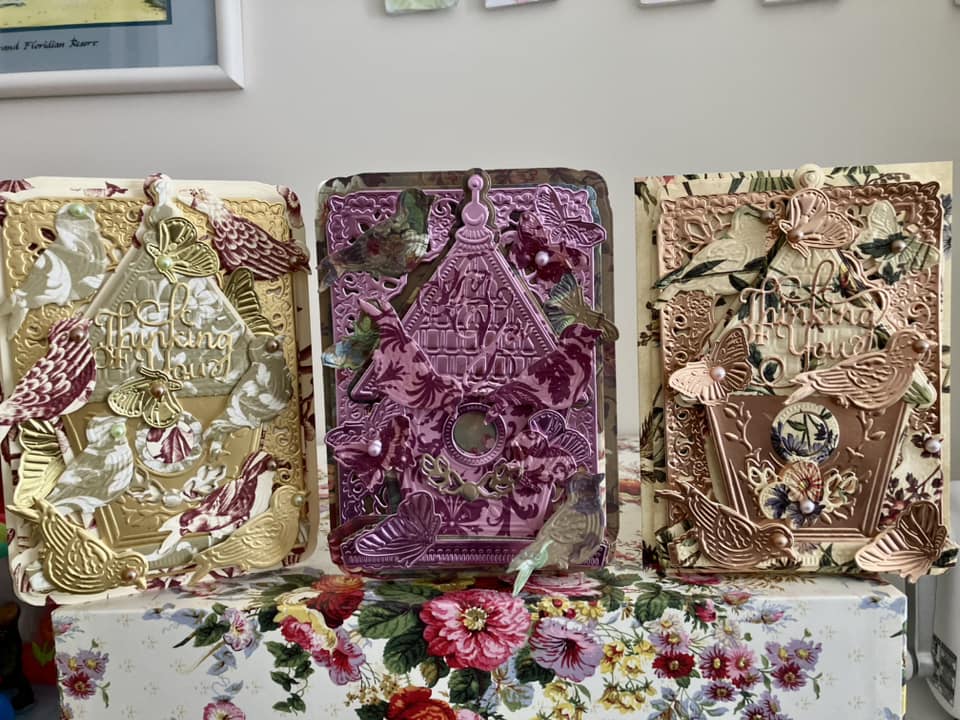 Raeanne wrote, "
Made this special
Baby card
. Mommy loves purple and black. Invite is baby elephant with purple, green and black so made this to match. Happy Crafting all!"
She's going to love it!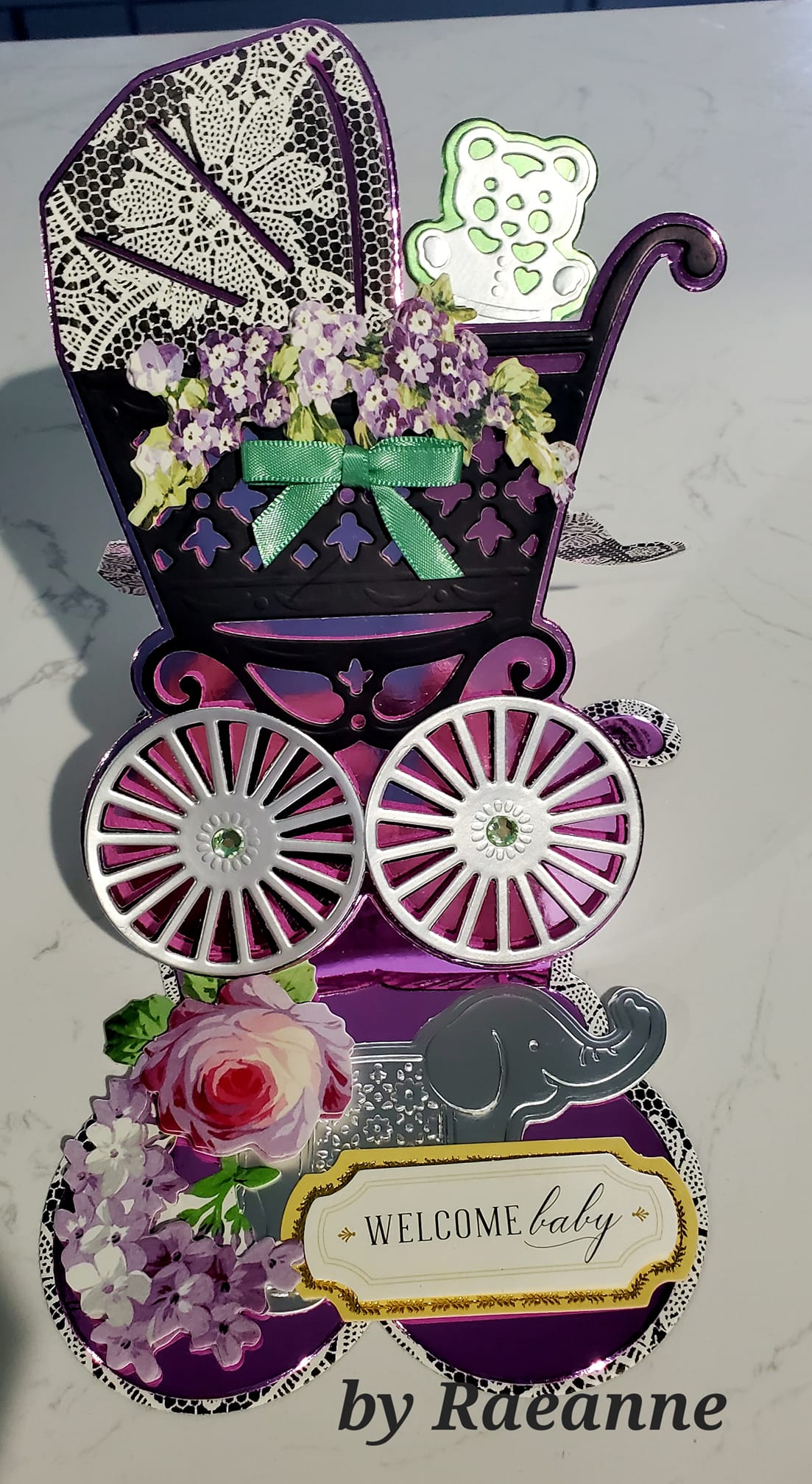 Shellie posted, "
I'm haulin' Christmas Poinsettias in my little pink Christmas
Truck
today, Anna! This fun new die makes great holiday cards (and, more); and, I will send it with a note, ahead of making Poinsettia plant and Christmas cheer delivery to my friend whose health keeps her home-bound."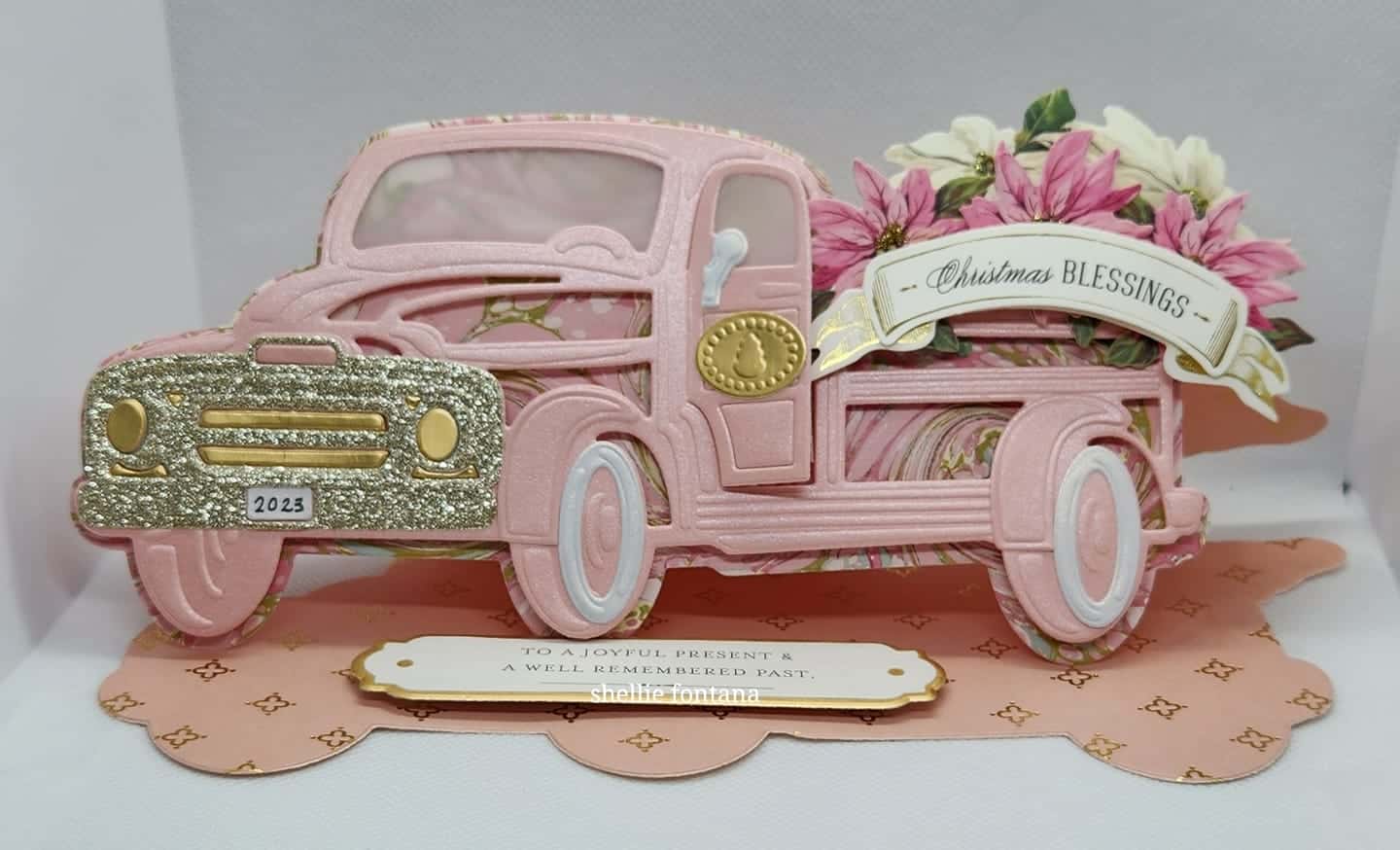 Valerie shared, "
The
Mailbox dies
are adorable. I like to use anything that is mini. Made this for a friend who's favorite color is purple."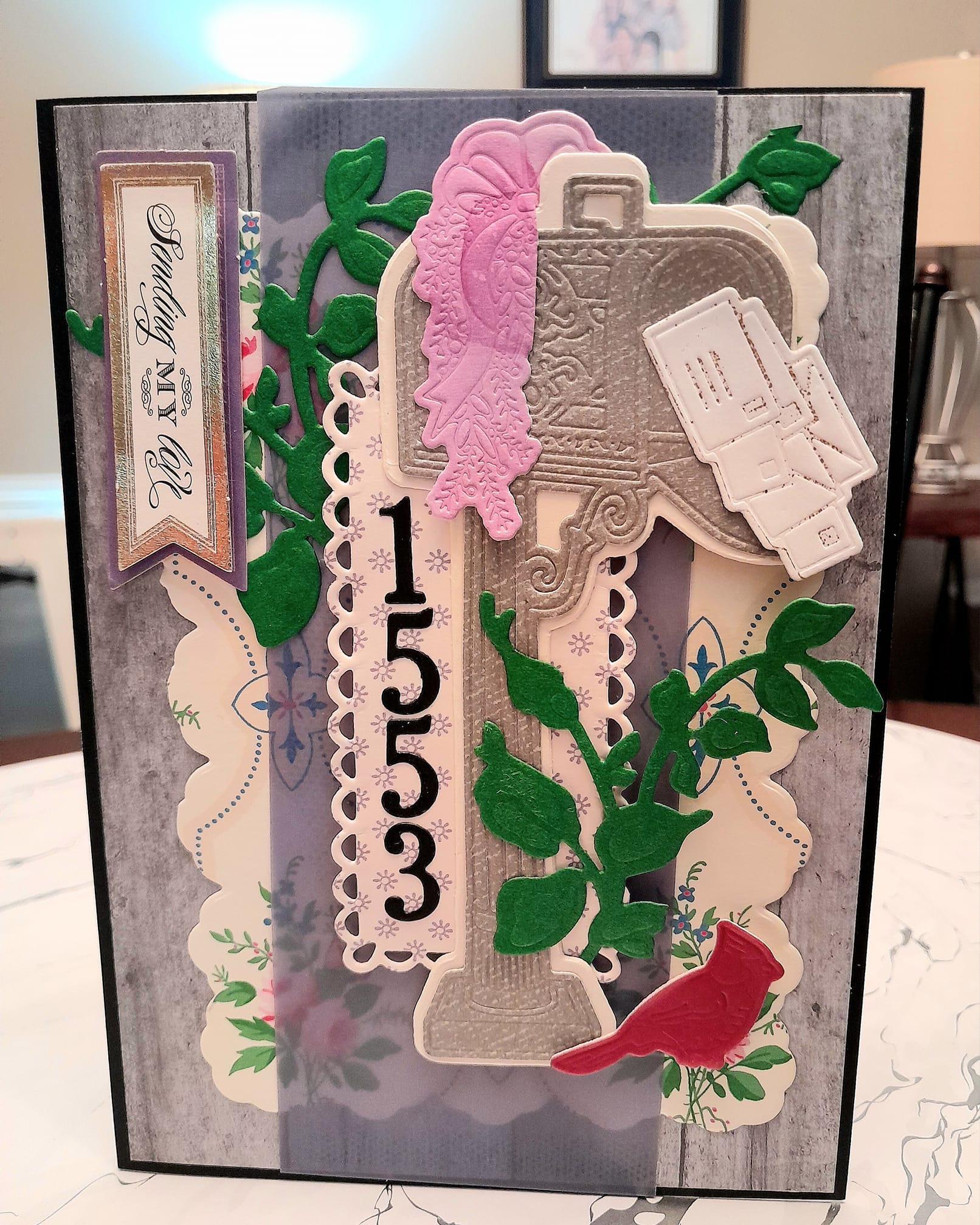 Thea posted, "
It's a breath of fresh air playing with my AG Halloween collection! I can't wait for the next HSN day to get the newest Halloween goodies."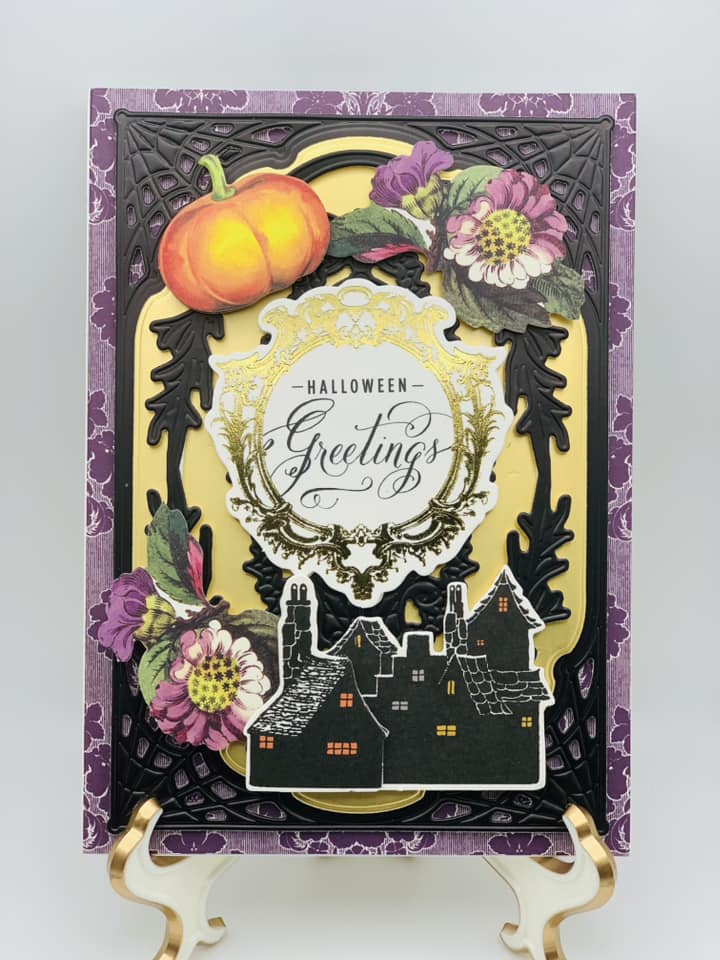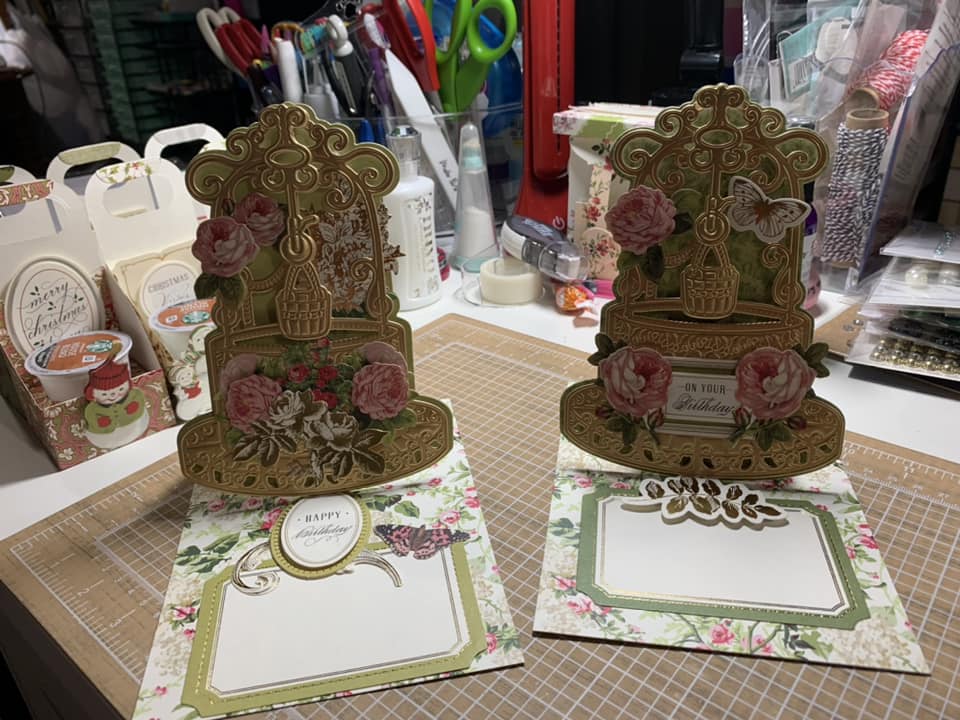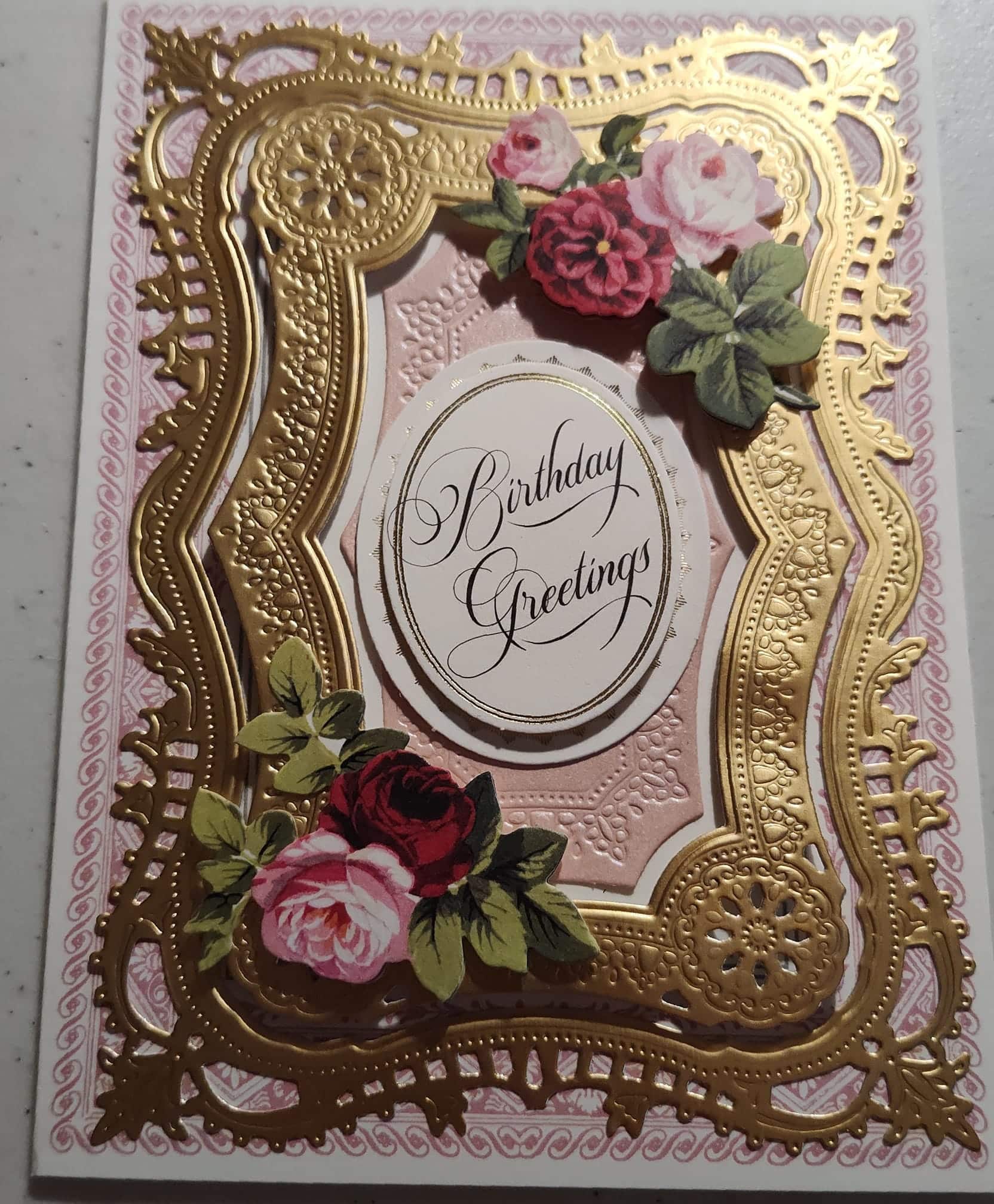 Donna shared, "
I made this card for a very dear friend's birthday! I love all of the new
car dies
. Every time I make one I think of my dad who was in the automobile business!"
This is so special, Donna!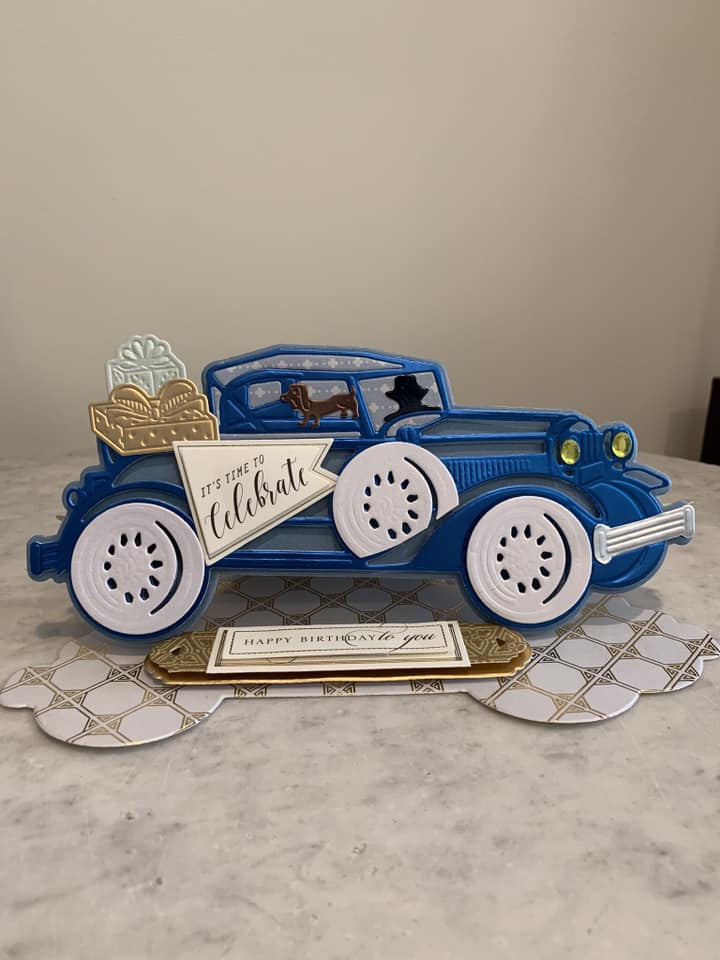 Mary posted, "This is my attempt at the window card from Anna's Birthday Wishes video last week, but made from the Christmas Wishes box and die set. Loved making it."
Excellent interpretation, Mary! Thank you for sharing!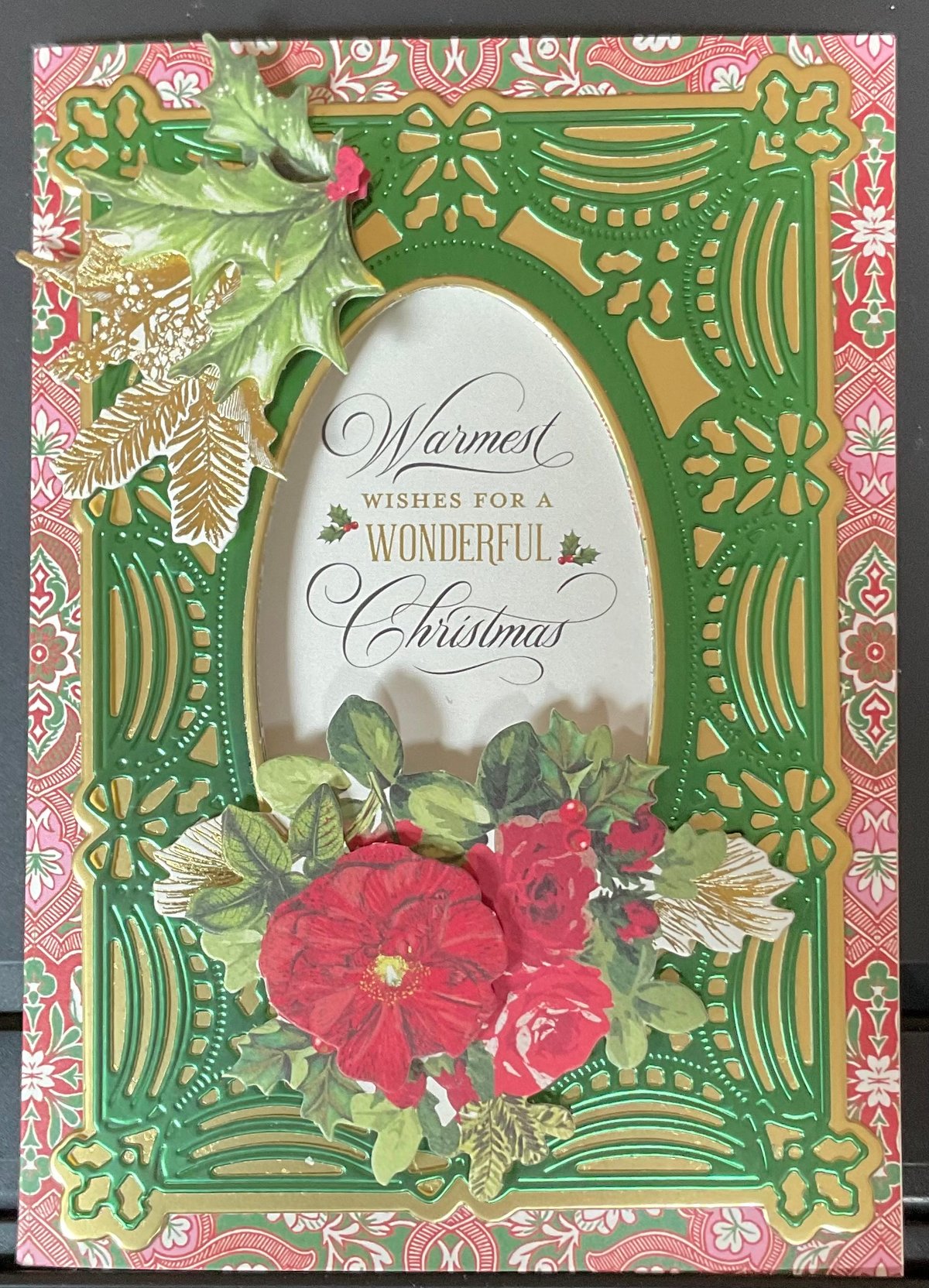 Mickey said, "Thought you would like to see what I have been doing during the 21 day+ over 100 degree weather here in Texas, So glad my Christmas Wishes Card Making Kit along with some favorite Christmas CD's to keep me indoors and cool!"
What wonderful projects this week, everyone! Thank you for posting and sharing. To be featured, post your projects with us on our Facebook page or email us at RSVP@annagriffin.com. We love to share your paper projects. In case you missed it, catch up on yesterday's AGTV show Fun Fall here (there is even your first look at the Create 9 contents), and shop our Fall Sale now through August 20th.  Our next amazing show will take place on Wednesday, September 6th at 12pm EST; mark your calendars! Create tickets are still available for our November 10th- 12th crafting event. Don't forget that you can use AfterPay to purchase your tickets!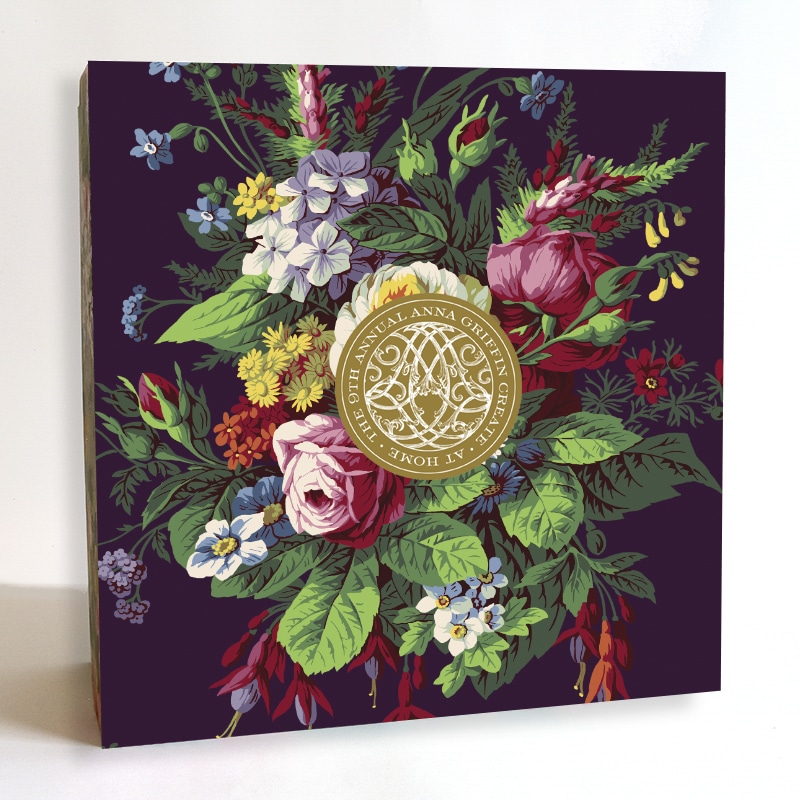 Bye for now,
Anna